Broken promises, broken priorities in State Senate
Public service disrespected, devalued by Senate Republican obstructionism

---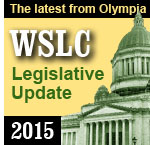 Today's edition of the WSLC Legislative Update newsletter:
OLYMPIA (April 10, 2015) — This is what obstruction looks like.
Washington Gov. Jay Inslee, the House of Representatives and a bipartisan majority in the Senate — 29 of 49 senators — all say they want to fully fund state employee contracts in the 2015-17 budget. But a Senate vote last week was rigged so that 20 Republicans could block that from happening. Why? So the people who provide essential public services can be used as bargaining chips in the negotiations that commenced this week to reconcile the House and Senate budget plans.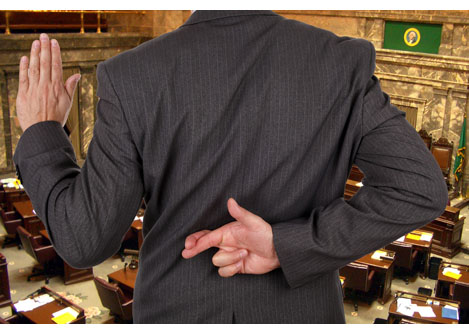 It all boils down to a minority of Senate Republicans playing politics with people's livelihoods so that the wealthy, privileged, and corporate special interests can continue to avoid paying their fair share to properly fund state government.
Public employees and their families in our communities have suffered enough. The people who keep our neighborhoods safe, care for the elderly and disabled, teach and protect our children, maintain our roads and transportation system, and provide other essential state services have been asked to make many personal sacrifices. Throughout the recession, our state government asked these workers to do more for less, with the promise that in the future, things would get better for them and their families. Now, after seven years of wage freezes and cuts, unpaid furloughs and out-of-pocket increases for health care, the economy has improved and it's time to keep that promise by funding the modest 3% and 1.8% raises in the contracts.
That's what the governor, the House, and a clear majority in the Senate all want to happen. Although the Senate budget written by Sen. Andy Hill (R-Redmond) rejected the contracts, an amendment was proposed by Sen. Jim Hargrove (D-Hoquiam) to accept and fully fund them. But Senate Republican leaders changed the rules to require a 30-vote supermajority for any budget amendments. That meant that, despite 29 senators (all Democrats and six Republicans) voting last week to approve and fund the contracts, and just 20 Republicans voting "no," it failed.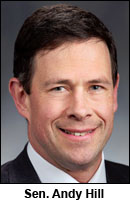 This cynical obstruction by a minority of senators led by Sen. Andy Hill disrespects public employees, disparages the sacrifices their families have made to help the state weather the recession, and devalues the work they do every day to keep our communities safe and healthy.
Why are these Republican senators doing it?  Because they've put the interests of the wealthy and well-connected corporate groups ahead of public employees and their families. House Democratic leaders have proposed that the wealthiest households pay a capital-gains tax — as they do in 41 other states — and that some corporate tax breaks be allowed to expire so our state can meet its obligations to fund our schools and other essential public services. It's a positive step toward fixing the state's archaic revenue system that is the most unfair in the nation. Here in Washington, those with the most pay less than their fair share, while the rest of us pay more.
But Senate Republicans are so desperate to protect the 1% from paying their share that they are willing to throw public employees under the bus. They say they're fighting for "no new taxes," but nobody is proposing to raise your taxes. No one is proposing that the 99% of us who already pay our fair share — including small businesses — pay any more. It's only the wealthy, the privileged, and the politically connected special interests who benefit from Senate Republicans' no-new-taxes ideology.
With the legislative session scheduled to end in about two weeks (April 26), many are predicting lawmakers will require yet another overtime session to agree on a budget and the critically important transportation funding package waiting in the wings. Overtime could still be avoided if cynical obstructionism and games of political chicken, particularly those that disrespect and devalue public service, could be set aside.
---
Shared Prosperity bills killed

Three key bills from the Washington State Labor Council's 2015 Shared Prosperity Agenda that passed the House were killed in the Senate. No votes were held on bills to raise the state minimum wage, allow all workers to earn paid sick leave, and to promote equal pay in Washington, so voters won't know where their senators even stand on these important issues.
Sen. Michael Baumgartner (R-Spokane). chairman of the Senate Commerce and Labor Committee, held a Mar. 30 hearing on the bills before a standing-room-only crowd of supporters. But he wouldn't allow a committee vote on the following bills, so they died on the April 1 cutoff day: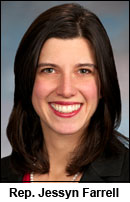 ► MINIMUM WAGE — HB 1355, sponsored by Rep. Jessyn Farrell (D-Seattle), would have raised the state minimum wage to $12 an hour, roughly in 50-cent increments over the next four years. In 2015, full-time minimum wage workers here still earn less than $20,000 per year. The minimum wage is supposed to assure "the maintenance of the minimum standard of living necessary for health, efficiency, and general well being of workers." But families don't meet this standard with such low pay and taxpayers end up subsidizing their poverty-wage employers because their workers can't afford to meet their families' basic needs and require public assistance for food, housing, and health care.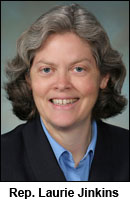 ► PAID SICK LEAVE — HB 1356, sponsored by Rep. Laurie Jinkins (D-Tacoma), would have allowed all workers to earn paid sick leave to take care of themselves or a loved one when they are sick. One million people in this state lack paid sick leave and must make the cruel choice of working sick or losing a day's wages. It endangers public health when cooks, servers, and health-care workers expose others to their illnesses by working sick. Paid sick leave will provide some economic stability to families who are at the margins, and will promote good public health practices.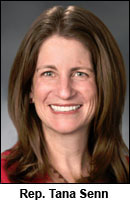 ► EQUAL PAY OPPORTUNITY ACT — HB 1646, sponsored by Rep. Tana Senn (D-Mercer Island), would have updated our state's 1943 equal pay law to ensure that employees are able to openly discuss and inquire about their wages without fear of retaliation. This kind of pay transparency is a vital step toward ensuring that the persistent gender wage gap is finally closed. The bill had bipartisan sponsorship and passed with bipartisan support in both House committee and on the House floor. But in the Senate, equal pay didn't even merit a vote.
---
Also ignored to death in the Senate…

Those weren't the only bills that died on the killing floor of Sen. Baumgartner's committee.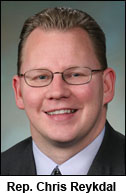 ► COLLEGE FACULTY STEP INCREASES — HB 1863, sponsored by Rep. Chris Reykdal (D-Olympia), would have allowed colleges to use local funds to fulfill the bargaining agreements they negotiate with faculty unions. It would create a shared responsibility between the colleges and the state for investing in part- and full-time faculty, who have not only been denied cost-of-living pay raises for six years but also step pay increases amid higher education budget cuts. HB 1863 passed the House on a bipartisan 64-34 vote, but it didn't even merit a Senate hearing.
► PATIENT AND HEALTH CARE WORKER SAFETY — HB 1732, also sponsored by Rep. Reykdal, would have ensured that nurses and certain other health care employees can get uninterrupted meal and rest breaks, and prohibit mandatory overtime for certain health care employees. This is important for the safety of both health care workers and their patients. It passed the House but died in Baumgartner's committee without a hearing.
There were many other positive working family bills that died in Baumgartner's and other Senate committees. We will report on all of them in the WSLC's 2015 Legislative Report and Voting Record after the dust settles.
---
House to unveil transportation plan

On March 26, the House Transportation Committee held a three-hour public hearing on the Senate's transportation funding package, SB 5987. The plan calls for billions of dollars of desperately needed road and transit improvements across the state funded by an 11.7 cent per gallon increase in the state's gas tax.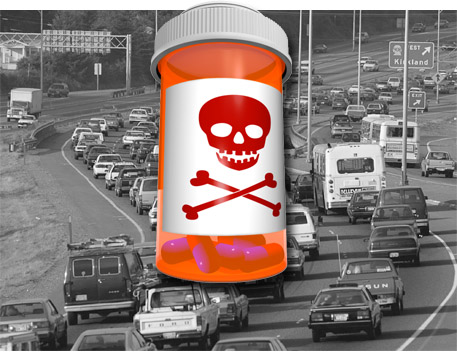 There was near unanimous support at the hearing for this new revenue, but there also was outspoken opposition to "poison pills" embedded in the Senate plan. Under SB 5987, transit funding is held hostage to a 16-year ban on gubernatorial action to reduce carbon pollution.
"This is a reckless denial of the serious effects of a worsening climate-change crisis and pits the growing need for multi-modal transportation choices against the need for clean air," said Jeff Johnson, President of the Washington State Labor Council.
SB 5987 also makes the transportation package contingent on passing the package of "reform" bills that further redirect and weaken environmental and labor priorities.
Since that March 26 hearing, state representatives on the transportation committee have been weighing the public testimony and developing amendments to the Senate plan. Next Tuesday, April 14, House Transportation Chair Judy Clibborn (D-Mercer Island) is expected to release that panel's plan. So stay tuned…
WASHINGTON IS A UNION STATE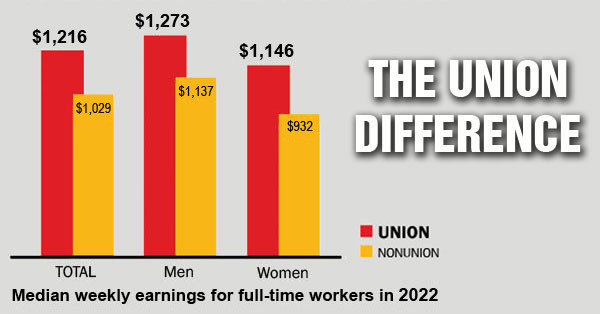 CHECK OUT THE UNION DIFFERENCE in Washington state: higher wages, affordable health and dental care, job and retirement security.
FIND OUT HOW TO JOIN TOGETHER with your co-workers to negotiate for better working conditions and respect on the job. Or go ahead and contact a union organizer today!