Overtime session, faster track, door delivery, 34-to-1…
Tuesday, April 21, 2015
---
STATE GOVERNMENT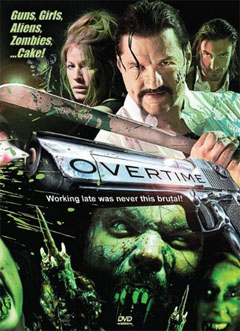 ► In today's Columbian — Legislative session could head into overtime — It looks like the Washington Legislature could be heading into overtime. But the extra days in Olympia could mean an extra tab for taxpayers to pick up.
ALSO at The Stand — As sine die nears, values-based operating budget comes first (by Jeff Johnson) — The operating budget is the budget that frames how state government interacts with the private economy. The operating budget is a moral document — it backs up the values we hold dear with the financing to make a difference and the commitment we have to Washington's future.
► In today's (Everett) Herald — Teachers to protest school funding, proposed bill with 1-day strike — Teachers in the Arlington, Lakewood and Stanwood-Camano school districts are planning one-day strikes and rallies this week protesting what they say is a lack of funding for schools and legislation they think would hinder learning. An estimated 2,600 teachers from eight districts throughout the state are participating in walkouts, according to the WEA.
► In the News Tribune — State treasurer: Time for 'grand bargain' that includes income tax — State Treasurer Jim McIntire's plan would institute a 5 percent personal income tax, but would eliminate the state property tax and reduce business taxes.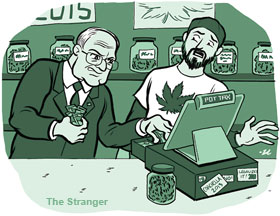 ► In The Stranger — The Great Pot Cash Heist of 2015 — A budget plan introduced in the Republican-controlled Senate tries to address the state's massive K–12 education funding problems by, in part, robbing the marijuana tax lockbox. (Their political aim: avoid creating new taxes to fund education.) If approved, this would mean that instead of directing those marijuana tax dollars toward the substance-abuse prevention and research efforts outlined in I-502, all but a small portion of marijuana taxes and fees would go to pay primarily for public schools. That small portion set aside — $6 million out of the projected hundreds of millions in state pot taxes — would go to local governments.
► From KPLU — Measure to relax state payday loan restrictions awaits vote — The commercial area around Joint Base Lewis-McChord holds four times as many payday lending offices as most similar-size areas in Washington State — even as the U.S. military advocates against service members' use of short-term borrowing because of high interest rate and potentially lengthy debt cycles.
---
LOCAL
► In today's News Tribune — Ports see big jump in container cargo — Longshore workers cleared out a months-long backlog of container cargoes last month at Tacoma and Seattle.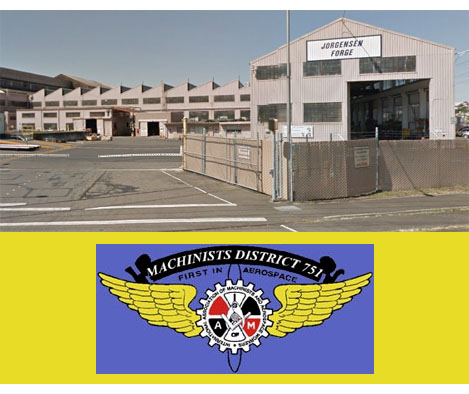 ► From IAM 751 — Machinists ratify new three-year contract with Jorgensen Forge in Tukwila — Machinists Union members who work at Jorgensen Forge Corp. in Tukwila will get their first pay raises in seven years after ratifying a new collective bargaining agreement. The workers approved the three-year contract with an 94 percent yes vote on Friday. They had rejected the company's first contract offer on April 9.
► In today's Seattle Times — UW tells grad students it's against law to strike — University of Washington officials are warning academic student employees not to authorize a strike, but students say the message is designed to intimidate them.
ALSO at The Stand — UW's 'threatening' letter backfires, mobilizes student employees
► From KPLU — King County Council to consider 12 weeks of paid parental leave for its employees — One of the challenges faced by new parents is figuring out how much time they can afford to take off from work. The King County Council will vote on a measure that would give new parents who are county employees 12 weeks of paid parental leave.
► In today's Spokesman-Review — County considers signing bonuses for hard-to-fill positions — Spokane County could be offering signing bonuses of up to $10,000 in hopes of attracting high-quality applicants for tough-to-fill jobs.
► From AP — Seattle tunnel subcontractor cited, fined for accident — State safety regulators issued two citations and a $2,050 fine against the subcontractor (Central Steel Inc.) overseeing workers injured when a wall of the Seattle tunnel project collapsed. Four iron workers fell on Feb. 12, including one who was hospitalized after being seriously hurt.
---
FAST TRACK

► From The Hill — Dem slams trade legislation — Sen. Sherrod Brown (D-Ohio) said the fast-track legislation, which he called one of this decade's "most consequential changes" to economic policy, is being rushed through the Senate:
Little media attention, little scrutiny by committees, little discussion from leadership. Last week we were called into a rushed legislative session hearing on fast track and on a trade package with little notice and no bill to see.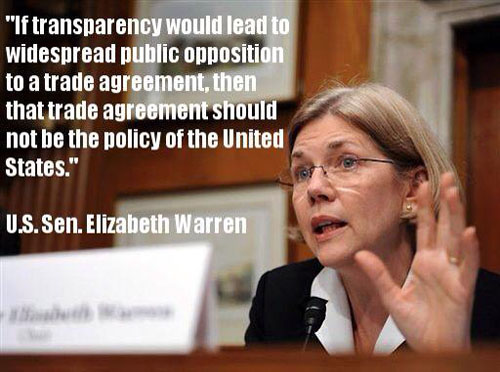 ALSO at The Stand — Secret trade deals, Fast Track thwart our cherished democracy (by Leo W. Gerard) — Concealing potentially job-killing trade schemes from the American public thwarts democracy. Rushing unpopular legislation through Congress before American citizens have an opportunity to review it and tell their elected representatives how they feel about it obstructs democracy.
► From The Hill — Pelosi's choice: Obama or left? — The House minority leader is among the president's strongest backers on Capitol Hill, but liberals in her caucus — still resentful of the NAFTA they say failed to meet its promise of helping U.S. workers — are lining up in opposition to Obama's call for fast-track trade authority.
---
FEDERAL GOVERNMENT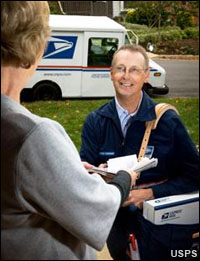 ► In today's Washington Post — Door deliveries work better for mail advertisers. Here's why that matters. — Various postal bills in recent years have called for greater use of curbside mail drop offs and neighborhood cluster boxes as a way to help the U.S. Postal Service return to profitability. The idea is that mail carriers could do their jobs faster and far more efficiently by avoiding deliveries to doorsteps. But a new report from the USPS inspector general's office casts doubt on how much the change would benefit the agency financially.
► From The Hill — Union signals openness to GOP air traffic control privatization plan — The union that represents U.S. air traffic controllers (NATCA) signaled Monday that it could consider a Republican plan to privatize some facets of the nation's air traffic control, but only after lawmakers approve a new round of funding for the Federal Aviation Administration.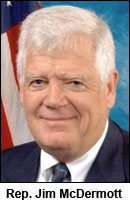 ► From Huffington Post — The GOP's handout for the wealthiest Americans (by Reps. Sandy Levin and Jim McDermott) — Last week House Republicans passed a bill to repeal the estate tax, giving a massive tax cut to the wealthiest 0.15 percent of Americans. In other words, 99.85 percent of Americans would see absolutely no benefit from this legislation — only the huge spike in federal debt that would come along with it. Combined with other tax bills approved by House Republicans so far this year, our debt would grow by $584 billion to finance tax cuts for the wealthy. That string of votes is even more galling considering how many pressing domestic priorities confront us — from improving early childhood education to fixing our crumbling roads and bridges.
---
NATIONAL
► In the Washington Post — Gawker is making unionizing look easy — Gawker readers were presented with some startling news last week: The popular Web site's mostly 20-something staff is planning to join the Writers Guild of America. The fact that the post, entitled "Why we've decided to organize," was essentially a press release about the union drive and went out on the company's own substantial platform wasn't the only unusual thing about this organizing effort. It was also greeted by management with a decided … passivity.
► From Daily Kos — Not just fast food: Full-service restaurant chains pay poverty wages, too — A recent report from the Restaurant Opportunities Centers United shows that many workers in full-service restaurants — including Olive Garden, IHOP, Applebee's, Outback Steakhouse, and Chili's — are also paid so little that they need and get nearly $9.5 billion in public assistance each year.
---
TODAY'S MUST-READ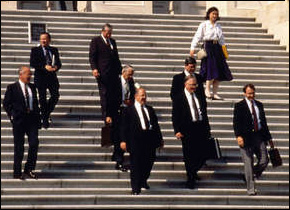 ► In the Atlantic — How corporate lobbyists conquered American democracy — Corporations now spend about $2.6 billion a year on reported lobbying expenditures — more than the $2 billion we spend to fund the House ($1.18 billion) and Senate ($860 million). It's a gap that has been widening since corporate lobbying began to regularly exceed the combined House-Senate budget in the early 2000s. Today, the biggest companies have upwards of 100 lobbyists representing them, allowing them to be everywhere, all the time.
For every dollar spent on lobbying by labor unions and public-interest groups together, large corporations and their associations now spend $34. One has to go back to the Gilded Age to find business in such a dominant political position in American politics.
---
The Stand posts links to Washington state and national news of interest every weekday morning by 10 a.m.
WASHINGTON IS A UNION STATE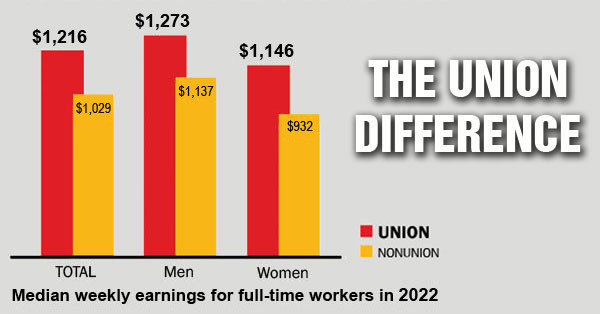 CHECK OUT THE UNION DIFFERENCE in Washington state: higher wages, affordable health and dental care, job and retirement security.
FIND OUT HOW TO JOIN TOGETHER with your co-workers to negotiate for better working conditions and respect on the job. Or go ahead and contact a union organizer today!