UW's 'threatening' letter backfires, mobilizes student employees
The following is from UAW Local 4121:

SEATTLE (April 20, 2015) — This morning at 11 a.m., Academic Student Employees (ASEs) will be visiting the office of University of Washington Dean David Eaton to deliver their response to a letter disseminated by university officials last week calculated to intimidate ASEs from participating in union protests.
Relying on partial truths and unfounded claims, the letter spoke directly to the ongoing Strike Authorization Vote being conducted by the union, in ways that appeared designed to intimidate and dissuade members from using the vote to communicate their dissatisfaction with recent bargaining developments from the university. The results of the Strike Authorization Vote will not be determined before Wednesday, April 22. Even so, the university's move to threaten ASEs has resulted in further mobilization and commitment by members to demand an equitable, inclusive contract from their University.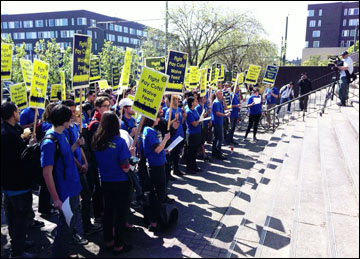 Dissemination of the letter coincided not only with the union's strike vote but also with an action on Friday April 17 (pictured at right), in which ASEs surrounded Schmitz Hall with picket signs, demonstrating their frustration with the university's proposals in bargaining regarding tuition and fee waivers. The university is requiring that part of the student employees' wages be re-paid in the form of student fees.
The thinly veiled threats in the letter shocked and outraged members, mobilizing them to send a flood of angry responses to bargaining committee members. Subsequently, the union has created a Tumblr, "Responses to Letter from Dean Eaton," to aggregate and publicize these responses as well as the original letter from the university. The union's point-by-point response to the various pieces of misinformation in the letter can be found on the UAW 4121 website.
"I would say that if there wasn't a reason to authorize the strike before, after that letter there is certainly a reason to authorize it now," says Mike Katell, PhD student, at the Information School. "Make no mistake. The attached letter is a threat. It's very important that you vote 'Yes' on the vote authorization ballot. The threat alone should be enough to convince you that the administration is not looking after your interests, only theirs."
"Even as an international student, I know that I have the right to free speech and to fair working conditions and pay," says Viral Shah, Masters student in Atmospheric Sciences. "This letter will not dissuade me from voting and expressing my frustration with the University's intransigence in bargaining and their proposals to reduce fee waivers and impose new fees."
Only a few bargaining days remain until the current contract expires on April 30. Members are agitated, frustrated, and impatient and they are making their voices heard.
Short URL: https://www.thestand.org/?p=39571
Posted by
David Groves
on Apr 20 2015. Filed under
LOCAL
. You can follow any responses to this entry through the
RSS 2.0
. Both comments and pings are currently closed.