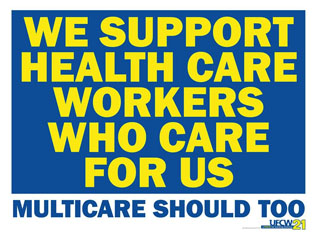 TACOMA — All are invited to support quality patient care and respect for healthcare workers by joining MultiCare Health Systems workers on Thursday, April 16 as they conduct an informational picket from 1:30 to 5:30 p.m. at Tacoma General Hospital, 315 M.L. King Jr. Way, followed by a brief rally at 5:30 p.m. at Wright Park just around the block from the picket, South I St. and South 6th Ave. There will be a "soap box" at the picket line so community allies can say a few words of support. (RSVP at the Facebook event page.)
Despite having a federal mediator at the table, and a total of 16 negotiation sessions since early last fall, the process continues to be slow and frustrating for MultiCare Health System workers represented by UFCW 21. The union reports that its bargaining team has been patiently making proposals and responding to management's proposals for seven months with very little progress.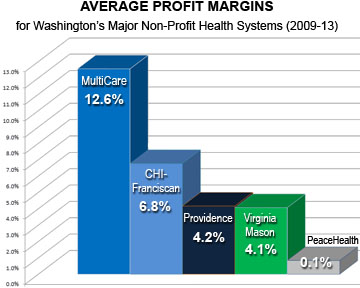 All this is with the context that MultiCare, the largest private employer in Pierce County and a non-profit hospital that has made more than $700 million in profit over the last three years, is laying off workers and outsourcing jobs.
MultiCare workers' issues remain the same:
► Addressing layoffs and outsourcing of jobs as workloads increase;
► Protecting rights at work and a voice on the job, ensuring respect for workers and patients' quality care;
► Preserving quality living standards for workers and their families;
► Securing retirement to allow workers to age with dignity after a lifetime of work; and
► Protecting workers and patients from aggressive debt collection. (See "Report: Non-profit MultiCare prioritizing profits and collections" in The Stand, April 9, 2015)
After seven months of bargaining, now is the time for workers and community to send a clear message to MultiCare management that they must settle a fair contract.
UFCW 21 is the largest private-sector union in Washington, with more than 43,000 members working in grocery store, retail, health care, meat processing and other industry jobs.Learn more at ufcw21.org.