WSLC 2015 Convention: Saving our economy, our planet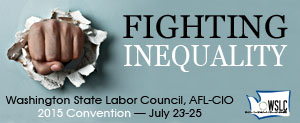 SEATAC (July 27, 2015) — Climate change and trade issues took center stage at the 2015 Convention of the Washington State Labor Council, AFL-CIO on Friday and Saturday. The common theme: our nation continues down a destructive path that is enriching the wealthy elite while doing great harm to the rest of us by destroying our economy and our planet. (Watch Friday's plenary session here at TVW. Saturday's session was not recorded.)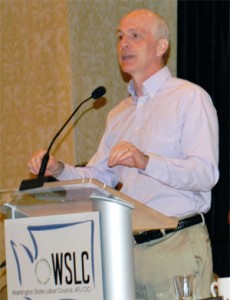 U.S. Rep. Adam Smith (D-WA) got a hero's welcome at Saturday's session for voting against "Fast Track" Trade Promotion Authority, which greases the skids for another NAFTA-like trade agreement, the Trans-Pacific Partnership (TPP). Smith joined Reps. Jim McDermott and Denny Heck as the only members of Washington's congressional delegation to vote against Fast Track, which narrowly passed Congress last month.
"(The TPP is) 12 more places for businesses to go to try to get the cheapest deal. And if that's all it's about, then I can't be for it," Smith said, earning a raucous ovation. "The irony is that I think trade is a good thing. We need access to those markets… But nothing is more important to me than taking care of workers and making sure they get their fair share. And we aren't there."
He said such trade deals are the product of short-sighted philosophy of doing business that treats the workforce as just costs on a balance sheet.
"We have developed a corporate culture in America that values shareholders, but doesn't value workers," Smith said. "They see workers as a cost that needs to be driven down. It is destroying the economy."
A Fair Trade Panel held during Friday's convention included some of the real victims of trade policy that puts profits before people. Former Simpson mill workers Aaron Arnold and former Amgen worker Bobbie Thompson told moving stories about losing their jobs overseas and the importance of Trade Act assistance to help them make a transition and retrain for different jobs.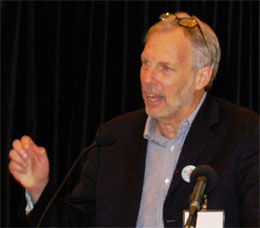 On climate change, University of Massachusetts economist Robert Pollin explained why we just experienced the hottest month and the hottest six-month stretch since the National Oceanic and Atmospheric Administration began keeping such records 136 years ago. It's because climate change is real.
He said the intergovernmental goal is to reduce carbon emissions from burning fossil fuels by 40 percent in the next 20 years. But most projections are that, even with the steps taken in recent years to move toward a greener economy, we are still on course to increase emissions over that period by nearly 20 percent.
"We are completely on the wrong trajectory for climate action and we have to change that now," Pollin said.
He also talked at length about the "false trade-off" that assumes we must choose between jobs and the environment in addressing this crisis. While acknowledging that there will be some job loss in the fossil-fuel sector, Pollin said those jobs losses will be offset by new ones in the green economy. Plus, we can make mitigate the negative impacts by implementing a "Just Transition" plan that includes community reinvestment, worker retraining, and income support for folks who lose their jobs.
Other convention highlights on Friday and Saturday included: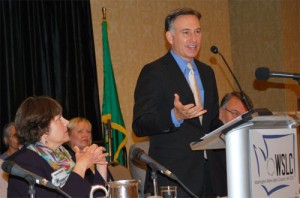 ► King County Executive Dow Constantine welcomed delegates to "the birthplace of the $15 minimum wage" in SeaTac and thanked all present for working on behalf of SeaTac Proposition 1 to make that happen.
"This is an example of the power of organized labor to move the public agenda in the 21st century. Their victory (in SeaTac) set of a chain reaction nationwide," Constantine said. He said this is the new model for organizing.
"Instead of just confining our work to the negotiating table and sitting across from management, we took the battle to the community, to the ballot box, and to the streets," he said. "And we're going to continue to take the ballet to the streets until the battle is won."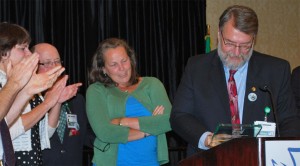 ► Delegates attending the convention banquet got a surprise performance from Mother Jones, as portrayed by actress Terese Biekhans. Then the WSLC Economic Development, Job Retention, and Transportation Committee presented the 2015 Mother Jones Award to Tracey A. Thompson, who recently stepped down from her position as Secretary Treasurer of Teamsters Local 117. This prestigious award has been recognized for decades as the state labor movement's honor recognizing our own leaders and members in their struggle for dignity and respect for all working men and women in our state.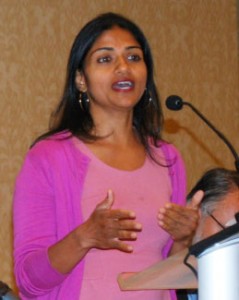 ► Saru Jayaraman, co-founder of Restaurant Opportunities Centers United, described the struggles of the low-paid restaurant workers. One in 12 Americans work in the ever-growing restaurant industry, which is responsible for seven of the 10 lowest-paying job classifications in the nation.
"It's the only industry on Earth that doesn't have to pay its own workers," Jayaraman said, noting its reliance on tips and the abominable $2.13 minimum wage for tipped workers that exists today in some states. She added that states like Washington that do not have a lower minimum wage for tipped workers are faring better than states with "tip penalties" in terms of our restaurant growth and conditions for workers.
► An Organizing Panel shared some of the innovative efforts and programs to organize new members around Washington state. The panal included Dawn Gearhart of Teamsters Local 117 who talked about the taxi and app-based drivers' campaigns, Greg Boyd of the IBEW International who described their Member-to-Member program that works to get existing members more involved in efforts to recruit new members, and Sarah Clifthorne of WFSE/AFSCME Council 28 who discussed the internal organizing that must be done in anticipation of public employee "right-to-work" that could result from the Supreme Court's Friedrichs decision.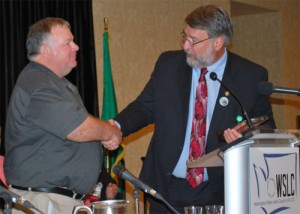 ► The WSLC Education, Training and Apprenticeship Committee presented its Bruce Brennan Memorial Award to Mike Warren, Director of the Northwest Laborers-Employers Training Trust, for furthering the cause of apprenticeship, education and training in Washington state.
Warren was hailed for working tirelessly not just to make the Laborers' program a success, but also to help other unions define their scope of work and improve their programs; for successfully shepherding his program through major economic downturns; and for earning the respect of employers and other unions in what can be a highly politically charged atmosphere.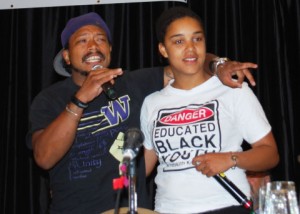 ► Spoken word artists Sarra Tekola and Renaissance rocked the house with a passionate performance describing the struggles of working people, and in particular, of young workers and people of color.
► A Public Service Matters Panel described the challenges faces by public employees when politicians actively undermine their work by starving them of the resources they need to be effective and by trying to privatize them. The panel included Social Security employee Steve Kofahl of the American Federation of Government Employees, David Yao of the American Postal Workers Union, and Seattle-King County Public Health employee Denise Cobden of Professional and Technical Employees Local 17.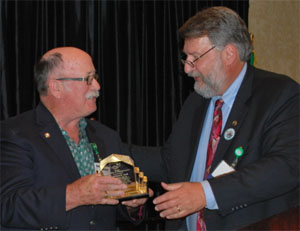 ► WSLC President Jeff Johnson presented two President's Awards at the convention banquet.
The first went to Bob Guenther, President of the Thurston-Lewis-Mason Central Labor Council, Vice President of the Washington State Labor Council, and longtime member, lobbyist and leader of IBEW Local 77.
The second went to WSLC Field Mobilization Director Lori Province, who is retiring this fall after 19 years with the organization and a lifetime of service to organized labor.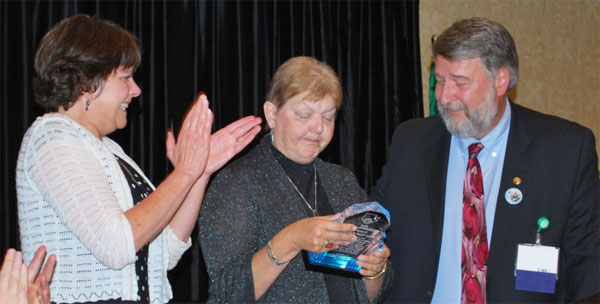 ► The WSLC's Teresa Mosqueda and Terry Costello of the Scherwin Campbell Barnard Iglitzen & Lavitt law firm walked delegates through the High-Cost Health Coverage Excise Tax that is set to be imposed in 2018 under the Affordable Care Act. Costello said this tax is already significant part of most contract negotiations and we shouldn't let employers call it the "Cadillac tax" because these are plans we have negotiated for and earned over decades.
---
The final 2015 WSLC resolutions, which were debated and voted upon Saturday, will be posted at the WSLC website later this week.
---
ALSO at The Stand — Convention Day 1: Gebre urges labor movement 'mojo'
Short URL: https://www.thestand.org/?p=42327
Posted by
David Groves
on Jul 27 2015. Filed under
W.S.L.C.
. You can follow any responses to this entry through the
RSS 2.0
. Both comments and pings are currently closed.