WSLC Convention Day 1: Gebre urges labor movement 'mojo'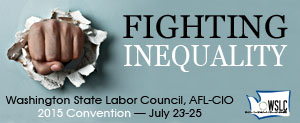 SEATAC (July 24, 2015) — AFL-CIO Executive Vice President Tefere Gebre challenged hundreds of union delegates representing unions from across the state to "put the mojo back in our movement" during Thursday's opening session of the 2015 Convention of the Washington State Labor Council, AFL-CIO. (Watch Thursday's plenary session at TVW.)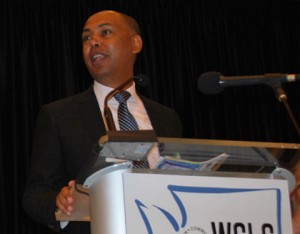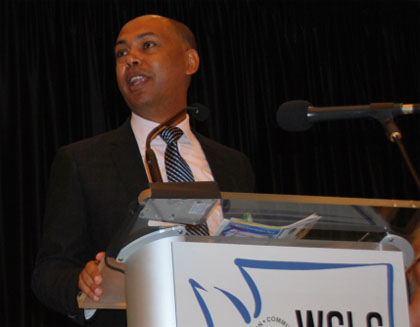 Gebre described the challenges facing organized labor, including the anti-worker laws that suppress wages and working conditions spreading from the South to midwestern states. But he also cited the successes labor has had working in partnership with community supporters; here in Washington, including the successful $15 minimum wage campaign in SeaTac where the convention is being held through Saturday, and across the nation.
However, Gebre told the more than 500 delegates, alternates and guests that we will all have to work even harder to promote good jobs, fair wages and family-friendly policies because of well-financed forces that are targeting the labor movement.
"Put the mojo back in our movement,"he said. "I'm asking you to double up on what we have been doing. We have to work in a transformational way with people in the community who share our values. If we can do that, we can win."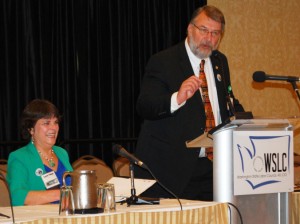 It was a message that reinforced WSLC President Jeff Johnson's opening address earlier Thursday, in which he explained why this year's convention theme is Fighting Inequality. (Read the whole address here.)
"We fight inequality, Sisters and Brothers, because we are the only ones to do it," Johnson said. "The labor movement, unions and our community partners, have to lead the way in fighting inequality…We have to take on the economic, political, and climate crises that are assaulting us and our way of life. And we need to hold ourselves and political leaders accountable for 'Fighting Inequality'."
Both Johnson and Gebre also spoke at length about how this fight is inextricably linked to fighting against racial inequality, supporting the Black Lives Matter movement, and opposing inhumane deportation and immigration policies.
"When our movement starts caring about those things, we start growing again," Gebre said. "I'm fighting for a movement, not just a union."
Johnson added:
Before he died, Eric Garner cried out 'I can't breathe, I can't breathe'. I suggest to you, Brothers and Sisters, that none of us will be able to truly breathe until we, as a society and as a labor movement, deal clearly and honestly with racism in our workplaces, in our communities, in public policy, in our institutions, and in our unions.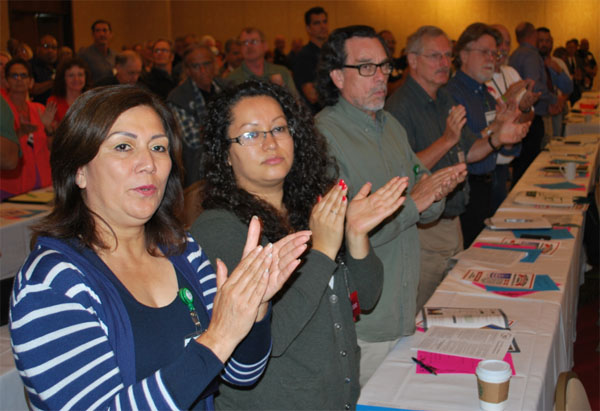 Other convention highlights on Thursday included:
► A group of workers engaged in different struggles to improve their wages and working conditions were part of a Fighting Equality panel. After reminding delegates of the Paul Wellstone quote, "We all do better when we all do better," UFCW Local 21's Sarah Cherin introduced the panel:
— Liz Atkinson-Pattison, an Olive Garden worker in Olympia who is fighting for a $15/hour minimum wage city ordinance via her active participation in Working Washington.
— Michael Hall, a UNITE HERE Local 8 elevator operator at the Space Needle in Seattle, who described the long struggle to finally win their raises after more than three years. But, he noted, they are still fighting for job security in their contract.
— Amir Kalakic, a former SWAT team police officer in Bosnia who has worked in custodial services at Swedish Hospital for nine years. He described a workplace that has demanded more and more from fewer janitors to the point where every night, they must clean the square-foot equivalent of 42.5 houses.
— Pat Scott, who has worked at the Walmart in Federal Way for 16 years and is active in Our Walmart. "I don't think there's an associate in the place that doesn't get state assistance, food stamps, or something," she told delegates. "They are so afraid… We just need to stick together and fight."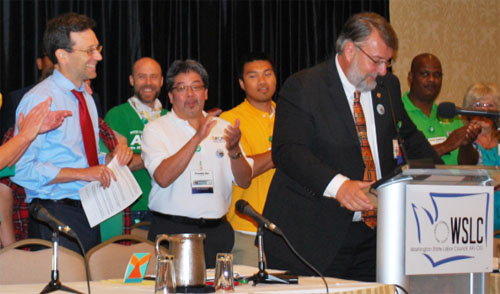 ► State Attorney General Bob Ferguson outlined the cases his offices has pursued to protect workers' rights, including the Sakuma Brothers farm workers — who, it turns out, conducted another work stoppage that very day. "With great courage, they stood up for piece rate pay for their breaks. We stood up on their behalf (in court) and last week we won 9-0 before the state Supreme Court," he said to raucous applause.
► A Union Values panel described important accomplishments and challenges that reflect what the labor movement in Washington stands for.
Nicole Grant, Executive Director of Certified Electrical Workers of Washington, explained the Priority Hire ordinance in Seattle that was a major victory and partnership for organized labor and community groups. Now virtually all city construction will now be conducted under Project Labor Agreements, but with the stipulation that at least 15 percent of the workers on the project live in local zip codes with high poverty rates.
Greg Devereux, Executive Director of Washington Federation of State Employees/AFSCME Council 28, talked about his unions' growth and how it was accomplished. He also described the Friedrichs case the U.S. Supreme Court is ruling upon next year, in which the conservative-controlled court may essentially establish so-called "right-to-work" throughout America's public sector promoting free riders who get union contracts and services but don't have to pay their fair share whether or not they choose to be members of the union. But Devereux had an interesting take on it.
"It's far more productive to see Friedrichs as an opportunity… Friedrichs may force change that we've needed for a long time," he said, saying all unions — and not just in the public sector — need to focus more on one-on-one conversations with members and "organize internally in a way we never have before."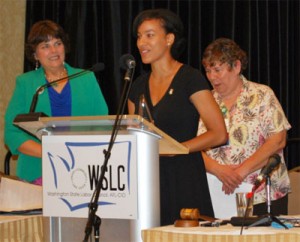 ► The WSLC Women's Committee presented the 2015 Elsie Schrader Award for the advancement of women in leadership roles and/or for activism on behalf of women within the labor movement to Dawn Gearhart of Teamsters Local 117. She has organized and represented both the Western Washington Taxi Operators Association and the App-Based Drivers Association, successfully helping competing drivers understand their mutual interest in organizing and to give them a voice outside the traditional union model.
"Dawn has been relentless in her work with Seattle City and King County Council members, educating them on the issues that are important to taxi operators," said Women's Committee Chair Patty Rose as she introduced Gearhart. "Dawn has organized mass demonstrations at City Hall in seattle, effectively blocking 4th Avenue with taxis to force the mayor and council to listen to their demands."
---
The WSLC Convention continues Friday, reconvening at 8:30 a.m. Stay tuned at The Stand for more coverage.
Short URL: https://www.thestand.org/?p=42293
Posted by
David Groves
on Jul 24 2015. Filed under
W.S.L.C.
. You can follow any responses to this entry through the
RSS 2.0
. Both comments and pings are currently closed.