Tefere Gebre to headline WSLC Convention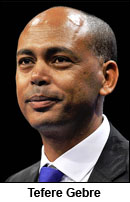 SEATAC (July 20, 2015) — AFL-CIO Executive Vice President Tefere Gebre is among the special guest speakers scheduled to appear at the 2015 Convention of the Washington State Labor Council, AFL-CIO, which begins Thursday morning, July 23 at the SeaTac DoubleTree by Hilton, 18740 International Blvd. The convention is expected to adjourn Saturday afternoon.
Under the theme "Fighting Inequality," union, political and community leaders will discuss how workers in SeaTac, around Washington state, and all across the nation are fighting for prosperity to be more widely shared. Here is the tentative agenda for the convention (subject to change):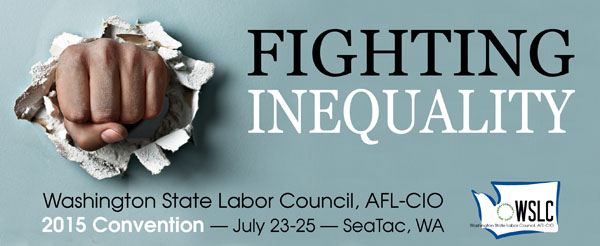 WEDNESDAY, JULY 22
6 to 8 p.m. — Early Registration — Main Lobby
7:30 to 9 p.m. — Washington Young Emerging Labor Leaders (WA YELL) Reception — Maxie's
THURSDAY, JULY 23
7:30 a.m. — Registration Begins – Main Lobby
7:45 to 8:30 — New Delegate Workshop — Evergreen 4
9:00 — CONVENTION CONVENES — Grand Ballroom 2 & 3
President Jeff Johnson's Opening Comments
Attorney General Bob Ferguson
Elsie Schrader Award Presentation
10:00 — AFL-CIO Executive Vice President Tefere Gebre
11:00 — Fighting Inequality workers' panel
11:30 — Union Values panel
Noon — Break for LUNCH (on your own)
1:30 p.m. — WORKSHOPS:
► Immigration Reform & Naturalization (feat. Tefere Gebre, Sarah Sumadi, Pedro Oguin, Sandy Restrepo) – Cascade 1-2
► Boards and Commissions (Keith Swenson, Kairie Pierce, Joan Weiss, Caitlyn Jekel, Bill Messenger) — Cascade 3-4
► Organizing (Joe Kendo, Mark McDermott, Dawn Gearhart, Sarah Cliffthorn, Greg Boyd) — Cascade 5-6
2:00 — Committee meetings:
► Resolutions – Evergreen 3
► Legislative – Evergreen 1
3:00 — Card & Label Committee — Cascade 11
3:15 — WORKSHOPS:
► Fighting Inequality (Kairie Pierce, Sarah Cherin, Joe Mizrahi, Sejal Parikh, Matt Haney, Stefan Moritz ) – Cascade 1-2
► Union Siblings: Solidarity with Transgendered Workers (Justine Winnie, Marsha Botzer-Ingersoll) – Cascade 3-4
► Youth in Labor (Joe Kendo, Shaunie Wheeler, Kate Garrow, Elissa Goss) – Cascade 5-6
4:00 — Grievance Committee – Cascade 11 (if needed)
5:00 — Statewide COPE – Northwest 3
6:00 — COPE Barbecue – IBEW 77 Hall
8:00 — Mural Display and Reception – Maxie's
FRIDAY, JULY 24
8:30 a.m.– CONVENTION RECONVENES – Grand Ballroom 2 & 3
Public Service Matters panel
9:00 — Bob Pollin, Political Economist from U-Mass on Climate & Jobs
Spoken Word Performers
10:00 — Saru Jayaraman, Restaurant Opportunities Centers United
Fair Trade panel
Bruce Brennan Award
11:00 — King County Executive Dow Constantine
Health Care Presentation
12:00 — LUNCH
President's Club Luncheon (Kshama Sawant, Guest Speaker) – Northwest 1
Everyone else on their own
1:30 p.m. — WORKSHOPS:
► Black Lives Matter to Labor (Larry Mosqueda) – Cascade 1-2
► Trade (Bill Messenger, Caitlyn Jekel, Lynne Dodson, Fair Trade Coalition) – Cascade 3-4
► Talking to Your Members About Right-to-Work (Adrienne Thompson, Lee Newgent, Lori Province, D. Nolan Groves) – Cascade 5-6
3:15 — WORKSHOPS:
► Climate and Jobs (Robert Pollin, others) – Cascade 1-2
► Fair Revenue (Joe Kendo, Andy Nicholas, Nick Federici, Reuven Carlyle, April Putney) – Cascade 3-4
► Health Care is a Human Right (Teresa Mosqueda) – Cascade 5-6
6:00 — Reception – Courtyard
Women's Committee Silent Auction – Grand Ballroom
7:00 — Banquet – Grand Ballroom
Mother Jones Presentation and Award
President's Awards
Comedian Will Durst
SATURDAY, JULY 25
8:30 a.m. — CONVENTION RECONVENES — Grand Ballroom 2 & 3
Organizing presentation
Constituency Groups
10:15 — Congressman Adam Smith (tentative)
10:30 — COPE Endorsement Action
Resolutions
Affiliate Issues
Approx. 12:30 p.m. — Convention Ends
---
The WSLC mailed the official Convention Call to its affiliated unions in May, which indicates the number of delegates to which each union is entitled. Online registration is available.
RESOLUTIONS — At the convention, delegates representing WSLC-affiliated unions from across the state will consider the resolutions that are a key part not just of the WSLC Convention, but of the organization itself. It is through their debate and passage that WSLC positions and policies are established. Any affiliated union may submit resolutions. See the resolutions approved in 2014 for examples of the diverse issues that are covered.
The Washington State Labor Council's Constitution says that proposed resolutions should be submitted 30 days prior to convention (in this case, by June 23). However, "late" resolutions are routinely accepted right up until the first day of convention and also will be considered by delegates. Affiliates are urged to submit these resolutions at the earliest possible time to facilitate reproduction and distribution to the convention body.
If you have convention-related questions, call the WSLC at 206-281-8901.
Short URL: https://www.thestand.org/?p=42215
Posted by
David Groves
on Jul 20 2015. Filed under
W.S.L.C.
. You can follow any responses to this entry through the
RSS 2.0
. Both comments and pings are currently closed.