Union/civil rights, RTW fails, Boeing exports more jobs…
Thursday, September 17, 2015
---
WAGE ACT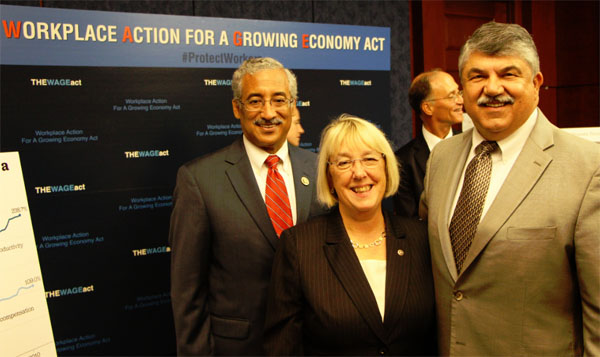 ► From AFL-CIO Now — Introducing the WAGE Act to strengthen the rights of working people — Today, members of Congress, led by Sen. Patty Murray (D-Wash.) and Rep. Bobby Scott (D-Va.), proposed the Workplace Action for a Growing Economy (WAGE) Act, legislation designed to strengthen protections for working people who join together to make positive change at work and make sure corporations that violate working people's rights face real consequences.
YESTERDAY at The Stand — Murray introduces WAGE Act to update, strengthen labor laws
► From the Hill — New legislation aims to protect union organizers — "Today's laws that are designed to protect people at work don't have enough teeth to hinder bad corporate behavior," said AFL-CIO President Richard Trumka. "Simply put, employers are constantly breaking the law because there's no incentive for them not to."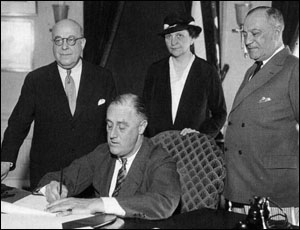 ► In today's Washington Post — Labor law has been frozen for 60 years. Democrats are trying to crack it open. — The American workplace has changed a whole lot over the past half century. But the major law that governs how workers and employees interact — the National Labor Relations Act — has been essentially frozen since 1947, when the law was reformed to constrain worker power. According to many scholars, that's one of the major reasons behind the steady decline in union density that characterized the second half of the last century. There have been many attempts to tilt the law back in the favor of workers, to no avail. Today, however, liberal legislators are trying to make the law a tool for collective action again — putting the issue squarely in the 2016 presidential conversation.
► From Politico — The power of a lawsuit — Admittedly when Democrats introduce legislation in Republican-controlled legislative bodies, it's not normally considered all that newsworthy. There's little reason to assume it will go anywhere in Congress. But the idea it contains — essentially, a civil right to unionize — is a powerful one that could help jump start an important discussion in the presidential campaign, and at the state and local level.
► From Huffington Post — Democrats want to make labor organizing akin to a civil right
► In The Guardian — New pro-union bill to serve as litmus test for 2016 presidential candidates — As Scott Walker bashes unions on the campaign trail, Democrats in Congress sponsor the Wage Act, offering new protections for workers seeking to unionize.
---
RIGHT-TO-WORK (FOR LESS)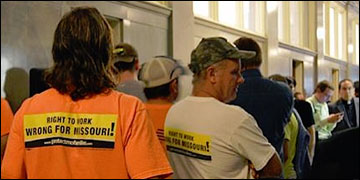 ► In today's St. Louis Post-Dispatch — 'Right-to-work' measure dies in Missouri House — Applause erupted in the the House chamber Wednesday as Republican leaders' goal to make Missouri the 26th "right to work" state died when members failed to vote to override Gov. Jay Nixon's veto. As a gallery full of right-to-work opponents looked on Wednesday, House members voted 96-63 in favor of the override, 13 votes short of the 109 needed to override the governor's veto.
► In today's Oregonian — Sponsor may drop 'right to work' union measure in Oregon after adverse legal ruling — The sponsor of a proposed ballot measure aimed at making union dues voluntary for public employees may well drop the initiative after receiving a politically unpalatable ballot title. Portland attorney Jill Gibson said she is leaning toward abandoning the proposal after the Oregon Supreme Court upheld a ballot description that will make the measure harder to sell to voters.
► In today's Spokesman-Review — Idaho anti-union law invalid, 9th Circuit Court rules — A federal appellate court has upheld an earlier ruling that an anti-union law passed by the Idaho Legislature in 2011 was invalid. The law, which never took effect, banned "job targeting" or "market recovery" programs, in which unions use funds they collect from workers to subsidize bids by union contractors on jobs.
---
TEACHER STRIKES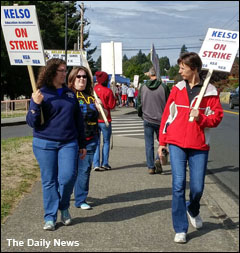 ► In today's (Longview) Daily News — Kelso's 300 teachers go on strike; negotiations continue — Kelso teachers went on strike Wednesday morning for the first time since 1972, closing down the district because the two sides could not agree on terms of pay in a new labor contract. The district Wednesday filed an injunction with the courts to forced teachers back to work, but a judge has yet to rule.
► From AP — Seattle teachers' tentative deal tackles issues beyond pay — Striking Seattle teachers who reached a tentative contract deal tapped into the concerns of the community to win unusual concessions: guaranteed 30-minute recess for elementary students and teams created to address race and equity in schools.
► From KING TV — Seattle teachers still need to approve deal
► In today's Seattle Times — Spurred by strike support, parent groups continue fight for state school funds — With the Seattle teachers strike suspended, public-education advocates hope to harness the outpouring of support for teachers toward the effort to boost state education spending.
ALSO at The Stand — 'Supremes' could force the issue, prompt proper school funding
---
LOCAL
► In From KING TV — Nurses protest against UW Medical Center
► In today's Seattle Times — Broken safety cable blamed for Hwy. 520 worker's death; contractor fined $14,400 — The death of a Highway 520 bridge worker happened in part because a safety cable hit a steel edge and severed, L&I has found.
► In today's (Everett) Herald — Snohomish County Council delays vote on hiring freeze
► From Think Progress — Microsoft hit with gender discrimination lawsuit — Microsoft is staring at a potential class-action gender discrimination lawsuit filed by a former technician alleging the company denied her promotions and raises.
---
BOEING
► This morning from Boeing — Boeing to build 747 fuselage panels at Macon, Georgia, facility — Boeing will take over the work from Triumph Aerostructures – Vought Aircraft Division with the Macon site providing assembled fuselage panels to Boeing's 747 final assembly line in Everett. The site will ramp up to full production on 747 fuselage panels by mid-2018, at which point it will employ up to 200 people.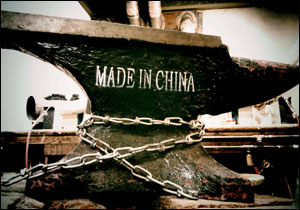 ► In the P.S. Business Journal — Investment in China 'critical for market success' there, Boeing official says — Boeing is bringing its three top executives to Seattle to meet China's President Xi Jinping. The fact that all three of the company's leadership team will be together may signify that they'll also come bearing a big gift for Xi. The concentration of Boeing power presents a perfect symbolic moment for Boeing leaders to announce plans to complete some 737 jetliners in China for delivery there, as a final step after their assembly in Renton.
---
STATE GOVERNMENT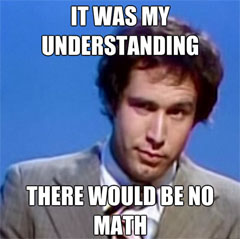 ► In today's Olympian — New math shows shortfalls in Washington's open pension plans — On paper, Washington's public pension system suddenly looks shakier than it used to. But there's been no change in costs — just a new way of counting them. Until recently, state figures showed all pension plans open to new members were fully funded, with assets covering more than 100 percent of what each plan owes. A report the state actuary's office presented to lawmakers Monday shows shortfalls in the biggest open plans. Washington's pension system is regularly ranked among the nation's best-funded. Even under the new calculations, no open plan is less than 90 percent funded. The actuary says all of the open plans remain on target to cover their full costs. "It's really an accounting change. It's a one-time hit," Actuary Matt Smith said. "The funding of the plans hasn't changed."
► In today's Seattle Times — Clemency and a call for reform for three-strikes law (editorial) — The only relief valve for people convicted under Washington's 22-year-old "three-strikes" law is the mercy of the governor. Last week, two extremely worthy candidates for that extraordinary relief had their cases heard by the state's Clemency and Pardons Board… The Legislature should also listen to calls by King County Prosecutor Dan Satterberg and others to revisit a law that sends black men to the slow death of a life sentence for petty robberies.
► In today's Seattle Times — Uninsured numbers continue to drop in Washington, too — The percentage of people without health insurance fell from 14 percent to 9.2 percent in Washington state last year, affecting about 317,000, according to new Census data. Nationwide, about 10.4 percent of people remain uninsured.
► In today's (Everett) Herald — State Democrats eager to know who's taking on Inslee — They expected the governor would face as tough an election in 2016 as he did in 2012. Yet one by one, those with the seeming potential to mount such a challenge have chosen not to do so.
---
FEDERAL GOVERNMENT
► In today's (Everett) Herald — Taking the path to shutdown (editorial) — You'd be tempted to throw the "do nothing" label on Congress if some of its members weren't working so hard to avoid doing anything constructive… Regardless of personal opinions on abortion, a majority of Americans, 71 percent, say its more important for Congress to pass the spending bill (and avoid another government shutdown) than eliminate funding for Planned Parenthood.
► In today's NY Times — Jon Stewart joins 9/11 workers in pressing Congress to extend benefits — Stewart has long supported the law, which provides federal health care for rescue workers at ground zero and which will start expiring next month.
---
CAMPAIGN 2016
► From The Hill — GOP field piles on Trump in fiery debate — The Republican presidential field piled on front-runner Donald Trump during Wednesday's  second GOP debate, seeking to raise questions about his temperament, business record and overall fitness for office.
► From The Hill — Sanders won the GOP debate — on Facebook — "The evening was really pretty sad," Sanders wrote in a Facebook post that garnered over 150,000 likes and 30,000 shares. "This country and our planet face enormous problems. And the Republican candidates barely touched upon them tonight. And when they did, they were dead wrong on virtually every position they took. The Republican Party cannot be allowed to lead this country. That's why we need a political revolution."
► In today's Wash. Post — 'New' Hillary Clinton tries on her comedian hat on Jimmy Fallon (video)
---
TODAY'S MUST-READ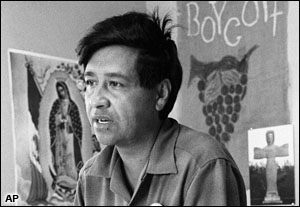 ► In the L.A. Times — 50 years ago, Cesar Chavez led a crusade to unite and empower farmworkers (by Miriam Pawel) — On a Thursday night 50 years ago, at the height of the table grape harvest in California's Central Valley, hundreds of Mexican American farmworkers crowded expectantly into a Delano church hall. Most had worked their usual shifts in the vineyards, and many had stopped off after work at celebrations to mark Mexican Independence Day. The overflow crowd spilled into the church yard, excited and scared, angry and brave. They were tired of being treated like disposable farm tools. Tired of being cheated out of even their meager wages. Tired of watching their mothers and sisters humiliated and harassed. Tired of being stripped of dignity. Tired of being invisible.
Many had never met the man who rose to speak, who would throw the spark that ignited fires that would turn la causa into front-page news. He, too, was still largely invisible. Short, dark-skinned, not physically prepossessing or particularly well spoken. He looked like one of them. That was part of his power. Cesar Chavez knew even then that he was making history Sept. 16, 1965, as he called on members of the National Farm Workers Assn. to take a strike vote.
---
The Stand posts links to Washington state and national news of interest every weekday morning by 10 a.m.
WASHINGTON IS A UNION STATE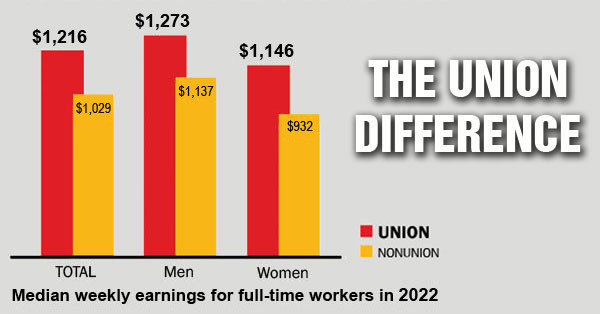 CHECK OUT THE UNION DIFFERENCE in Washington state: higher wages, affordable health and dental care, job and retirement security.
FIND OUT HOW TO JOIN TOGETHER with your co-workers to negotiate for better working conditions and respect on the job. Or go ahead and contact a union organizer today!