Alcoa split, 'great' America, unfashionable union bashing…
Tuesday, September 29, 2015
---
LOCAL
► From KING TV — UW to raise minimum wage to $15 an hour
ALSO at The Stand — $15/hour coalition at UW scores major victory
MORE coverage in the P.S. Business Journal and the Seattle Times.
► In today's Bellingham Herald — Alcoa splitting into 2 companies; impact on Intalco smelter unclear — Alcoa will split into two independent companies, separating its bauxite, aluminum and casting operations from its engineering, transportation and global rolled products businesses. It's unclear how the split will affect the Alcoa Intalco Works smelter west of Ferndale that employs more than 500 workers.
► In the P.S. Business Journal — Constantine's new funding plan lays tracks for 700 affordable apartments — King County Executive Dow Constantine unveiled a plan that would direct tens of millions of dollars into transit-oriented developments. Private real estate developers and nonprofits would build at least 700 units of housing across the county over the next five years.
► In the P.S. Business Journal — Whole Foods slashes 1,500 jobs, including some at Seattle-area stores — Seattle-area stores are subject to cuts as Whole Foods' nixes 1,500 jobs across the country. The cuts "will impact Seattle and all markets," a spokesperson said.
---
STATE GOVERNMENT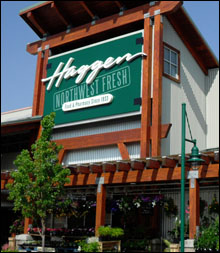 ► From KUOW — 'Rapid Response Teams' organized for mass layoffs at Haggen grocery stores — The state employment departments in Oregon and Washington are organizing 'rapid response' teams to help nearly 1,000 grocery workers facing mass layoff. Specialists hired by the state will meet with workers at the affected stores — seven in Oregon and 14 in Washington. At those meetings, workers can get a head start on how to apply for unemployment, retraining or job search services. Meanwhile, the UFCW said that it wants Haggen to try harder to sell the doomed stores to another grocer that would keep them open.
ALSO at The Stand — Unions working together to protect Haggen employees
► In today's (Everett) Herald — Target fined $21K for worker's death at store in Lake Stevens — The Lake Stevens store had three serious violations of workplace safety laws, according to L&I findings. Target is appealing the fines. Marjorie M. Reed, 58, of Snohomish, suffered fatal head injuries on June 7 after falling from a ladder.
---
FEDERAL GOVERNMENT
► From The Hill — Senate advances bill to prevent shutdown — A short-term bill to fund the government through Dec. 11 until after the election overcame a key procedural hurdle in the Senate on Monday, just days before the deadline to avoid a shutdown.
► From TPM — For a Republican Congress in chaos, things are about to get way, way worse — House Speaker John Boehner may have sacrificed his speaker's gavel to keep the government open through the week. But the path that lies ahead for his successor is much trickier. Even if lawmakers, as expected, pass a short-term spending bill this week, they face a series of other deadlines before the end of the year that could converge into one giant showdown fueled by freshly emboldened hardliners who see compromise as defeat.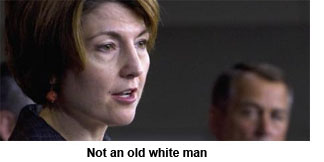 ► From TPM — McMorris Rodgers drops out of majority leader race — Rep. Cathy McMorris Rodgers (R-WA), who serves as House Republican conference chair, the No. 4 slot in House Republican leadership, announced on Monday that she would not run for majority leader. Her announcement came after after Rep. Tom Price (R-GA) entered the race and earned key endorsements from House colleagues. House Majority Whip Rep. Steve Scalise (R-LA) is also running for majority leader.
► In the Billings Gazette — Congress responds to grain shipping meltdown with new law — Tucked away in a bill approved by the House on Monday was an amendment by U.S. Sen. Steve Daines (R-Mont.) requiring the USDA to intervene immediately when port grain inspections stop, as they did at the United Grain terminal in Washington during union protests in 2014. The Senate last week passed the bill, which now heads to President Obama. Grain inspectors employed by Washington state walked off the job for five weeks in July and August 2014 citing concerns about crossing union picket lines. The bill passed Monday specifies that the USDA will take over to keep grain flowing.
► In the Detroit Free Press — Quicken case could define worker free-speech rules — The NLRB says mortgage giant Quicken Loans overly restricts its employees' free speech and filed a complaint that could have long-ranging effects on what workers are allowed to say about their companies on social media sites such as Facebook and Twitter.
---
CAMPAIGN 2016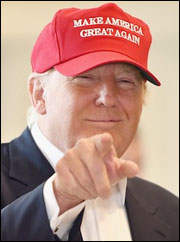 ► In The Atlantic — When America was 'great,' taxes were high, unions were strong, and government was big — It's no wonder Donald Trump's message is so powerful. At a time many white Americans these days are pessimistic to the point of despair, it's a sugar pill coated with nostalgia. He is not promising to make America great, he's promising to make it great again. But to what era does he intend to take the nation back? Everyone agrees that the midcentury boom times began after Allied soldiers returned in triumph from World War II… But Trump's supporters might not appreciate what an economic return to the '50s would entail. They were a time of Big Government. And Big Labor: As Alternet reports, "By 1953, more than one out of three American workers were members of private sector unions. That means there was a union member in nearly every family." Then there's the matter of taxes. The effective tax rate was vastly higher than it is today. Indeed, for most of the past 100 years, tax rates have been much higher than they are now, including during some boom times.
► From Politico — Clinton endorsement divides teachers union — Top brass of the 3 million-strong National Education Association, the country's largest union, are recommending an endorsement of Hillary Clinton, according to an email — a move that has many state leaders and rank-and-file members planning to protest the early endorsement.
---
NATIONAL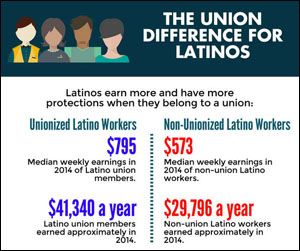 ► From AFL-CIO Now — 11 important facts about Latinos in the workforce — In a new report released this week, Latino Workers and Unions: A Strategic Partnership for America's Progress, the Labor Council for Latin American Advancement details the work environment for Latinos in the U.S. workforce.
► In the WSJ — Fiat Chrysler labor contract in doubt — Workers at several of Fiat Chrysler factories have rejected a proposed labor contract, indicating the Italian-U.S. auto maker is having a tough time selling a four-year deal that raises wages but falls short of expectations.
► From Politico — Rush Limbaugh pans evidence of water on Mars as part of 'leftist agenda' — Flowing water on Mars? That's just part of the liberal agenda, Rush Limbaugh says. The conservative radio talk show host addressed NASA's announcement on Monday that it had found evidence of flowing water on present-day Mars, and — spoiler alert — he doesn't believe it.
---
TODAY'S MUST-READ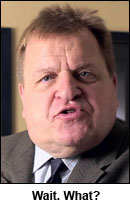 ► From Bloomberg — Political appeal of bashing unions may have peaked — Unions might never recover the strength they had decades ago, but recent signs suggest renewed support for labor, or at least an end to its run as a Republican bogeyman. Public approval of unions is up 10 percentage points since 2008, to 58 percent, according to the Gallup survey released Aug. 17. Women and people ages 18 to 34 provided the strongest support. Gov. Scott Walker, who restricted most collective-bargaining rights for state public employees in 2011, attempted to revive his sliding presidential poll numbers by vowing Sept. 14 to do the same at the national level. His support continued to plummet, and a week later he was out of the race.
---
The Stand posts links to Washington state and national news of interest every weekday morning by 10 a.m.
Short URL: https://www.thestand.org/?p=43775
Posted by
David Groves
on Sep 29 2015. Filed under
DAILY LINKS
. You can follow any responses to this entry through the
RSS 2.0
. Both comments and pings are currently closed.