Haggen hastens, state delays, pursuit of happiness, young John…
Friday, October 16, 2015
---
LOCAL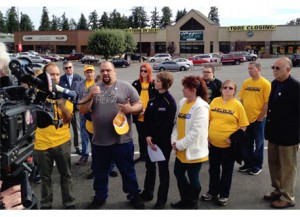 ► In today's Oregonian — Haggen gets court approval to close stores; union calls auction 'drastically premature' — A U.S. Bankruptcy court on Thursday approved Haggen's request to continue closing dozens of stores, including all of those in California, Nevada and Arizona. In the last few months, the bankrupt grocer has announced plans to close and sell 127 stores, plus a few more contingent on interest from potential buyers. The court order allows Haggen to quickly shed its stores, overturning a request by the the UFCW union, which represents thousands of Haggen employees.
► In today's Seattle Times — Judge clears Haggen plan to quickly dispose of most stores
► In today's Seattle Times — Virginia Mason plans job cuts — Virginia Mason Hospital and Medical Center plans to shrink its workforce next year. The Seattle-based medical enterprise, which has about 5,500 employees, has offered some workers voluntary severance packages before it decides whether layoffs will be necessary in 2016.
► In today's Yakima H-R — Rally in support of $15 minimum wage in Yakima today — About 100 workers, students and community leaders are expected to gather in Yakima late this afternoon to rally for a higher minimum wage. The rally, which will start at 5:30 p.m. at the Casa de Gracia Church, 901 S. Seventh St., coincides with World Food Day, during which organizations around the world advocate for ending hunger.
► In today's Olympian — North Thurston teachers still working without a contract — Members of the North Thurston Education Association (NTEA) overwhelmingly rejected a proposed collective bargaining agreement last week. As a result, teachers in Thurston County's largest public school district continue to work without a contract.
---
STATE GOVERNMENT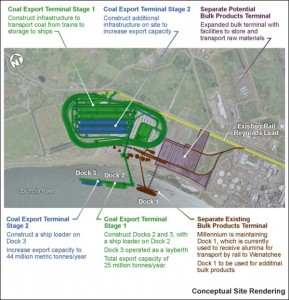 ► In today's (Longview) Daily News — State delays coal terminal environmental study to 2016 — A draft environmental study for the $643 million Longview coal terminal that had been due in November has been postponed until 2016, the state Department of Ecology announced Thursday. Coal terminal opponents welcomed the news, while supporters called it "deeply disappointing" and blamed the delay on politics.
ALSO at The Stand — Hard-earned trust for proposed port should pay off (by Mike Bridges)
► In today's Olympian — Dan Pacholke named new state Corrections secretary — Gov. Jay Inslee on Thursday promoted a longtime employee to lead the state Department of Corrections, which is charged with managing the state's prisons and supervising released offenders. Dan Pacholke, currently the DOC deputy secretary, will replace outgoing Secretary Bernie Warner, who is stepping down to work for a private prison operator in Utah.
► From AP — New financial problem at state's first charter school — The chairman of the Charter School Commission revealed at a meeting Thursday in Tacoma that First Place Scholars is being forced to quickly refund an overpayment of $160,000 in state dollars it received last school year.
---
FEDERAL GOVERNMENT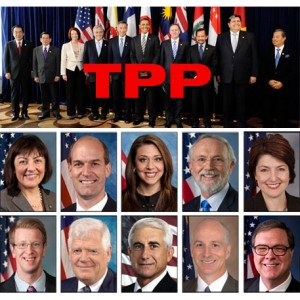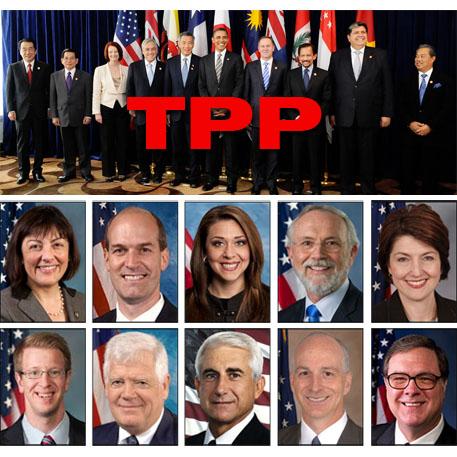 ► From The Hill — White House wants trade vote before lame duck — The White House wants Congress to take up President Obama's Pacific Rim trade deal long before next year's lame-duck session, when some congressional aides say a vote is likely to take place. "The timeline that we envision is shorter than that," press secretary Josh Earnest said. He did not specify when the White House would like a vote to occur.
EDITOR'S NOTE — Dear Mr. Earnest: May we see the TPP? Pretty please?
► From Reuters — White House says looking to resolve lack of Social Security increase — President Barack Obama is concerned about the "unintended" consequence of a Social Security formula that will keep nearly 65 million older Americans from getting an increase in their benefits next year, the White House said on Thursday.
► From the Hill — GOP's debt-limit pressure grows — With the House still clueless about who its next Speaker will be, Congress has just 10 legislative days to tackle a topic at the center of some of the most pitched fiscal battles of the last several years. Unless action is taken by Nov. 3, the specter of a default on U.S. obligations looms large — potentially setting the stage for significant market turmoil and dire consequences for America's financial reputation across the globe.
► From AP — Big 3 airlines flexing their political muscle in D.C. — At the urging of the Delta, American and United airlines and the Air Line Pilots Association, 262 House members and 22 senators wrote the administration asking for a freeze in the number of flights to the U.S. now allowed for three Persian Gulf airlines — Emirates, Etihad and Qatar — and discussions with the United Arab Emirates and Qatar about whether those airlines are violating aviation treaties with the U.S.
► In today's NY Times — Stronger economy cited as U.S. reports lowest budget deficit of Obama's tenure — The administration cheered the figures as vindication of the president's economic policies and as proof of the resurgence he started after taking office during the recession.
► In today's NY Times — Putting numbers to a tax increase for the rich — Experts say raising taxes for high-income individuals would raise tax revenue while still allowing them considerable after-tax income.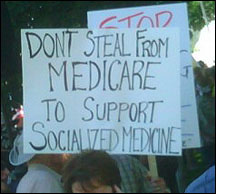 ► In today's NY Times — Guess who else is a Socialist? (by Timothy Egan) — Once you label something socialist, it brings to mind dour Soviet types trotting out dreary worker clothing for the spring fashion line. Or, here at home, those insufferable parlor room Marxists who think it would be utopia if only we nationalized every Starbucks. In that sense, the worst thing about socialism is the socialists… Free of the label, a hybrid economy where health care, education and pensions for the elderly are provided, side-by-side-by-side with creative capitalism, works pretty well in the Nordic countries, Britain and Canada. And most of the tenets of what is considered democratic socialism have majority support in the United States.
---
NATIONAL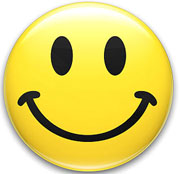 ► From The Nation — It's science: Raising the minimum wage would make America a happier place — "There's this idea that our society is premised on the pursuit of happiness," says Laura Smith, a psychologist at Columbia University's Teachers College. That premise, she reasons, is tied to the implicit American social contract, "which is that a hard day's work is going to be the pathway to full enfranchised citizenship. And when full-time contributors to the necessary fabric of society can't earn enough to lift their families out of poverty, our tacit social contract is compromised." Smith is the author of an academic cri de cœur, published in the September 2015 issue of American Psychologist, in which she calls on the psychological profession to take a strong stance in support of raising the minimum wage.
► From Al Jazeera America — Graduate students nationwide press for right to form union — Graduate students at some of the United States' most prestigious universities launched a national day of action on Thursday as part of a years-long campaign to unionize teaching assistants and other student workers.
► In today's NY Times — Voter ID battle shifts to Kansas — A lawsuit challenges a rule requiring proof of citizenship that has left thousands of people — many of them young and first-time voters — listed as incomplete registrants.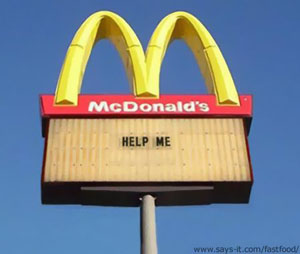 ► From KPLU — McTeacher's Nights: Teachers unions say 'no' to school fundraisers — The NEA joined forces with a group of state and local teachers unions, as well as the watchdog group Corporate Accountability International. This week, the coalition sent a letter to McDonald's CEO Steve Easterbrook, asking him to end the practice of McTeacher's Nights. "It is wrong to enlist teachers to sell kids on a brand like McDonald's, whose core products are burgers, fries and soda," the letter states.
► In today's Washington Post — World-famous L.A. teacher files billion-dollar suit to end 'teacher jail' — Rafe Esquith has won awards from the Dalai Lama, Queen Elizabeth and the Kennedy Center. But his school district has reportedly fired him.
---
T.G.I.F.
► Happy 38th birthday to John Mayer, a once-promising rock/blues guitarist and singer-songwriter. The Entire Staff of The Stand loved his early albums — especially his debut, Room for Squares — enough to forgive his cheesy-but-earnest missteps along the way ("Your Body Is a Wonderland," "Daughters," etc.) We twice braved the squealing teen-aged girls to see him in concert and found him to be funny, self-deprecating, and an incredible performer. We stuck with him right through 2006's excellent Continuum.
But alas, we could not suffer his subsequent tabloid lifestyle, his succession of celebrity girlfriends, his idiotic and offensive kiss-and-tell interviews about his celebrity girlfriends, and his other general douchebaggery. So today we will celebrate his birthday by remembering the John Mayer he was before he grew up. Enjoy.
---
The Stand posts links to Washington state and national news of interest every weekday morning by 10 a.m.
Short URL: https://www.thestand.org/?p=44231
Posted by
David Groves
on Oct 16 2015. Filed under
DAILY LINKS
. You can follow any responses to this entry through the
RSS 2.0
. Both comments and pings are currently closed.