Tacoma invests, TPP paper, teen truckers…
Tuesday, November 24, 2015
---
LOCAL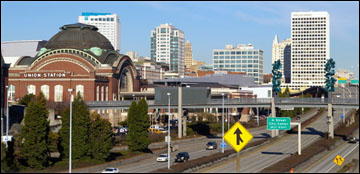 ► In today's News Tribune — By 22 votes, property and utility tax passes to improve Tacoma roads — For the first time in 47 years, Tacoma voters have approved spending more public money to fix city streets. Barring the unexpected, Pierce County officials will certify the passage Tuesday of both parts of a proposal for 10 years of new taxes to improve Tacoma's long-neglected roads.
► In today's Seattle Times — Proposal to give city workers 12 weeks of paid parental leave fails again — The Seattle City Council approved a 2016 city budget with some additional spending on Monday, but voted 5-4 against funding 12 weeks of paid parental leave for city employees.
► In today's Seattle Times — KPLU advisory board votes to oppose radio station's sale — During an emotional meeting at the Westin Hotel, KPLU listeners applauded the advisory board for pushing back against PLU's plan to divest the radio station.
► In today's Seattle Times — New round of rail consolidation touches NW (by Jon Talton) — If the Canadian Pacific-Norfolk Southern merger survives regulatory scrutiny, the combined entity would gain a straight shot from Vancouver to the eastern U.S., enhancing options around the gridlock of Chicago. This might give our northern competitor an advantage over the ports of Seattle and Tacoma.
---
BOEING
► In the P.S. Business Journal — Record numbers not just this year but next for Boeing's 787 — Boeing may break its 787 Dreamliner production record again in 2016, by delivering 140 jets.
---
TRANS-PACIFIC PARTNERSHIP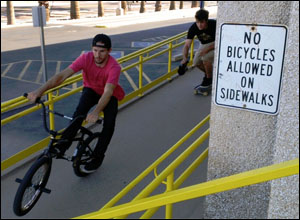 ► In the NY Times — Pacific trade and worker rights (editorial) — Obama administration officials say the T.P.P. goes further on labor standards than those earlier pacts… but it could turn out to be mostly symbolic because the agreement does not specify how countries should set minimum wages. Nor does it establish any minimum standard for safety regulations. The United States should insist on stronger enforcement of labor rights with trade pact countries… but those achievements will not mean much if the improvements exist only on paper.
---
CAMPAIGN 2016

► From The American Prospect — Working class voters hold key to 2016 — Strongmen on the right are speaking almost exclusively to white, working-class voters, stoking populist resentment toward people of color — both immigrants and African Americans. Progressives, for their part, are calling for better wages and quality of life across the board, including for those vilified on the right. To win in 2016 and beyond, candidates must reach out to both groups; they must speak to all working people. Those who focus exclusively on one group or the other will undermine their chances of winning the White House.
► From The Hill — Ironworkers union endorses Clinton — Hillary Clinton won the endorsement of a major infrastructure union Monday as her campaign continues to consolidate labor support.
---
FEDERAL GOVERNMENT
► From Huffington Post — What Obama's economists get wrong about the Cadillac Tax (and why it's pissing us off) (by UNITE HERE's D. Taylor) — With the substantive case for the 40% tax collapsing once seen in the light of day, Democrats are changing the subject. Now, Jared Bernstein tells us, the "political point" is "more salient" than the facts. This is why Americans detest Washington, D.C. In the minds of wealthy Democratic academics, the 270,000 cooks, hotel housekeepers and food servers in our union should just take one for the team in lost benefits, increased taxes and poorer healthcare to score partisan political points.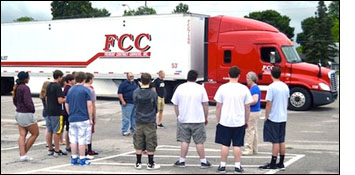 ► From Politico — Teen truckers, coming to an interstate near you — The bipartisan push to deliver the first major highway bill in a decade is drowning out warnings from safety groups about big changes they say will make the nation's roads more dangerous: teenagers at the wheel of big rigs, budget cuts for the automobile safety watchdog and a loophole that lets auto dealers loan out defective cars. That's because of pressure from industry groups and lobbyists who've managed to insert items from their long-standing wish lists into a $350 billion bill that covers highway spending into the next decade for projects ranging from fixing crumbling bridges to studying the impact of marijuana-impaired drivers.
---
NATIONAL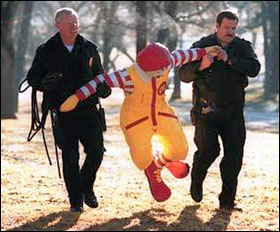 ► From Justice.gov — Justice Department settles immigration-related discrimination claim against McDonald's — The DOJ's investigation found that McDonald's had a longstanding practice of requiring lawful permanent residents to show a new permanent resident card when their original document expired, even though the law prohibits this practice. Under the settlement agreement, McDonald's will pay $355,000 in civil penalties, undergo monitoring for 20 months, and train its employees on the INA's anti-discrimination provision.
► From Think Progress — Silicon Valley bus drivers are offering an example of how to fix American inequality — Private bus routes that inspired rowdy protests around Silicon Valley in recent years will now deliver some shared prosperity in that booming but divided region. Drivers on the routes are seeing their wages and benefits increase dramatically thanks to unionization and contract negotiations.
► From Think Progress — Student loan debt is a national problem that needs a solution (by Mariah Young) — This month, the class of 2015 will start to receive their student loan repayment schedules now that the six-month grace period is over. This graduating class of undergraduates owes close to $70 billion in student debt, averaging out to around $35,000 a person, making the class of 2015 the most indebted class ever.
► In the San Antonia E-N — Downtown Hyatts finally resolve long battle with hotel workers — Two downtown Hyatts are the first local hotels to unionize, and labor leaders are hoping their new five-year agreements with the Hyatts will lead to unions forming at the city's other popular downtown hotels.
EDITOR'S NOTE — If these conflicts can be resolved in San Antonio, Texas, why not at Seattle's Hyatt hotels?
---
The Stand posts links to Washington state and national news of interest every weekday morning by 10 a.m.
Short URL: https://www.thestand.org/?p=45221
Posted by
David Groves
on Nov 24 2015. Filed under
DAILY LINKS
. You can follow any responses to this entry through the
RSS 2.0
. Both comments and pings are currently closed.