Alcoa sets date, close the barn doors, Happy Refugee Day…
Wednesday, November 25, 2015
---
ALCOA

► In the Wenatchee World — Jan. 5 is last day for Alcoa — January 5 will be the last day of work for all but a handful of the 428 employees at Alcoa's Wenatchee Works smelter, a top union official said Tuesday, hours after elected officials in New York announced they had reached an agreement with Alcoa to keep open for three more years one of the smelters slated for closure. Said Kelly Woodard, 56, president of the Wenatchee Aluminum Trades Council, an umbrella group for the plant's five unions:
"I want to see my people keep their jobs. I hate that you'd have to give Alcoa concessions to keep the plant running, but at some point you have to have the discussion… I want people not to write off this plant. I want the people we elect to represent us and keep this plant this is so important for the Wenatchee Valley here."
► From AP — Alcoa to keep New York smelter open after state offers incentives — Under the terms of the agreement, the plant will remain open for at least 3 1/2 years. The state will offer up to $30 million in electricity savings and $38 million for upgrades and improvements at the facility in Massena, near the Canadian border.
---
STATE GOVERNMENT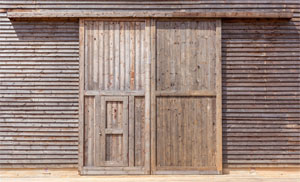 ► In the Columbian — Keep jobs from leaving (letter by IAM 751's Larry Brown) — State Rep. June Robinson (D-Everett) is responding to Boeing shipping more than 3,600 jobs out of Washington by urging for jobs to be tied to aerospace tax incentives. In the Nov. 19 editorial, "Boeing isn't the point: Admittedly, we've been had; now, how can we prevent the next corporate con?" The Columbian evokes the analogy of closing the barn door after the horse (jobs) has left. We still have more horses (jobs) in the barn. I suggest we close the barn door before all of the horses (jobs) leave the state.
► A related story in the (Champaign, Ill.) News-Gazette — Flushing money down the drain — After conducting an in-depth study of the 16-year history of the Illinois EDGE tax subsidy program under both Democratic and Republican governors, The Chicago Tribune recently reported that it has "mushroomed into a billion-dollar giveaway rife with failure." The basic problem is that it doesn't achieve the promised results.
► From AP — Opponents of Eyman's tax initiative file new lawsuit — The complaint says I-1366 is unconstitutional for several reasons, including because it attempts to change the state constitution via initiative and because it exceeds the scope of the initiative power as well as rules that prohibit initiatives from covering more than one subject.
► In the (Everett} Herald — Local legislators say Eyman wrong about deal to repeal initiatives — Local legislators say that initiative sponsor Tim Eyman was wrong when he said recently that legislative Democrats had planned to ask Republicans to join them in voting to repeal one voter-approved initiative in exchange for Democrats' joining Republicans in voting to repeal another.
---
LOCAL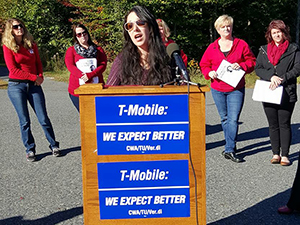 ► In the Bellevue Reporter — T-Mobile workers protest 'gag-order' policies with 15,000 signature petition — Local union representatives garnered more than a little attention as they waved signs and chanted in front of T-Mobile's American headquarters in Bellevue on Wednesday, Nov. 18. The representatives from the CWA and NELP were at T-Mobile's campus to present 15,000 signatures on a petition "urging the company to stop silencing women who speak out against sexual harassment."
► In the Kitsap Sun — Wharf project shows off unique labor agreement — U.S. Labor Secretary Tom Perez toured Naval Base Kitsap's nearly completed second explosives handling wharf and plans to tout it as a model for other military projects. It is being built using a Project Labor Agreement — a pre-hire collective bargaining agreement negotiated between a project's prime contractor and labor organizations that sets basic terms and work conditions.
► From KPLU — Naval Base Kitsap draws praise for using local workers to build wharf
► In today's (Everett) Herald — Premera confirms job losses, but won't say how many — Eric Earling, the company's director of communications, acknowledged that Premera, one of the largest health insurers in the state, is cutting jobs, but he declined to say how many. He also objected to the word "layoff," calling it a loaded term.
EDITOR'S NOTE — Earling was a longtime contributor to the once-widely read conservative political blog Sound Politics. He used a few loaded terms in his days as champion of Dino Rossi.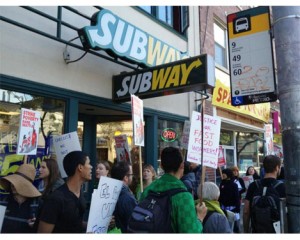 ► In today's Oregonian — Subway fires 80-hour-a-week worker from 1 job after Oregonian story — A day earlier, The Oregonian's front page featured a story about Fons and the everyday challenges that low-wage workers face. The 35-year-old father worked as many as 80 hours every week at two Subway shops to provide for his wife, who has multiple sclerosis, and their three young children.
EDITOR'S NOTE — Subway spokesman: "Fire" is such a loaded word.
---
WALMART
► From Bloomberg — How Walmart keeps an eye on its massive workforce — For Walmart, the stakes were enormous. The billions in sales typical of a Walmart Black Friday were threatened. The company's public image, especially in big cities where its power and size were controversial, could be harmed. But more than all that: Any attempt to organize its 1 million hourly workers at its more than 4,000 stores in the U.S. was an existential danger. Operating free of unions was as essential to Walmart's business as its rock-bottom prices.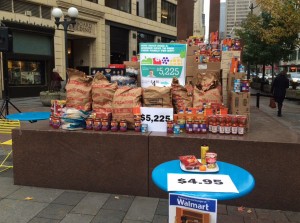 ALSO at The Stand — Walmart workers are hungry for action this Black Friday — Join the Black Friday protests in Federal Way and Mount Vernon on Friday, Nov. 27 as the Fast for 15 folks share Walmart CEO Doug McMillon's daily allowance with Walmart workers in their struggle for respect. (The photo at right, from a display at Seattle's Westlake Park on Monday, shows the difference between how much McMillon and the average Walmart employee have to spend on food per day.)
TAKE A STAND — Support Walmart workers by signing the petition to get Walmart to extend its 10% employee discount to cover all food.
► From Think Progress — All of the stores that will make employees work on the holidays — Walmart and 10 other brands say they will be open on Thanksgiving this year, requiring millions of workers to show up for shifts during the national holiday.
---
CAMPAIGN 2016

► From Reuters — Clinton wins another union endorsement in U.S. presidential race — Democrat Hillary Clinton on Tuesday won the endorsement of the 500,000-member Laborers' International Union of North America.
---
FEDERAL GOVERNMENT
► From AFL-CIO Now — Fed Up: Stop breaking up families to undermine worker organizing — In 2014, President Obama said that U.S. immigration enforcement policies should focus on actual threats to our security and not interfere with workers' rights. Yet some employers have used immigration law as a way to bust union organizing and collective bargaining efforts.
---
NATIONAL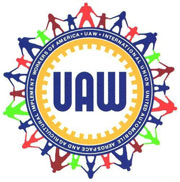 ► In today's NY Times — UAW contracts change math for Detroit automakers — When union contracts were finally ratified at Ford and GM last week, a new era began in the American auto industry. The deals, which culminated labor talks among the nation's three big automakers, were the most generous for workers in more than a decade and represented a striking shift from years of cuts and stagnant wages.
► In today's Seattle Times — Pfizer's bad prescription for America (by Jon Talton) — Pfizer's inversion to avoid U.S. taxes is only the latest example of corporate tax dodging. Fairness and the common good are the casualties.
► From Crain's Business — AFL-CIO HIT to invest $30 million in new Detroit home rehab program — AFL-CIO Housing Investment Trust will invest up to $30 million in the new Detroit Neighborhood Home Repair program, officials announced Monday.
---
THE MORE YOU KNOW…
► In today's NY Times — The origins of Jihadist-inspired attacks in the U.S. — Since Sept. 11, 2001, most of the attackers in the United States who were motivated by extremist Islam were U.S.-born or naturalized citizens. None were refugees.
---
T.G.I.W.
► The Entire Staff of The Stand will let John Oliver sum up our week of despicable, shameful fear-based politics. He said, "There was only one time in American history when the fear of refugees wiping everyone out did actually come true, and we'll all be sitting around a table celebrating it on Thursday." But, should this subject come up at the table that day — as a public service for those who missed it — have Adele ready.
---
The Stand posts links to Washington state and national news of interest every weekday morning by 10 a.m.
WASHINGTON IS A UNION STATE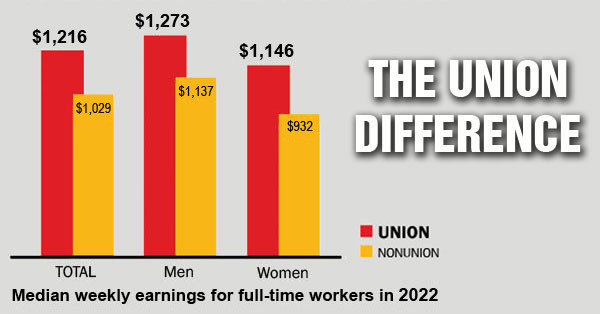 CHECK OUT THE UNION DIFFERENCE in Washington state: higher wages, affordable health and dental care, job and retirement security.
FIND OUT HOW TO JOIN TOGETHER with your co-workers to negotiate for better working conditions and respect on the job. Or go ahead and contact a union organizer today!