Murdock Trust urged to stop funding extremist groups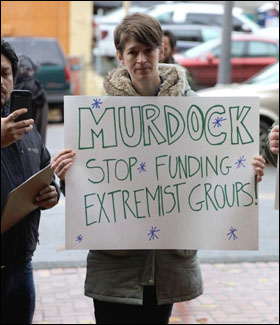 VANCOUVER, Wash. (Nov. 24, 2015) — Community members rallied last week outside the MJ Murdock Executive Plaza building, calling on the Murdock Charitable Trust to immediately end all funding for organizations that actively promote discrimination and stand at odds with the Trust's stated mission of "enriching the quality of life in the Pacific Northwest."
"While many of the groups funded by the Murdock Charitable Trust are valuable organizations that provide critical services to our communities, we have been deeply troubled to learn of the growing list of extremist, intolerant organizations also funded by the organization," said Andrew Biviano, Founding Board Member of the Northwest Accountability Project.
These recipients include:
●  The Alliance Defending Freedom, an extremist organization co-founded by James Dobson. Dobson has suggested that AIDS is one way God punishes the LGBT community for immorality and has supported gay conversion therapy. The ADF helped draft SB 1062 in Arizona, which would have allowed businesses to discriminate against the LGBT community, citing religious concerns.
●  The Portland Fellowship, the only organization in Oregon to offer gay conversion therapy, according to the Southern Poverty Law Center. The Fellowship claims that same-sex attraction "stems from relational wounds and dysfunction."
●  Heritage Foundation's DeVos Center for Religion and Civil Society, where a key staff member has called same-sex marriage "a lie" and has advocated for gay conversion therapy.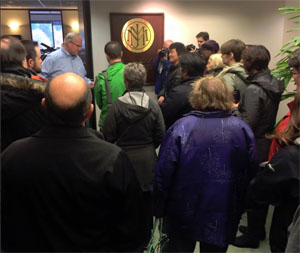 ●  The Freedom Foundation, an extremist organization that has launched an all-out assault on working families in Oregon and Washington state. The Freedom Foundation is funded by out of state billionaires who want to keep wages low, eliminate paid sick leave, and slash crucial funding for quality education.
●  The Discovery Institute, whose founder, George Gilder has called same-sex marriage "a parody… an absurd concept."
"It's particularly troubling how many anti-LGBTQ groups the Trust is currently funding," said Nancy Haque, co-director of Basic Rights Oregon. "The Trust's continual funding of these extremist groups shows a strong disconnect between their stated goal 'to enrich the quality of life in the Pacific Northwest' and the values of those people who live here."
TAKE A STAND — The coalition is continuing to collect signatures for a petition asking for Murdock Charitable Trust to stop funding discrimination and hate. Sign the petition and learn more here.
The Northwest Accountability Project is a 501(c)(4) social welfare organization dedicated to educating the public on the issues that enhance the well-being of middle-class families and workers while shining a light on extremism and the moneyed special interests that attempt to bring an agenda of hate and division to Washington and Oregon.
Short URL: https://www.thestand.org/?p=45233
Posted by
David Groves
on Nov 24 2015. Filed under
LOCAL
. You can follow any responses to this entry through the
RSS 2.0
. Both comments and pings are currently closed.