Faculty, staff vote 'no confidence' in college board, seek new trustees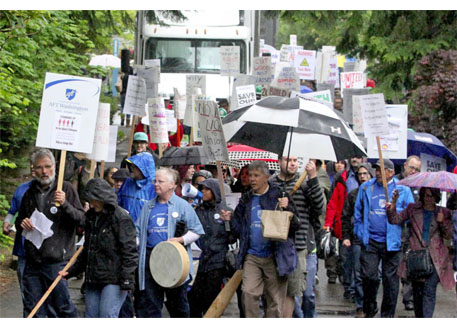 AUBURN (Nov. 23, 2015) — Union members who work at Green River College last week stepped up their campaign to end the hostile working environment and express their lack of confidence in the community college administration. They decried "a low and grinding morale across the campus where employees are not valued, but rather harassed, and the mission of the college is impeded."
Members of the Green River College Federation of Teachers, AFT Local 2195 (AFT) and the Washington Federation of State Employees (WFSE) expanded their previous vote of no confidence in college president Eileen Ely to include the college's Board of Trustees, and asked Gov. Jay Inslee to appoint new ones. Union members and their supporters presented the vote at the board's meeting on Wednesday, Nov. 18.
"While this vote is certainly about prolonged contract negotiations, inadequate salary funding, negligent and oppressive policy decisions, harassment of employees, retaliation against union leaders, and mismanagement of college resources," said Jaeney Hoene, United Faculty President, in a statement to the board, "it is also critical for you to understand that this vote represents the faculty's belief that your actions or inaction, as the case may be, represent that you have turned your backs on protecting the mission of this community college and all community colleges."
The following day, AFT and WFSE members cranked up the pressure by holding an information picket outside the Washington Association of College Trustees (ACT) dinner at the SeaTac Hilton. They handed out leaflets explaining Green River staff and faculty's concerns with the board, including that it:
failed to evaluate President Ely adequately and effectively;
failed to responsibly and respectfully communicate with faculty and address our concerns about the lack of shared governance;
failed to uphold the traditional values and practices of the Board which support the mission of the College;
failed to question or arrest the declining role of instruction in the operations of the College;
failed to uphold the right of free speech by providing restrictions on presenters to the Board;
failed to provide reasonable oversight regarding personnel matters;
failed to provide oversight of questionable financial operations, and most significantly;
failed to intervene in the face of a low and grinding morale across the campus where employees are not valued, but rather harassed, and the mission of the college is impeded.
A spokesperson for Gov. Inslee's office told The Auburn Reporter that the office had received the vote of no confidence but would review it before commenting.
When the faculty and staff brought their concerns regarding Ely to the board back in May, the board sided with Ely. This came amid the unions' charges of failure to bargain in good faith, having to go to mediation yet circumventing the mediation process, and intentional retaliation against union leaders, among other destructive management practices.
Since then, delegates representing unions from across the unanimously passed a resolution at the Washington State Labor Council convention that condemned the actions of Green River College administration, vowed to hold them accountable, and pledged labor solidarity in helping the faculty and classified staff at the college get fair wages and contracts.
Green River's main campus is in Auburn with branch campuses in Kent and Enumclaw.
---
ALSO at The Stand:
Why we have no confidence in Green River College's trustees (by Jaeney Hoene)
Green River College board backs Ely; faculty authorizes strike (May 27, 2015)
Green River College faculty: President Ely has got to go (May 15, 2015)