Green River College faculty: President Ely has got to go
AUBURN (May 15, 2015) — Last week, the faculty at Green River College filed an Unfair Labor Practice with Washington State Public Employees Relations Commission citing the administration's failure to bargain in good faith, having to go to mediation yet circumventing the mediation process, and intentional retaliation against union leaders, among other destructive management practices. The union accuses the college's president, Dr. Eileen Ely, of threatening to fire union leaders, including the President of the Green River United Faculty Coalition AFT Local 2195, amid contract negotiations.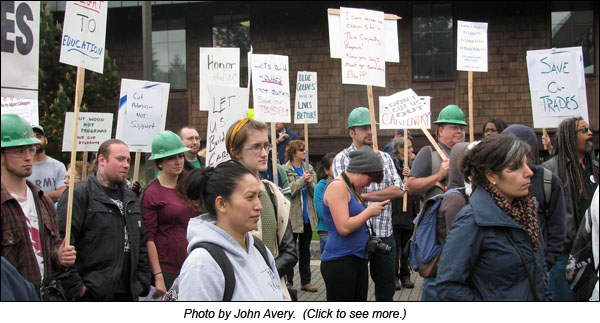 On Wednesday, hundreds of Green River faculty members, students and their supporters rallied and marched to Ely's office to deliver signatures from those who have no confidence in her leadership and to call for her to step down. The faculty previously approved a Vote of No Confidence in Ely two years ago.
An accompanying letter to the college's Board of Trustees reads, "We faculty at Green River College remain very alarmed about the ongoing crisis that has escalated in the past two years since our 2013 Vote of No Confidence in President Eileen Ely. We are deeply troubled by proposed (cuts of) the programs headed by our union and instructional leadership; the inability to reach a negotiated agreement; the continued dismantling of shared governance; low morale; and the deteriorating workplace atmosphere at the college. "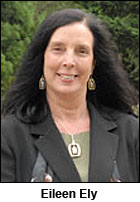 The letter concludes, "We are gravely troubled about the future of our college, an institution to which most of us have devoted our life's work. The negative trends under the presidency of Dr. Ely have intensified over the past two years. We no longer believe that this trend will reverse under Dr. Ely's leadership and we are asking the Board of Trustees to take the necessary action so that we can begin to heal."
The following news release was distributed May 6 by the Green River United Faculty Coalition, AFT Local 2195:
Green River College's faculty this week accused its college president of targeting union leadership and wasting millions in taxpayer funds when she announced plans to eliminate up to four academic programs.
"It appears that the United Faculty president and two contract negotiators were clearly targeted by what appears to be a continued compulsion to purge dissent," said Frank Primiani, who has taught at Green River for more than 30 years and is one of several faculty to speak out against the actions of President Eileen Ely.
Ely on Monday said carpentry technology, auto body technology, parent education and geographic information systems are targeted for termination. That would eliminate three faculty positions — including Mark Milbauer, president of United Faculty who runs the auto body program — and up to five adjuncts. Also in line to lose his job is Glen Martin, treasurer of the faculty union, who operates the carpentry program. Leslie Kessler, head of the college Instructional Council, would lose her coordinator position of the parent education program but would continue teaching early childhood education. She is on the faculty negotiating committee.
"She (Ely) is blatantly targeting faculty leadership in the union and our governing bodies," said Steve Kinholt, 56, who has taught math and teacher education at Green River for 23 years.
"It's been two years since faculty delivered to the board of trustees our 92 percent vote of no confidence in Ely's performance," Kinholt added. "Enough is enough. It is time for President Ely to resign or for the board to take action."
Mark Thomason, head of the Social Sciences division, said the programs marked for termination hurt the community and the students.
"These are all things that benefit the community," he said. "They're taking all that away." Thomason noted that more than a third of the college's new $34 million, 71,000-square-foot trades complex is planned for auto body and carpentry instruction in the fall.
"I really question spending millions of dollars on a new building, and then taking the programs away," he said.
John Avery, chair of the Transitional Studies and Wellness Division, said that new equipment for these programs has been purchased, sits boxed and is ready to use in what will be empty new buildings.
"This move by the college is a massive and blatant waste of public resources," said Avery.
Jaeney Hoene, vice president of the faculty union, questioned the rationale the college gave for cutting the programs. "It's hard not to wonder if the confused explanations given for eliminating these programs are disingenuous at best," she said.
The move comes amid protracted labor negotiations between faculty and the administration.
"To threaten the head of the union with termination while labor negotiations are going on is about as low as anyone can go," said Kinholt.
Short URL: https://www.thestand.org/?p=40340
Posted by
David Groves
on May 15 2015. Filed under
LOCAL
. You can follow any responses to this entry through the
RSS 2.0
. Both comments and pings are currently closed.