[Ambiguity] on human rights, Just Transition in latest draft
Jeff Johnson, President of the Washington State Labor Council, AFL-CIO, is part of the labor delegation attending the Paris Climate Conference (COP 21), advocating for policies that aggressively address climate change while providing for a "Just Transition" that invests in the communities and working families that will be hardest hit by the transition away from a fossil fuel-based economy.
---
By JEFF JOHNSON
Special to The Stand
PARIS (Dec. 10, 2015) — In the late afternoon yesterday, another draft of the Paris document was released and it set off major demonstrations and protests from labor and civil society groups.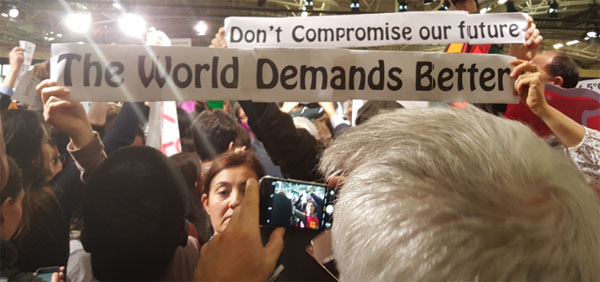 As countries jockey for position over thorny issues, much of the text remains ambiguous with many bracketed area around key areas of text [read: maybe it's in there and maybe it isn't]. This of course becomes a problem when the issues are human rights, gender equality, food security, Just Transition, and how do we measure and verify actual carbon reductions so that the planet doesn't exceed temperature x.
That's right even that goal is [bracketed].
TAKE A STAND — At climate negotiations continue in Paris, the language in the agreement to ensure a Just Transition for impacted workers is hanging by a thread. Tell President Obama to make human rights, including the Just Transition of workers, a priority in any final agreement. We need explicit language on Just Transition in this agreement to require that when each country submits its contribution describing how they are addressing climate change, they also have to describe how they are taking into account the impact on workers and communities.
Negotiations continued very late last night with no word yet on additional developments.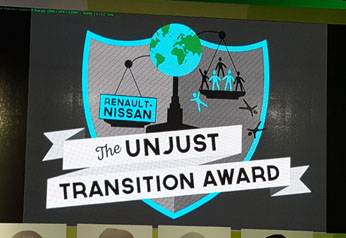 This morning, the Sierra Club gave out the first annual "Unjust Transition Award" to Renault-Nissan for a company that has failed to connect the dots between moving towards the clean energy economy and climate justice. Renault-Nissan has continually quashed organizing efforts by predominantly black workers in Mississippi and Tennessee from organizing a union and retaliated against rank and file leaders.
Renault-Nissan is a co-sponsor of the COP21 talks, providing free shuttle service in electric cars.  Since they are trying to clean wash their image, Sierra Club wanted to set the record straight by pointing out the company's dirty labor practices.
Bravo Sierra Club!
---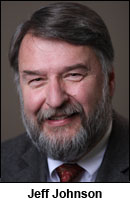 Jeff Johnson is President of the Washington State Labor Council, AFL-CIO, the largest labor organization in the Evergreen State, representing the interests of more than 500 local unions and 400,000 rank-and-file union members.

ALSO see the 2015 Washington State Labor Council resolution on ​"Climate and Jobs" approved by delegates representing unions from across the state.
Short URL: https://www.thestand.org/?p=45564
Posted by
David Groves
on Dec 10 2015. Filed under
NATIONAL
. You can follow any responses to this entry through the
RSS 2.0
. Both comments and pings are currently closed.