WSLC, others seek state probe of farm wage manipulation
The following is from Columbia Legal Services and the Washington State Labor Council, AFL-CIO:
OLYMPIA (Jan. 6, 2016) — Four organizations with long histories of protecting the rights of farm workers made a formal request Tuesday for an investigation into whether the Washington Farm Labor Association (WAFLA) and potentially others engaged in unlawful activity to depress farm worker wages and working conditions.
The Washington State Labor Council, Columbia Legal Services, Farmworker Justice, and the National Employment Law Project sent the request to Washington State Attorney General Bob Ferguson and the Commissioner of Washington's Employment Security Department (ESD), Dale Peinecke, asking for a "full investigation into whether or not WAFLA or others committed criminal violations in regard to ESD's 2015 Prevailing Wage/Working Conditions Survey."
The request follows an ESD initial report dated Dec. 22, 2015, in which the agency found that "guidance" provided by WAFLA resulted in growers providing wage data at odds with data provided in previous years. In particular, ESD found that the 2015 data "appear[s] to impact the preliminary prevailing wage rate estimates for Fuji, Golden Delicious and Granny Smith apple varieties."
The data is used primarily to set wages for farms that participate in the H-2A foreign worker program. Employers using the program are required to offer the same wages and job terms to U.S. workers and hire any qualified U.S. worker that applies for the job. Nearly 15,000 H-2A workers were brought into Washington state last year and WAFLA reports it is responsible for 82% of the applications.
WAFLA conducted webinars advising growers step-by-step how to respond to the state survey and provided them with suggested answers. In one video, WAFLA's President, Dan Fazio, told growers multiple times to report that they pay the minimum wage rather than piece rates during peak harvest season.
"The best answer, in our opinion, and the only one that's not subject to debate, is to report the guaranteed hourly rate." Fazio suggested this answer would best serve the interests of all growers: "[W]e want to encourage you to be smart and strategic in your answers to help yourself and the other people in your industry."
According to ESD's findings, some apple growers followed this advice and reported they paid apple pickers minimum wage ($9.47) during harvest when in the past they reported paying a piece rate of $28 per bin. Under the piece rate system, skilled farm workers, according to a brief filed by WAFLA with the Washington State Supreme Court last year, "make significantly more than $12 [per hour], often more than $20 an hour."
"The state told us that based on survey results submitted by 40 of some of Washington's largest apple growers, the wages for some farm workers would have dropped in the neighborhood of $8-10 per hour. That's an incredible hit on farm workers who rely on this income at peak season to provide for their families throughout the year," said Jeff Johnson, President of the Washington State Labor Council, AFL-CIO. "We want a full accounting of who made these survey responses to the state and why."
"The question is, why would WAFLA tell the Supreme Court that piece rates are the norm in January and then, in September, tell growers to report on an official survey that they pay minimum wage during the harvest?" said Joe Morrison, an attorney with Columbia Legal Services, a statewide non-profit that has represented farm workers for more than 30 years. "The conduct described by the state appears to be very serious. We call on the Attorney General to obtain the survey responses and conduct a thorough investigation."
WAFLA's guidance — which was provided through webinars, posted on their website, and shared through email — directed respondents to provide information that differed from previous years' survey results, including the following:
Paying an hourly wage versus piece rate
Paying specifically $12.42/hour or $9.47/hour
Paying a bonus to "all," "varies," or "most" but to leave the dollar amount blank
Requiring workers to have at least 3 months or "one season" of previous experience
Checking worker references
Not providing free housing for non-working family members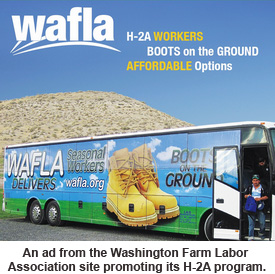 "These survey results are relied on by the Department of Labor to ensure the proper wages and working conditions under the H-2A program," said Bruce Goldstein of Farmworker Justice. "Manipulation of surveys can result in unfair hiring requirements that deprive U.S. farm workers of job opportunities and in undercutting the wages and working conditions of Washington's farm workers. As the H-2A program is expanding nationally, this case has national implications for the integrity of the survey process."
The same organizations plan to ask for a parallel investigation from federal authorities, in particular, the Department of Labor which has authority to remove organizations and growers from participating in the federal H-2A program.
WASHINGTON IS A UNION STATE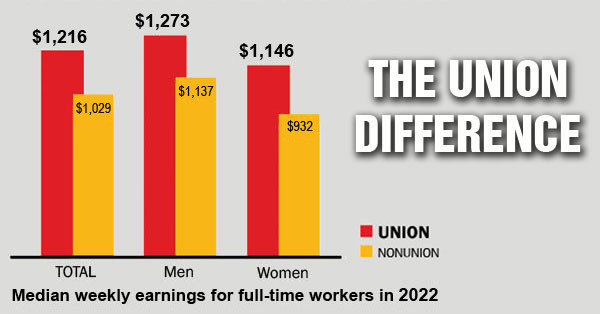 CHECK OUT THE UNION DIFFERENCE in Washington state: higher wages, affordable health and dental care, job and retirement security.
FIND OUT HOW TO JOIN TOGETHER with your co-workers to negotiate for better working conditions and respect on the job. Or go ahead and contact a union organizer today!