Minimum wage stays flat, except where citizens took action
(Jan. 4, 2016) — It's a new year and usually that means the floor is lifted on Washington state's lowest legal wage. But in 2016, for the second time since voters demanded automatic increases in the state minimum wage, it will remain flat in 2016 at $9.47 per hour.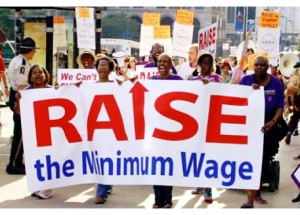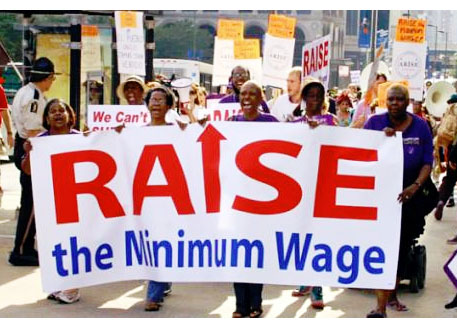 Thanks to the advocacy of fast-food and other low-wage workers, their supporters, and local government officials in Seattle, SeaTac and Tacoma, thousands of minimum wage earners in those cities will get paid more in 2016.
In SeaTac, all workers — including the 5,000-plus who work at Sea-Tac International Airport — are due at least $15 per hour, can earn paid sick leave, and have other job protections. (Click here for details.) In Tacoma, the city minimum wage will increase to $10.35 per hour on Feb. 1, 2016 for most workers. (Click here for details.)
Seattle's landmark $15 minimum wage law phases in over several years. Minimum wage workers in Seattle will get anywhere from $10.50 to $13 per hour in 2016, depending on the size of their employer and other factors. Working Washington has created a What's My Wage? website to help Seattle workers determine how much they are due and what to do if their employer isn't paying the right amount. Check it out at WhatsMyWage.org.
Meanwhile, efforts will begin anew with next week's start of the 2016 session of the Washington State Legislature to raise the minimum wage statewide. The Washington State Labor Council, AFL-CIO (WSLC) will be joining other advocates for poverty-wage workers and community supporters in pushing for a statewide minimum wage increase while protecting tipped workers and ensuring that local communities can continue to provide higher standards that better fit local needs.
Last year, the Democratic-controlled House advanced legislation for a state minimum wage increase to $12 per hour, phased in over four years. HB 1355, sponsored by Rep. Jessyn Farrell (D-Seattle), passed the House but was killed in the Republican-controlled Senate, where Sen. Michael Baumgartner (R-Spokane), chair of the Commerce and Labor Committee, refused to allow a committee vote despite polls showing that Washington voters support such an increase by a two-to-one margin.
Assuming the legislation will meet similar Republican obstruction in 2016, labor groups including the WSLC are cuing up a ballot measure for the November 2016 election that would increase the state minimum wage and guarantee all workers can earn paid sick and safe leave.
For years, thanks to the 1998's voter-approved Initiative 688, Washington's minimum wage has been the highest in the nation. No more.
Alaska, California, Connecticut, Massachusetts, and Rhode Island all have higher rates as of Jan. 1, 2016. Under existing law, changes to Washington's minimum wage are based on the nationwide Consumer Price Index for Urban Wage Earners and Clerical Workers (CPI-W) for a 12-month period ending each Aug. 31. That index decreased 0.3 percent so the minimum wage is frozen in 2016 — because it can't be decreased.
The only other time this happened, in 2010, Republican lawmakers including then-Attorney General Rob McKenna tried to deny a minimum wage increase the following year in 2011 to account for the 2010 drop in the CPI-W. Their efforts failed both in the Legislature and in state court.
Short URL: https://www.thestand.org/?p=45752
Posted by
David Groves
on Jan 4 2016. Filed under
STATE GOVERNMENT
. You can follow any responses to this entry through the
RSS 2.0
. Both comments and pings are currently closed.