TPP loses Super Tuesday, port extension, pension merger…
Wednesday, March 2, 2016
---
CAMPAIGN 2016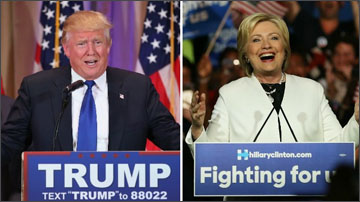 ► From The Hill — Trump, Clinton cement status as 2016 front-runners with big Super Tuesday wins — Presidential contenders Hillary Clinton and Donald Trump scored major victories on Super Tuesday, the biggest day of the year in the Republican and Democratic primaries. The wins solidified Trump and Clinton's status as front-runners, leaving their rivals with increasingly long odds of overtaking them in delegates.
► In today's Seattle Times — Local Republicans worry Donald Trump's rise means down-ballot disaster — Bill Bryant, the Republican candidate challenging Gov. Jay Inslee, has said "if Trump believes what he says, he is not fit to be president." (But) he and Chris Vance, the Republican challenger running against Democratic U.S. Sen. Patty Murray, declined to say whether they'd vote for Trump if he winds up as their party's nominee in November… State Sen. Doug Ericksen (R-Ferndale) has posted positive articles about Trump on Facebook.
► From Politico — The day the Republican Party ruptured — Tuesday's election results offered vivid proof that the Republican Party as we've known it for decades, a party controlled by an enclave of country clubbers and an East Coast establishment, is no more.
► In the NY Times — The Party of Trump, and the path forward for Democrats (editorial) — The Republicans seem to be reeling from the fact that a shady, bombastic liar is hardening the image of their party as a symbol of intolerance.
► In the NY Daily News — It's only a matter of time before someone gets killed at Trump event (by Shaun King)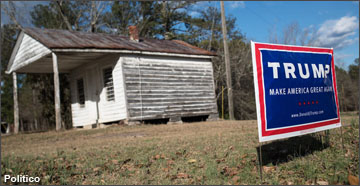 ► From Politico — Why the South is rebelling again — Throughout Virginia and around the South, longtime employers where generations of families could be assured of steady work have sloughed off jobs, shuttered their factories and shifted operations overseas. In its place is what's known as the "gig economy," where workers must reinvent themselves several times within a lifetime. The chaotic — and unequal — economic transition caused by globalization continues to create anxiety, frustration and anger that's driving the insurgent candidacies of Donald Trump and Bernie Sanders and has turned the 2016 election upside down.
► From CNN Money — Why labor union members like Trump —  Trump opposes the Trans-Pacific Partnership trade deal between the U.S. and other Pacific rim countries, a position he shares with few in the Republican establishment but many in the labor movement.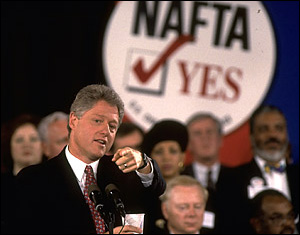 ► MUST-READ in today's Seattle Times — The 'free trade' primaries? Nope (by Jon Talton) — What a difference 24 years makes. In 1992, both incumbent George H.W. Bush and "New Democrat" challenger Bill Clinton supported the proposed North America Free Trade Agreement… In this election, no major candidate is trumpeting "free trade" or even managed trade on the NAFTA model. Sen. Bernie Sanders called the Trans-Pacific Partnership negotiated by the Obama administration "disastrous." Hillary Clinton refused to support it, too. [The real-estate developer] called it "a horrible deal." Sen. Marco Rubio once pushed TPP but has since backed away. As difficult as it may be for Washington state's business and political establishment to grasp, TPP is in big trouble and will probably be shelved.
ALSO at The Stand — As TPP opposition mounts, will Congress listen?
---
LOCAL
► In the P.S. Business Journal — Longshore, ship owners float idea of contract extension to avoid another cargo slowdown — West Coast waterfront leaders are signaling they'd like to avoid a repeat of the grueling 2014-2015 port slowdown. Instead, they're floating the possibility extending the hard-won current contract between the Pacific Maritime Association and the ILWU beyond the July 1, 2019 expiration date. At an on-stage meeting in Long Beach this week, ILWU President Robert McEllrath and PMA President James McKenna both expressed interest in a contract extension.
---
STATE GOVERNMENT

► In today's News Tribune — State senators pursue pension merger — Senate Republicans want to merge the firefighters and police officers' plan — LEOFF 1, which has a projected surplus of more than $1.1 billion– with another closed plan, that for public school teachers. The Teachers' Retirement System Plan 1 is in very different financial shape, with a $2.9 billion deficit. But many retired first responders are suspicious and worried about being placed into an underfunded pension plan.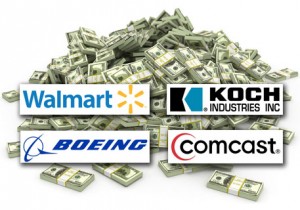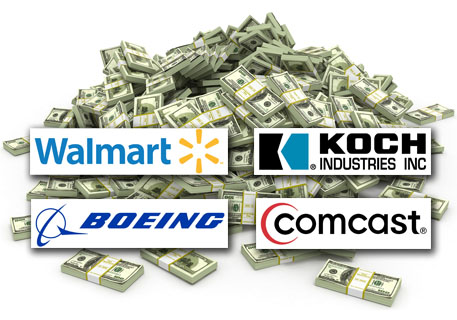 ► In today's Spokesman-Review — Legislature is OK with political dark money (by Shawn Vestal) — Another year, another death for Sen. Andy Billig's attempt to shine more light on dark money in state politics. This year, instead of a proposal that drew support in both houses before being scotched by business lobbyists, the Washington DISCLOSE Act was simply bottled up by the Republican Senate majority, never to see the light of day… I've had little success finding anyone to stand up against the bill in public. Perhaps that's because lawmakers are embarrassed to acknowledge that they are simply carrying water for the business lobby. "It's just like dark money," Billig said. "It's this exercise of dark power."
► In today's (Everett) Herald — State Rep. Elizabeth Scott of Monroe has whooping cough — The Monroe Republican could be sidelined much of the remainder of the 2016 legislative session. Scott, who is in her second term, is also a candidate for Congress against U.S. Rep. Rick Larsen (D).
► In today's Seattle Times — Seattle legislative candidate would be state's 1st transgender elected official — Danni Askini, a transgender community activist, announced her candidacy Tuesday for state representative in the 43rd LD seat being relinquished by state Rep. Brady Walkinshaw, who is running for Congress.
► In today's Olympian — Washington's carbon-pricing fight hits snags (editorial) — It's become clear that Initiative 732 is flawed… (but) state lawmakers, divided along partisan lines over global warming as well as over taxes, have been reluctant to fix the initiative… In the end, Washington needs to contain or force reductions in greenhouse gas emissions. By abdicating, lawmakers will have only themselves to blame when Inslee moves ahead with a carbon cap, or a hard-hitting citizen initiative arises to combat global warming.
---
BOEING
► In the Dallas Morning News — How Boeing's Max gives pilots bargaining chip in labor talks with Southwest Airlines — Southwest Airlines Co.will be the first carrier to receive Boeing Co.'s new Max version of its best- selling 737 aircraft. Those planes may sit idle unless a new contract with the carrier's 8,000 pilots is reached. Their union says the Max isn't listed in the current labor agreement as an aircraft they can fly, a common practice in the industry. The two sides start a fresh round of meetings on March 22, and the upcoming arrival of the Max may add urgency to the talks.
---
FEDERAL GOVERNMENT
► From Huffington Post — 'Groundbreaking' discrimination lawsuits brought on behalf of gay workers — The federal agency that enforces civil rights in the workplace is pursuing its first lawsuits ever based upon a worker's sexual orientation. The Equal Employment Opportunity Commission announced Tuesday that it has filed two cases it described as "groundbreaking."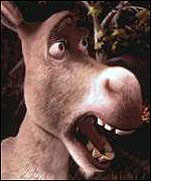 ► From Think Progress — The official head of the Democratic Party joins GOP effort to protect payday lenders — Payday lenders fearing modest federal regulations will cut into their vast profit margins have a new, high-profile ally in Washington: The chairwoman of the Democratic Party. Rep. Debbie Wasserman Schultz (D-FL) is co-sponsoring legislation to delay and permanently muffle pending Consumer Financial Protection Bureau rules to rein in small-dollar lenders that are currently able to levy triple-digit annual interest rates on the nation's poorest
► From TPM — Nine Republicans vote against naming an N.C. post office after Maya Angelou — Rep. Andy Harris (R-MD) said in a statement that he believes the civil rights activist was "a communist sympathizer."
---
NATIONAL
► From AFL-CIO Now — AFL-CIO asserts that gig economy workers are employees — The AFL-CIO Executive Council affirmed that working people in the gig economy share a single common designation: employees. The council further affirmed that working people deserve the full benefits that come with that status. On-demand economy companies are increasingly leaving workers without the full rights and protections of regular employees.
► From CNN — Hundreds of workers walk away from construction of Tesla's Gigafactory — Elon Musk: Model 3 "will eventually be made in China." About 300 workers walked away from the construction of a massive Tesla Motors battery plant on Monday in protest. The demonstrators say they want Tesla to keep its tax incentives in Nevada, where the electric-car maker's Gigafactory is being built, and not use out-of-state contractors.
---
The Stand posts links to Washington state and national news of interest every weekday morning by 10 a.m.
Short URL: https://www.thestand.org/?p=47277
Posted by
David Groves
on Mar 2 2016. Filed under
DAILY LINKS
. You can follow any responses to this entry through the
RSS 2.0
. Both comments and pings are currently closed.