Millions in back wages may be owed to SeaTac, airport workers
With Hertz citation, L&I clarifies $15 minimum wage applies retroactively
By DAVID GROVES
The Stand
---
SEATAC (March 29, 2016) — Earlier this month, the Hertz Corporation became the first employer at Sea-Tac International Airport to be cited by the Washington State Department of Labor and Industries (L&I) for failing to pay the proper minimum wage, currently $15.24/hour, up from $15/hour in 2014. L&I reports that it has three additional complaints against airport employers under investigation that also may soon lead to citations.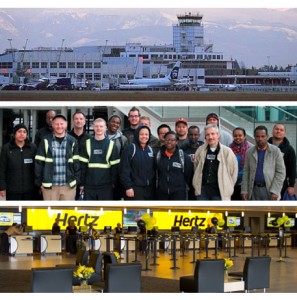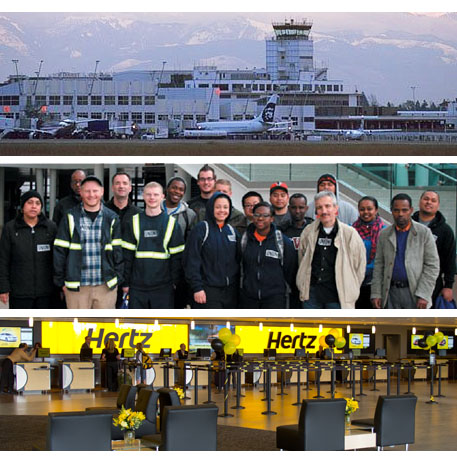 There are indications that this may be just the tip of the iceberg.
Millions of dollars in back wages may be owed to SeaTac transportation, hospitality and airport workers because some employers still are not paying the proper minimum wage, or didn't do so until recently, as they awaited the outcomes of unsuccessful court challenges of the law. As of a month ago, some 1,500 SeaTac workers had already signed onto 14 class-action lawsuits alleging underpayment of up to $20,000 each, attorneys say.
Last week, L&I clarified that under the state Wage Payment Act, these employers should have been paying those minimum wages since the law was implemented. That means workers can retroactively seek back wages if their employers illegally underpaid them. Underpaid employees can choose between pursuing action administratively through the state agency's enforcement, or they can pursue private action through an attorney, either as individuals or as part of a class-action suit.
TAKE A STAND — If you work in the transportation or hospitality industries in the City of SeaTac or at the Sea-Tac International Airport, you should have been earning at least $15.24/hour since Jan. 1, 2015, and $15/hour in 2014. If you didn't — or still don't — you can file a wage claim online with the Department of Labor and Industries to collect the back wages you have earned, or you can pursue private action through an attorney. If L&I investigates and issues a citation to your employer, you have 10 days after receiving that citation to decide which remedy to pursue.
In addition, you should consider contacting a Union Organizer to find out how you can join with your co-workers to protect your rights and get respect on the job.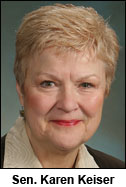 L&I's citation of Hertz is a victory for workers at airport-related companies in SeaTac, said Sen. Karen Keiser (D-Kent), who has hundreds of constituents who work at the airport.
"It's about time we have clear direction to employers at SeaTac airport-related businesses," Keiser said. "I applaud the L&I investigation, and its finding that back wages are owed. Previous court decisions have avoided the topic and workers have been left without the wages owed to them for the last 26 months."
SeaTac's $15 minimum wage was established as part of the historic Proposition 1 "Good Jobs Initiative" approved by SeaTac voters in 2013. Effective Jan. 1, 2014, it raised the city's transportation, hospitality and airport workers' wages to $15/hour, plus provided other benefits like paid sick days.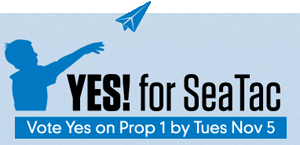 Several airport employers, led by Alaska Airlines, had sued to keep Prop. 1 off of SeaTac's ballot. When that lawsuit failed and Prop. 1 was approved by voters, those employers continued suing to try to avoid paying the higher wages. A King County judge initially ruled that Prop. 1 did not apply to the estimated 4,700 people working for businesses inside Sea-Tac Airport, who are under the Port of Seattle's jurisdiction. But last fall, the state Supreme Court overruled that decision and said airport employers should be paying $15.24/hour.
The court decisions were not clear, however, on whether the minimum wage standards should be applied retroactively by the agencies enforcing the law. Given that multiple airport workers had filed wage claims for being underpaid, Keiser said she asked Labor and Industries to issue some guidance clarify this.
In a March 21 letter to City of SeaTac and Port of Seattle leaders, Elizabeth Smith, L&I's Assistant Director of Fraud Prevention and Labor Standards, wrote that the agency had recently issued one citation (against Hertz), that several other similar wage citations may be issued soon, and that other employers affected by the law should be notified that:
The Wage Payment Act applies when an employer pays "any employee a lower wage that the wage such employer is obligated to pay such employee by any statute, ordinance, or contract." SeaTac's ordinance requires employers to pay workers the $15 hourly minimum wage as of January 1, 2014, with a required increase to $15.24 on January 1, 2015.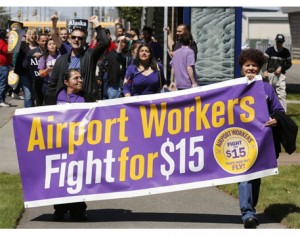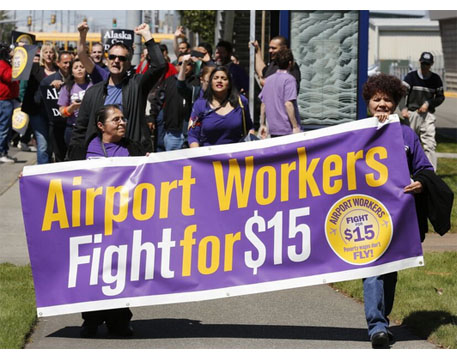 "Although this is the first L&I citation given out in response to an employee-filed complaint, this decision has broken ground for quick resolution to the remaining complaints filed against other SeaTac businesses," Keiser said. "I will continue working with our state agencies to encourage prompt action as this major dispute over the implementation of Proposition 1 is finally settled for the hundreds of workers at SeaTac airport-related businesses."
In addition to the $15.24/hour wage minimum wage that will be adjusted each year for inflation, Proposition 1 also guaranteed that all SeaTac transportation, hospitality and airport workers get:
Paid Sick Leave: Up to 5 days of paid sick leave for full-time airport employees, preventing the spread of dangerous disease and keeping our families and community safe.
Full-Time Job Incentives: Many of the big overseas and multinational corporations working at the airport have been gaming the system by providing mostly part-time jobs with low pay. Prop 1 incentivizes airport-related businesses to employ full time workers, creating jobs working families can count on to make ends meet.
Tip Fairness: Prior to Prop. 1, many hotels and restaurants in SeaTac were pocketing the tips and service charges that guests and customers believed went to their servers. Prop. 1 required SeaTac hotels and hotel restaurants to do the right thing and give tips and service charges to the employees who perform the actual services.
If you are one of the affected workers who is not receiving your proper wages and benefits, fill out the claim form above, hire an attorney, or better still, contact a Union Organizer to make sure you get respect on the job!
Short URL: https://www.thestand.org/?p=48025
Posted by
David Groves
on Mar 29 2016. Filed under
LOCAL
. You can follow any responses to this entry through the
RSS 2.0
. Both comments and pings are currently closed.