'Unachievable' at Boeing, Chamber vs. business owners, growth kills…
Thursday, April 21, 2016
---
BOEING
► From Bloomberg — Boeing stock falls as analyst says 787 profit goal 'unachievable' –Boeing stock tumbled Wednesday after an analyst downgraded the shares to "underperform" and said the U.S. planemaker stood little chance of fully recovering almost $29 billion that's been sunk into producing the 787 Dreamliner jet.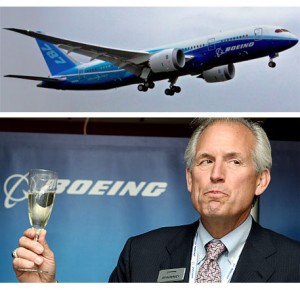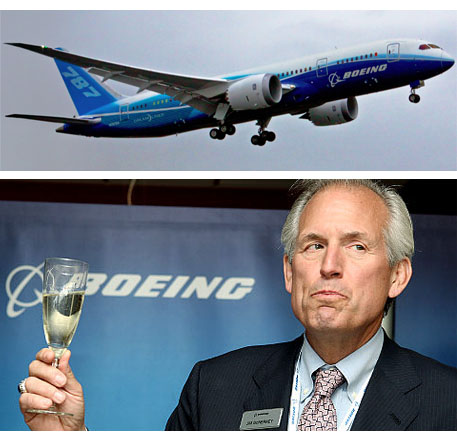 ALSO TODAY at The Stand — McNerney's legacy: $29 billion in 787 bills (by David Groves) — If former Boeing CEO Jim McNerney had listened to Boeing's front-line workers and abandoned his doomed 787 outsourcing strategy, he could have not only avoided the 2008 Machinists strike, but also the unprecedented $32 billion in 787 development costs. But no. He was so insistent on converting Boeing from an airplane manufacturer into an airplane final-assembler that he refused to budge, and both of those things happened.
► In the Wall St. Journal — Plane makers' employees buffeted despite booming orders — The world's biggest aircraft makers, Boeing and Airbus, are enjoying record order books but, for employees at the companies and their suppliers, the good times are over. Customers are growing increasingly frugal, making it harder for the two rivals to secure lucrative deals, as appetite wanes for some of their most-profitable planes. Analysts said airlines that splurged on more efficient but costlier planes when fuel prices were high are no longer willing to pay a premium now that oil prices have fallen. That is forcing the aircraft makers to offer discounts to win business.
---
CAMPAIGN 2016



► In today's Seattle Times — The real political action is at the state level (by Jonathan Marin) — Tune out the chatter at the presidential level. The power play in this state is who will set the agenda for everything from education funding to implementation of Obamacare, from the state tax code to reproductive rights. It could end with blue turning to purple.
► In today's (Everett) Herald — Giving Dunshee's seat to Lovick would benefit Dems in November (by Jerry Cornfield) — Party strategists know John Lovick is in for a tough contest with Republican candidate Janice Huxford of Lake Stevens. An appointment could earn him small but useful electoral dividends on the campaign trail.
► In today's NY Times — Bernie Sanders has trickier, narrower road in Democratic race — Sen. Bernie Sanders of Vermont grappled with tough and narrowing choices about campaign strategy and fund-raising on Wednesday after his crushing loss in the New York primary and with a series of difficult contests ahead.
► In today's Washington Post — Kasich: 'My Republican Party doesn't like ideas' — "If you don't have ideas, you got nothing, and frankly my Republican Party doesn't like ideas," said ­Gov. John Kasich (R-Ohio) said.
---
LOCAL
► From The C is for Crank — Seattle Chamber mobilizes against labor proposals, taxes — The Seattle Chamber of Commerce, a powerful voice for business interests in Seattle, sent a letter urging its members to "speak as a team on three key issues" at city hall: a proposal to ban erratic, unpredictable schedules for workers; the way the city's Office of Labor Standards spends its money; and new laws that businesses fear would increase costs.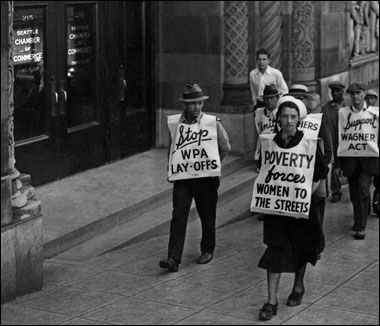 EDITOR'S NOTE — Recall that the Council of State Chambers recently hired GOP pollster Frank Luntz to survey 1,000 of the Chamber's member businesses and accidentally found out that 80% of business owner support raising the minimum wage and 73% of them support allowing all workers to earn paid sick days. Makes you wonder how much longer the Chamber's leaders will continue pursuing an ideological anti-regulatory, anti-government agenda. (Based on this TBT photo, it's been going on for a while at the Seattle Chamber.)
► In today's Peninsula Daily News — Port Angeles Haggen to close its doors today; store to shut weeks earlier than first expected — Originally, the closure was estimated to take place May 10, with its 67 employees laid off at that time, but customers flocked to purchase deeply discounted items, and the store shelves were soon emptied.
► In today's Yakima H-R — Senate OKs $92 million for Yakima Basin; measure goes to U.S. House — Local officials, irrigators and others called the bill a historic move toward making water more available for agriculture and wildlife as the region faces increasingly severe droughts.
► In today's News Tribune — Tacoma must not repeat methanol plant debacle (editorial) — Termination of $3.4 billion project was fueled by lack of good information. Both the plant developer and local opponents both showed impatience with regulatory process. Our community must commit to learning from these mistakes.
---
"FREE" TRADE
► From Reuters — Survey shows plunging public support for TTIP in U.S. and Germany — Support for the transatlantic trade deal known as TTIP has fallen sharply in Germany and the United States, a survey showed on Thursday, days before Chancellor Angela Merkel and President Barack Obama meet to try to breathe new life into the pact. The survey showed that only 17 percent of Germans believe the Transatlantic Trade and Investment Partnership is a good thing, down from 55 percent two years ago. In the United States, only 18 percent support the deal compared to 53 percent in 2014.
---
FEDERAL GOVERNMENT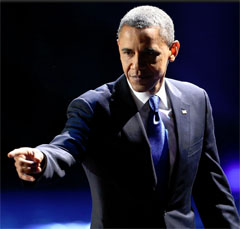 ► From The Hill — Obama rule helping workers organize more quickly, study finds — An employment law firm issued a report Wednesday that finds union elections are being held on average 28 days after a petition is filed — down from an average of 43 days last year. Meanwhile, unions win 85 percent of these fast-paced elections, the report found.
► From Politico — Is misclassification an unfair labor practice? — In a memo to regional offices last month, NLRB General Counsel Richard Griffin advised agency lawyers to be on the lookout for cases that would allow NLRB to consider whether worker misclassification violates the National Labor Relations Act. The theory is that misclassifying workers as independent contractors deprives them of their rights to organize.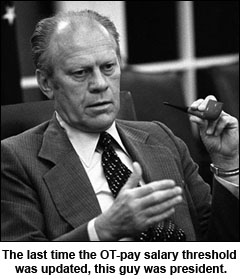 ► In today's NY Times — Overtime pay: A lifeline for the overworked American (by Nick Hanauer and Robert Reich) — Far from the right's end-of-the-world Chicken-Little economics, restoring time-and-a-half overtime pay would return to American workers a protection they long had, one that made them more secure and productive. Half a century ago, overtime pay was the norm, with more than 60 percent of salaried employees qualifying. These are largely the sorts of office- and service-sector workers who never enjoyed the protection of union membership. But over the last 40 years the threshold has been allowed to steadily erode, so that only about 8 percent qualify today. If you feel as if you're working longer hours for less money than your parents did, it's probably because you are.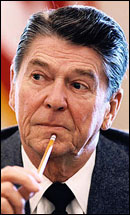 ► From Huffington Post — College could be free if corporations paid Reagan-era taxes — If corporations paid the same tax rate as they did under Ronald Reagan, governments in the U.S. would have enough money to fund prekindergarten for every 4-year-old in America and higher education for every American attending public colleges and universities, according to a Huffington Post review of government data.
► In today's NY Times — Why mass incarceration doesn't pay (by Jason Furman and Douglas Holtz-Eakin) — Congress has the opportunity to rationalize our criminal justice policies and reform sentencing for individuals who pose the least risk. Reform is imperative, not just for its economic or budgetary benefits, but for individuals who deserve a second chance and the families and communities who stand beside them.
ALSO at The Stand — Mass employment, not mass incarceration (by Jeff Johnson)
---
NATIONAL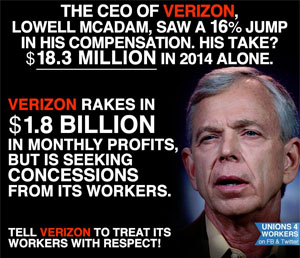 ► From Fortune — Verizon strikers now calling for wireless boycott in front of stores — Some 40,000 employees from Massachusetts to Virginia walked off the job on April 13 after working without a contract since August. They've been picketing Verizon retail wireless stores since the strike started. This week, they escalated the fight, handing out leaflets to consumers entering the stores in calling for a boycott of the company's wireless service.
ALSo at The Stand — Verizon strikers are standing up for all working families
► From Huffington Post — It's not getting any easier for women to become CEOs — Female executives landed just 2.8 percent of the new chief executive jobs that opened up last year around the world, according to the analysis of 2,500 global public companies. Put another way, there were 359 open CEO slots last year and women filled just 10. That's the lowest percentage since 2011.
► From Think Progress — –Maryland to become 2nd state to guarantee fair wage to people with disabilities — Maryland will soon become the second state, after New Hampshire, to phase out the "subminimum wage" for workers with disabilities.
---
TODAY'S MUST-READ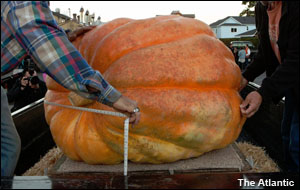 ► From The Atlantic — Corporate growth for the sake of corporate growth — Right now, the American economy demands that businesses take a grow-or-die approach to their industries. The accumulation of capital trumps any effort to create sustainable revenue flows, and this is the reason why so many large companies utilize scorched-earth tactics to dominate their markets. … The irony is that, in the long term, the economic landscapes that such companies dominate eventually go fallow. The towns where massive retailers operate, for example, lose the ability to provide sustainable revenue to themselves or the corporations hoping to profit off them. In the relentless pursuit of growth, these companies extract the money that the people and businesses in their markets use to transact — or even buy stuff from the extractive company itself. … If the economy is to be tilted less toward accumulation and the storage of capital, and more toward increasing the velocity of money as it travels between people and businesses, the tax code is a good place to start making revisions. This would mean rewarding revenue, earnings, and even payroll with lower tax rates, while discouraging capital gains with higher ones. Imagine if companies were busy trying to figure out how to avoid taxes by doing business, instead of by selling assets, laying off employees, or hiding earnings overseas.
---
The Stand posts links to Washington state and national news of interest every weekday morning by 10 a.m.
Short URL: https://www.thestand.org/?p=48490
Posted by
David Groves
on Apr 21 2016. Filed under
DAILY LINKS
. You can follow any responses to this entry through the
RSS 2.0
. Both comments and pings are currently closed.