Our most unfair taxes, Bryant on Trump (crickets), your raise…
Tuesday, April 26, 2016
---
STATE GOVERNMENT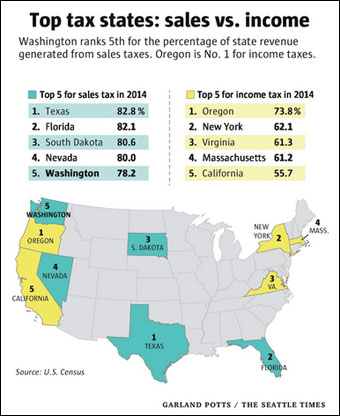 ► In today's Seattle Times — Taxes like Texas: Washington's system among nation's most unfair — A problem with relying on sales taxes is that, compared with income or property taxes, they hit the poor the hardest. "Low-income people spend most, if not all, of their income on just getting by," said Matt Gardner, executive director of the Institute on Taxation and Economic Policy. Even though wealthier people spend more money, they also save and invest. So a big chunk of their income is not subject to a sales tax. As a result, poor Washingtonians pay taxes on a much larger percentage of their earnings, effectively paying a tax rate seven times higher than the wealthiest residents. That rates Washington's tax system as the most unfair in the country, according to the ITEP.
---
LOCAL
► In the P.S. Business Journal — Intel plans to cut 350 jobs in DuPont; Bellevue layoffs expected — The Santa Clara, California-based company last week announced plans to cut 12,000 positions globally by mid-2017. Intel has around 1,000 employees in the Seattle area, down from nearly 2,800 several years ago. The company did not provide a timeline for the layoffs in Washington state. The DuPont research and development facility will cease operations.
► In today's Columbian — Vancouver Energy accepts amendment terms — The company behind the proposal for the nation's largest rail-to-marine oil terminal at the Port of Vancouver has signaled it's ready to accept a contract change approved by port commissioners April 15.
---
CAMPAIGN 2016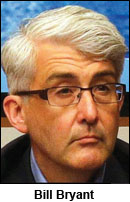 ► From The Stranger — Republican gubernatorial candidate Bill Bryant is emcee-ing a Cinco de Mayo party — I've reached out to Bill Bryant's campaign manager to ask if he has has any comment on the fact that his party's presidential frontrunner wants to build a wall between the United States and Mexico. I have not yet heard back… Bryant has not made his feelings about Donald Trump clear. He's called the presidential race a "circus," but unlike some of his fellow GOP-ers, has not taken a position on Trump's candidacy.
► From The Guardian — Unions plan attack on Donald Trump in attempt to derail presidential bid — The prospect of a Donald Trump nomination has labor leaders scrambling to hold the line as the Republican frontrunner's appeal to disaffected working-class voters threatens to upset the traditional political calculus.
► In today's Washington Post — Five states expected to help Clinton, Trump widen leads — Voters head to the polls in Pennsylvania, Maryland, Connecticut, Rhode Island and Delaware.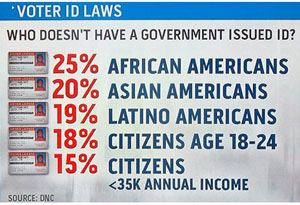 ► In today's NY Times — North Carolina Voter ID Law is upheld by federal judge — The state demonstrated a legitimate interest in requiring voters to provide certain credentials before casting their ballots, the judge ruled, despite criticism that the law disenfranchises black and Hispanic voters.
► From AP — 'Chaos' in Kansas: ACLU says two-thirds of voter registrations on hold — Voting rolls in Kansas are in "chaos" because of the state's proof-of-citizenship requirements, the ACLU has argued in a court document, noting that about two-thirds of new voter registration applications submitted during a three-week period in February are on hold.
---
TRANS-PACIFIC PARTNERSHIP

► From The Hill — Chamber's Donohue: TPP vote likely after the elections — U.S. Chamber of Commerce President Tom Donohue said that election-year pressures will force the Senate to vote on the Trans-Pacific Partnership during a lame-duck session to protect several vulnerable Republican incumbents.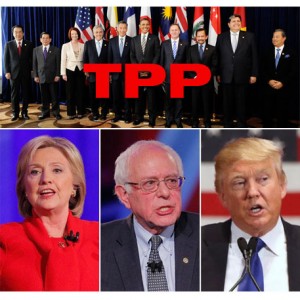 ► In today's NY Times — Where jobs are squeezed by Chinese trade, voters seek extremes — Disenchantment with the political mainstream is no surprise. But research to be unveiled this week by four leading academic economists suggests that the damage to manufacturing jobs from a sharp acceleration in globalization since the turn of the century has contributed heavily to the nation's bitter political divide. Cross-referencing congressional voting records and district-by-district patterns of job losses and other economic trends between 2002 and 2010, the researchers found that areas hardest hit by trade shocks were much more likely to move to the far right or the far left politically.
► In today's NY Times — Pennsylvania, where everyone is 'furious' (by Emma Roller) — Pennsylvania is among the five states holding a primary on Tuesday, and it has the most delegates at stake. Since neither party has locked up its nominee yet, the state's white working-class voters have more of a voice in the primary process than they have had in years past. The fight for these voters has focused significantly on a somewhat unlikely contender for juiciest campaign issue: international trade deals and their repercussions… The grievances of Sanders supporters and Trump fans start to sound somewhat similar.
---
FEDERAL GOVERNMENT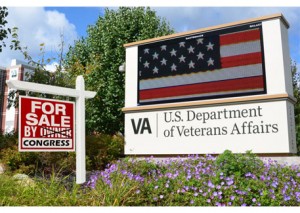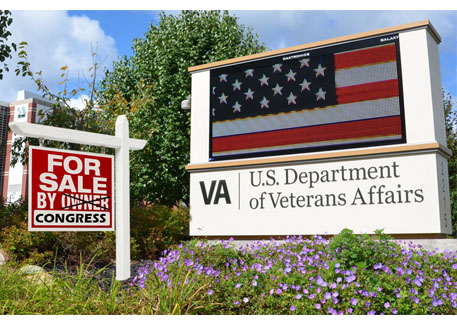 ► From Huffington Post — Scamming the country's veterans: Efforts to privatize VA health system (by Dean Baker) — There are few areas where there is more bipartisan support than the need to provide adequate health care for the country's veterans. While many of us opposed the war in Iraq and other recent military adventures, we still recognize the need to provide medical services for the people who put their lives at risk. This is why it is especially annoying to see right-wing groups invent scandals around the Veteran Administration's hospitals in order to advance an agenda of privatizing the system… All the evidence suggests that a privatized system would make worse any problems veterans now face in getting care — and it is likely to cost more money.
► In today's Seattle Times — How immigration reform would help unlock human potential — The U.S. Supreme Court should uphold President Obama's 2013 decision to delay deportations for millions of immigrants already living and contributing to American society. Then Congress needs to do its job.
ALSO at The Stand — WSLC's Johnson: Supreme Court should uphold Obama's immigration orders (April 18)
---
HORRIBLE GOVERNORS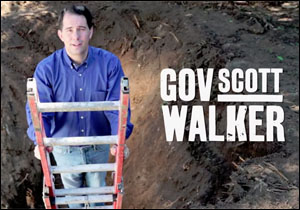 ► From Think Progress — Fast food industry looks to skirt labor law, with an assist from Scott Walker — Businesses in Wisconsin that use franchising agreements to insulate corporate headquarters from legal liability down at ground level will have an easier time thanks to Walker's signing of Wisconsin Act 203. The law prohibits state labor agencies and judges from applying the same logic the federal NLRB has invoked in recent years to eat away at a common corporate liability shield. Wisconsin is the seventh state to enact such a policy.
► From Think Progress — Kansas governor justifies kicking 15,000 people off food stamps — The embattled Gov. Sam Brownback justified his policy of forcing people off of food stamps if they can't find a job by likening low-income and jobless people to lazy college students.
---
NATIONAL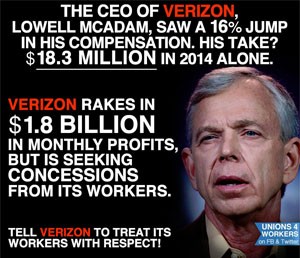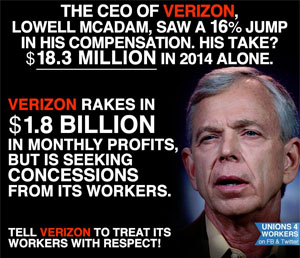 ► In the New Jersey Star-Ledger — Bad connection: Verizon's poor deal to workers (editorial) — Among domestic telecoms, Verizon is the 800-pound gorilla. It has generated $39 billion in profit the last three years (repeat: profit, not revenue) and $4.3 billion in the first quarter of 2016 — so guess what comes next for a company that is the second most-profitable of its kind on the planet. More employee givebacks, of course… It's a strange message to send to your workforce, especially after paying each of your top five executives an average of $10 million over the last five years. Somewhere along the way, Verizon decided that grunts should be grateful for blue-collar jobs that allow them to support families. It also began to question whether it should uphold that obligation in a shifting economy. The answer is clear: It doesn't.
TAKE A STAND — Click here to sign a petition telling CEO Lowell McAdam that you stand with Verizon workers.
► From MarketWatch — Uber settlement could net most drivers $24 or less — Though some Uber drivers could receive up to $8,000 from a class-action settlement agreement, the majority are headed for a payout of about $24 or less, according to court documents.
► From Reuters — Uber drivers' employment status is in NLRB's hands after settlement — Uber's tentative settlement of a major class action has dashed hopes that courts would soon rule on the crucial issue of whether its drivers are employees or independent contractors, and turned attention to NLRB cases that pose the same question.
► From Bloomberg — Volkswagen to appeal NLRB ruling on Tennessee union election — The company said it plans a court appeal of a U.S. labor board's decision that allowed a union representation election for a portion of the workforce at the automaker's Tennessee factory.
---
TODAY'S MUST-READ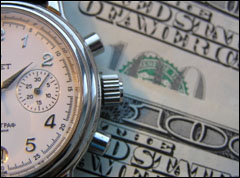 ► From Gawker — Your pay is about to go up — If you make less than $50,000 per year, you will soon be entitled to overtime pay. "Me?" you wonder, glancing around with uncertainty. Yes: You. We are referring here to the Department of Labor's overtime rule, which is widely expected to be updated some time later this summer. Though we won't have an official number until the rule is final, it now appears that even if you are a salaried employee or some sort of "manager," you will still be entitled to time-and-a-half pay for working more than 40 hours per week, as long as your total salary falls under the threshold. The DOL itself promotes a Wall Street Journal story that says, "The threshold would be increased to $970, or $50,440 annually. That level is about the 40th percentile of weekly earnings for salaried workers." This rule has been a matter of political contention for years. But now that it is actually approaching, its import is becoming clear: overtime pay, which has long been isolated to a minority of workers, is about to be extended to almost the entire middle class. This is a very big fucking deal.
---
The Stand posts links to Washington state and national news of interest every weekday morning by 10 a.m.
Short URL: https://www.thestand.org/?p=48635
Posted by
David Groves
on Apr 26 2016. Filed under
DAILY LINKS
. You can follow any responses to this entry through the
RSS 2.0
. Both comments and pings are currently closed.