MayWorks 2016 celebrates 'Hold the Fort!'
"Like" the MayWorks Facebook page for the latest!
---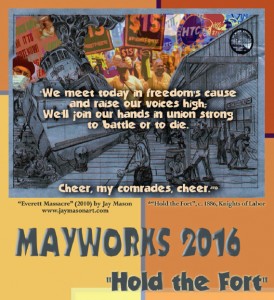 From striking tobacco workers singing "We Shall Overcome," to the IWW organizing through song over the Salvation Army's attempts to silence them ("You'll have pie in the sky when you die!"), to the East and West Coast hip-hop artists, to the soundtrack of the Black Lives Matter movement.
From the New Deal public works art, the poetry of Joe Hill to the current slam artists, "Salt of the Earth" to independent filmmakers documenting working conditions in Bangladesh and Vietnam, from Diego Rivera to picket signs to the labor history mural being painted on the Washington State Labor Council's Seattle office — working people have used art, music, poetry, dance — to agitate, to express their frustrations, and their vision for a better world.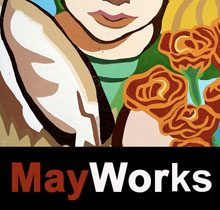 MayWorks celebrates this expression. While Canada has carried the tradition for years — in Toronto, Winnipeg, Montreal, Vancouver — the WSLC started MayWorks in 2012 to commemorate the 1812 Bread and Roses March. Since then, MayWorks events have popped up around the state — celebrating our past and present cultural lives. We need bread, and roses too!
This year, the theme of MayWorks is "Hold the Fort!" commemorating the Everett Massacre, and celebrating the fight to improve the lives of working people everywhere. MayWorks events across the state will include signature gathering for Initiative 1433 to improve labor standards through a higher minimum wage and paid sick and safe leave.
Check out the MayWorks calendar and attend as many events as you can! Here are just some of the highlights:
New Apprenticeship Exhibit Launch & Celebration
MAY 5 — To commemorate the rich history of apprenticeships at South Seattle College and throughout the region, the Washington State Labor Education and Research Center cordially invites all to join them for its New Apprenticeship Exhibit Launch & Celebration at the Georgetown Campus of South Seattle College, 6737 Corson Ave S. , on Thursday, May 5 from 5 to 8 p.m. Click to RSVP.
MayWorks Hootenanny in Fife
MAY 7 — The Pierce County Central Labor Council invites all to join Union brothers and sisters for the annual MayWorks Hootenanny, an evening of musical solidarity featuring great songs of labor, peace, and justice. It will be Saturday, May 7 from 6 to 8:30 p.m. at the ILWU Local 23 Hall, 1306 Alexander Ave. East, in Fife. See the event flier.
John O'Connor returns to Washington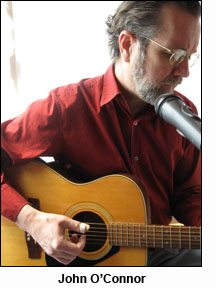 MAY 13-14 — Songwriter and labor folksinger John O'Connor will make his first concert appearances in the Seattle area in almost two decades. The concerts will feature O'Connor's powerful songs and stories, many about life and struggles in the Pacific Northwest. His music has always been inseparable from his involvement in working class politics. He began his involvement in the labor movement right out of high school when he went to work in the factories of Waterloo, Iowa. An interest in folk music and Woody Guthrie led to a 40-year career as a folk singer and a cultural educator, performing in concerts, coffeehouses, schools and colleges, union education programs and political action events.
O'Connor's first concert will be at 7:30 p.m. on Friday, May 13 at the Keystone Church in Wallingford, 5019 Keystone Pl. N. in Seattle.  Please RSVP for reservations to 206-524-7753 or email Rebelvoz@aol.com. Suggested donation is $15.
For the second concert, O'Connor will present his musical narrative "Hold the Fort" at a benefit concert at IAM District Lodge 751's Seattle Union Hall, 9135 15th Place S., at 7 p.m. on Saturday, May 14. This is a benefit for the Pacific NW Labor History Association; $10 donation is suggested. Get details. For more information or to RSVP contact, pnlha2@gmail.com.
O'Connor will also perform in Olympia on Saturday, May 21 (see below).
"Preserving Solidarity Forever" at the Labor Archives
MAY 14 — Join the Labor Archives of Washington for its second annual event, "Preserving Solidarity Forever," dedicated to showcasing its efforts to preserve and promote labor history. It will be from 1 to 4 p.m. on Saturday, May 14 at UW's Husky Union Building (HUB), Room 145, in Seattle. Get details.
Movie and Pizza Night at the WSLC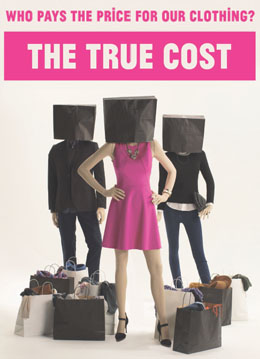 MAY 18 — The Washington State Labor Council, AFL-CIO is hosting a free Movie and Pizza Night, from 6 to 9 p.m. on Wednesday, May 18 at its Seattle office, 321 16th Ave. S. Come see "The True Cost," a groundbreaking documentary film. The price of clothing has been decreasing for decades, while the human and environmental costs have grown dramatically. "The True Cost" pulls back the curtain on this untold story and asks us to consider, who really pays the price for our clothing? Please RSVP here so we can make sure we have enough pizza!
"To Thine Own Selfie be True"
MAY 19 — Washington Young Emerging Labor Leaders (WA YELL) is celebrating MayWorks with a "Selfie Scavenger Hunt" and art walk. Grab your cell phone and meet at the WSLC Seattle office, 321 16th Ave. S., by 5 p.m. on Thursday, May 19, when the party bus will load up and take participants on a 3-hour tour (a three… hour… tooooour) of the Seattle Design Center and Upper Queen Anne Art Walks. Your mission: search for art that reflects the stories of workers or depicts social justice issues, snap a selfie with the piece and post it to FB/Instagram/Twitter with a hashtag #MayWorks2016! For more information, email Shaunie Wheeler or call her at 206-966-8056.

Pacific NW Labor History Association Conference
MAY 20-22 — The Pacific NW Labor History Association Conference will be at Portland State University on May 20-22. Come share views on "Labor, Justice, and the Environment: Historical Insights, Alliances, and Challenges." Join labor historians, students, environmental activists, politicians, and trade unionists in a celebration of the rich historical past of the working people of the Pacific Northwest. Get details.
Music, Art and History of Organized Labor in Olympia
MAY 21 — The Thurston Lewis Mason Central Labor Council invites all to celebrate the Music, Art and History of Organized Labor in Olympia. This special event will be Saturday, May 21 at the historic Labor Temple building, 119 Capitol Way N. in Olympia. It begins at 6:30 p.m. with the dedication of the "Dignity of Labor" sculpture by Olympia artist John Vanek onsite, outside the Brotherhood Lounge. At 7 p.m., there will be a performance by songwriter and labor folksinger John O'Connor in the Bandha Room, 3rd floor of the Labor Temple. Get details.
MAY 23 — Entries are due Monday, May 16 for the 5th annual WSLC MayWorks Video Contest. Submit your 3- to 5-minute film with the theme of "Hold the Fort," documenting how people are trying to improve their work lives and the lives of others, for your chance to win cash prizes and have it showcased at the MayWorks events.  Send them electronically to the WSLC c/o Willa Hockley-Smith, 321 16th Ave. South, Seattle, WA, 98144. Email her or call 206-281-8901 for more information. Get details.
Labor Stage at Northwest Folklife

MAY 28 — The Northwest Folklife Festival in Seattle will have its Labor Stage on Saturday evening, May 28 from  7:10 to 9:30 p.m. at the Cornish Playhouse (formerly known as the Intiman). This year the show will host a group new to Folklife — the Resisters (or Re-Sisters), a chamber vocal group of women from Vancouver BC. See the entire festival schedule.
---
There are lots of other MayWorks events planned, including film screenings, labor songs at Northwest FolkLife, and much more. Additional events will be added as the month progresses, so make sure you check out the MayWorks calendar.
Short URL: https://www.thestand.org/?p=48752
Posted by
David Groves
on Apr 29 2016. Filed under
TAKE A STAND!
,
W.S.L.C.
. You can follow any responses to this entry through the
RSS 2.0
. Both comments and pings are currently closed.