Nominate members for WSLC's 2016 awards, scholarships
(April 22, 2016) — Each year at its annual convention, the Washington State Labor Council, AFL-CIO presents awards recognizing the efforts and accomplishments of specific union organizations and individual union members. The WSLC Women's Committee also offers scholarships to attend the annual Summer Institute on Union Women.
As the deadline for award nominations approach, the WSLC is calling on its affiliated unions to submit names for consideration. The deadline for nominations for all awards and scholarships is June 1, 2016.
Following are descriptions of the awards that will be presented at the 2016 WSLC Convention at the Coast Wenatchee Hotel and Convention Center on July 19-21. (Follow the links to download nomination forms.)
The WSLC Mother Jones Award has been recognized for decades as the state labor movement's award that recognizes our own members in their struggle for dignity and respect for all working men and women in our state. Traditionally, two awards are given, one to an individual and one to an organization. Candidates for the award will best exemplify the tradition of Mary "Mother" Jones' immortal statement, "Mourn for the dead, but fight like hell for the living!"
Above, the 2015 Mother Jones Award was presented to Tracey A. Thompson, who had recently stepped down from her position as Secretary Treasurer of Teamsters Local 117.
The WSLC Economic Development, Job Retention, and Transportation Committee reviews nominations and recommends recipients for this award to the WSLC Executive Board. If you have questions about this award, contact EDJRT Committee staff liaison Bill Messenger (bmessenger@wslc.org) or 360-357-8736.
The WSLC Education, Training and Apprenticeship Committee gives an annual "Bruce Brennan Memorial Award" to the individual who has contributed the most to further the cause of apprenticeship, education and training in Washington state.
At right, Mike Warren, Director of the Northwest Laborers-Employers Training Trust, accepts the 2015 Bruce Brennan Award.
For more information or if you have questions about this award, contact ETA Committee staff liaison Caitlyn Jekel at cjekel@wslc.org or 360-705-9469.
The WSLC Women's Committee presents this award for the advancement of women in leadership roles and/or for activism on behalf of women within the labor movement.
At right, Dawn Gearhart of Teamsters Local 117 accepts the 2015 Elsie Schrader Award. She has organized and represented both the Western Washington Taxi Operators Association and the App-Based Drivers Association, successfully helping competing drivers understand their mutual interest in organizing and to give them a voice outside the traditional union model.
For more information or if you have questions about this award, contact Women's Committee staff liaison April Sims (asims@wslc.org) or 206-254-4909.
---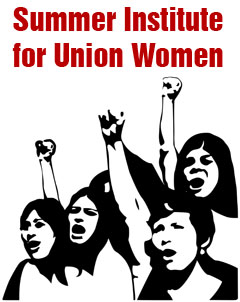 In addition to the awards mentioned above, the Washington State Labor Council Women's Committee is offering five scholarships to the 35th Annual Western Regional Summer Institute on Union Women 2016 (SIUW) scheduled to run Aug. 9-13, 2016. Sponsored by the AFL-CIO and the United Association for Labor Education, this is a week at UCLA in Los Angeles, California to honor, strengthen, and support women in the labor movement.
The summer school offers a series of in-depth courses, workshops, solidarity and fun! While agendas have not yet been finalized, prior summer school classes have included leadership development, organizing our unions and communities for action, and communication strategies.
Scholarships include tuition, room and board provided at the facility, and reasonable travel expenses. No time loss will be paid. Participants must be able to take vacation or union leave.
The deadline for applying for one of these scholarships is June 1, 2016. The application form, along with a 100-word or less letter from the applicant, must be received by the deadline in order to be considered.
If you have any questions regarding the scholarships, please contact WSLC Women's Committee Staff Liaison April Sims at 206-254-4909 or asims@wslc.org.
Short URL: https://www.thestand.org/?p=48546
Posted by
David Groves
on Apr 22 2016. Filed under
W.S.L.C.
. You can follow any responses to this entry through the
RSS 2.0
. Both comments and pings are currently closed.