Triumph triumph, we're #3, blockade blocks, voting rights gutted…
Thursday, June 23, 2016
---
LOCAL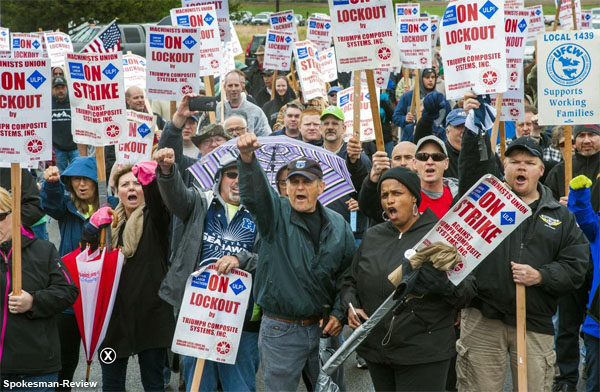 ► In today's Spokesman-Review — Machinists Union votes to end Triumph Composite strike lockout — Machinists Union workers in Spokane have voted to accept a contract offer and end a nearly six-week strike lockout at aerospace manufacturer Triumph Composite Systems on the West Plains. About 400 employees have been locked out since May 10 after 93 percent of them voted to go on strike. They wanted better pensions and the removal of a two-tier wage system that began in 2013. More than 80 percent of union members voted to accept the company's new four-year contract offer. Employees are expected to be back at work on Monday.
ALSO at The Stand — Lockout to end as Machinists approve new Triumph contract
► In today's Seattle Times — Striking Locked-out Machinists at Spokane plant approve new contract — IAM District 751 president Jon Holden called the outcome "a shining example of the power of union membership."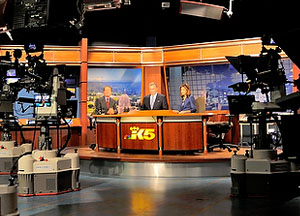 ► From KPLU — Seattle City Council committee passes resolution in support of unionized workers at KING 5 — Contentious labor negotiations at the television station KING 5 have now gotten the attention of Seattle's City Council. A council committee has passed a resolution supporting the unionized news staff who say their jobs are threatened by the corporate owner's business model.
ALSO at The Stand — 'Uberization' of broadcast news is subject of Seattle City Council hearing
► In today's Peninsula Daily News — Port Townsend Education Association, school district reach deal on new contract — "The agreement begins to meet our goals around collaboration time, compensation and communication around teacher evaluation," said PTEA president Chris Pierson.
---
STATE GOVERNMENT
► From BLS.gov — Washington tied for 3rd in job growth in past year; Oregon No. 1 — Thirty-two states and the District of Columbia had statistically significant increases in nonfarm employment from May 2015 to May 2016. The largest percentage gains were in Oregon (3.4 percent) and Utah (3.3 percent), followed by Florida, Idaho, and Washington (3.2 percent each).
► In today's Columbian — State agency calls for Vancouver oil terminal denial — The state Department of Natural Resources is asking for the nation's largest oil-by-rail terminal, proposed for the Port of Vancouver, to be denied state approval.
---
FEDERAL GOVERNMENT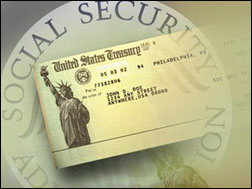 ► From Huffington Post — Social Security still isn't broke, new report confirms — Social Security will be able to pay full benefits until 2034, when it will face a modest gap in funding, the social insurance program's trustees reported on Wednesday.
ALSO at the Stand — Social Security, Medicare report 'reassuring," Trumka says
► From Huffington Post — 2016 trustees report confirms that expanding Social Security is fully affordable (by Nancy Altman) — The fact is that, as the richest nation in the world at the richest point in our history, not only can we afford the current levels of Social Security protections, we can afford to greatly expand Social Security.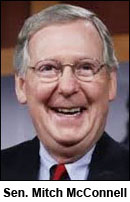 ► From TPM — Tied SCOTUS effectively blocks Obama's executive action in immigration — The Supreme Court split four-four on a challenge to the President Obama's immigration executive action. The tie vote means that the appeals court decision blocking implementation of the program will be allowed stand. The decision, which merely noted that the tie vote meant the lower court's decision was affirmed, is a major loss for the Obama administration. The fate of the President's immigration programs will likely hinge on the next election.
► From AFL-CIO Now — Medical experts, Union Veterans Council: Don't shut down veterans' hospitals — A wide range of experts, including veterans service organizations, leading academics and medical experts came together in Washington, D.C., to oppose cuts to the VA and to explore the future of veterans' health care.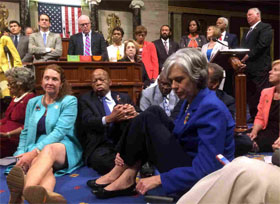 ► In today's NY Times — House Dems' gun-control sit-in turns into chaotic showdown with Republicans — A Democratic protest demanding votes on gun-control legislation led to pandemonium in the House chamber that did not end until early Thursday, when Speaker Paul D. Ryan and his fellow Republicans reclaimed control, abruptly adjourned and the Republicans left the Capitol. Furious Democrats remained on the House floor, where they huddled around their leader, Representative Nancy Pelosi of California, who praised their stand as a "discussion heard around the world."
► From Think Progress — Republicans stormed Dems' sit-in to vote for letting Wall Street to rip off Americans — When Republicans showed up in the middle of the night, it was to take action on a new rule issued by the Obama administration that requires financial advisers to act in their clients' best interest.
► From Politico — House goes on break until July 5 in a bid to preempt sit-in — Republican leaders moved in the middle of the night to cut off House Democrats' gun control sit-in by adjourning the House through the July 4 — without a vote on gun control.
---
NATIONAL
► From AP — IMF downgrades outlook for U.S. economy — The International Monetary Fund said America should raise the minimum wage to help the poor and offer paid maternity leave to encourage more women to work… IMF Managing Director Christine Lagarde noted that the U.S. is the only rich country in the world that does not offer paid maternity leave and that American women are far less likely to work than men. Offering paid family leave and help with childcare costs could encourage more women to seek jobs, she said.

► In the L.A. Times — Grocery workers approve a strike against supermarkets — Some 47,000 grocery workers across Southern California have voted to authorize a strike against Ralphs and Albertsons, which includes Vons, Pavilions and Safeway stores. The supermarkets have offered one 10-cent per hour wage increase through 2018, and two bonuses of 10 cents an hour and 15 cents an hour. UFCW Local 770 said the stores also would not fund healthcare beyond current levels, forcing employees to contribute more or sacrifice coverage; reducing their future contributions to pensions; and forcing employees to retire at 65 rather than 60.
► From Think Progress — Chicago lawmakers unanimously vote to guarantee workers a paid day off if they get sick — The passage in Chicago means that all three of the country's largest cities have required paid sick days, joining the 27 cities as well as five states that have passed bills.
---
ELECTION 2016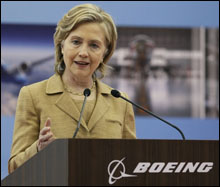 ► In today's Washington Post — Trump's problems are making it too easy for Democrats to ignore their own (by Fredrik deBoer) — The Democratic Party's traditional self-definition of economic populism is harder and harder to maintain, given its capture by the wealthy. Could you call Democrats an anti-austerity party? A pro-labor party? A social democratic party? It's hard to say yes to any of those. There are surely individual Democrats who are more vocal in calling for economic reforms, just as individual Republicans voice more moderate forms of economic conservatism. But the general trend, particularly at the top of the party, is towards comfort and connection with the financial elite.
► From Politico — Labor Department investigating Trump's Old Post Office project — The Labor Department is investigating whether workers on Donald Trump's renovation of Washington, D.C.'s Old Post Office are being paid less than federal law requires.
---
TODAY'S MUST-READ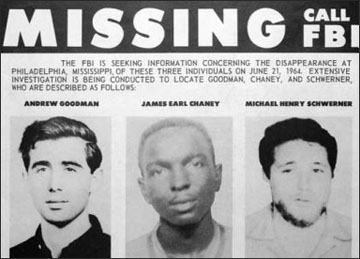 ► From The Nation — The gutting of the Voting Rights Act could decide the 2016 election — On June 21, 1964, the civil-rights activists James Chaney, Andrew Goodman, and Mickey Schwerner were abducted in Neshoba County, Mississippi, and brutally murdered by the Ku Klux Klan. The killings in Mississippi, where only 6.7 percent of African Americans were registered to vote in 1964, shocked the nation and helped lead to the passage of the Voting Rights Act… The 52nd anniversary of the murders of Chaney, Goodman, Schwerner coincide with the third anniversary of the Shelby County v. Holder decision that gutted the VRA. The full impact of that ruling will be felt in this year's election, the first presidential election in 50 years without the full protections of the VRA. Seventeen states have new voting restrictions in place for the 2016 presidential race, including more than half of those previously covered by Section 5 of the VRA, and representing 189 electoral votes, 70 percent of the 270 electoral votes needed to clinch the presidency. "Today, rather than using murder, unscrupulous people have found new disenfranchisement tactics to prevent whole communities from voting in order to retain political advantage," writes David Goodman, Andrew Goodman's younger brother.
---
The Stand posts links to Washington state and national news of interest every weekday morning by 10 a.m.
Short URL: https://www.thestand.org/?p=50209
Posted by
David Groves
on Jun 23 2016. Filed under
DAILY LINKS
. You can follow any responses to this entry through the
RSS 2.0
. Both comments and pings are currently closed.