Signature submission, what Bernie wants, striking Trump…
Wednesday, July 6, 2016
---
STATE GOVERNMENT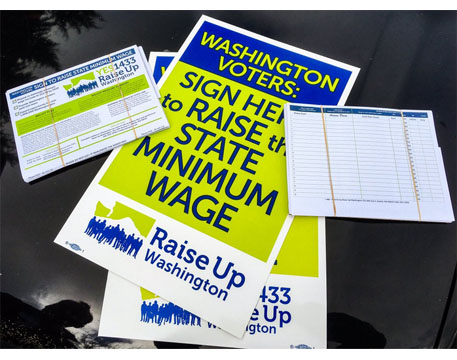 ► From KPLU — Paid sick leave, $13.50 minimum wage expects to qualify for Washington ballot — Washington voters will likely decide in November whether to raise the state minimum wage and require employers to provide paid sick leave. Backers of the Raise Up Washington campaign say they will submit more than 360,000 signatures Wednesday — virtually guaranteeing it a spot on the fall ballot.
EDITOR'S NOTE — The Stand will post the I-1433 campaign's press release announcing the signature submission this afternoon.
► In today's News Tribune — Roach says FBI inquiries won't be a distraction on the job — State Sen. Pam Roach said she can be an effective member of the Legislature despite her campaign for Pierce County Council and the fallout from a report of federal investigators inquiring about her conduct as a lawmaker. Roach said she still plans to serve at least next year's legislative session if elected to the County Council this fall, and that voters' faith in her ability to do both jobs — or either — isn't shaken.
► In today's Seattle Times — Pam Roach's 'crime'? Fundraising without subtlety (by Danny Westneat) — If Roach is guilty of anything here it's that she was too loud about the soft arts of political money-grubbing. Avista undoubtedly already knows who is on the various state energy committees. So telling them — in writing, no less — is not only unnecessary, it makes an ordinary transaction of politics feel more like an extortion.
---
LOCAL
► In today's Yakima H-R — Yakima City Council votes 5-2 to move forward with downtown plaza — After three years of planning and meetings and impassioned public comment on both sides, the Yakima City Council voted to adopt the downtown plaza design from internationally renowned architect Kathryn Gustafson and move ahead with the $12 million project.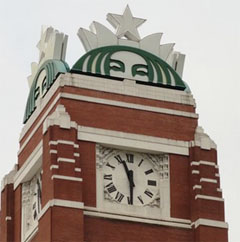 ► In today's Seattle Times — Barista's petition to Starbucks about work cuts catches on with thousands — A Starbucks barista's petition complaining that the coffee chain has cut working hours in its stores to the point of "gross underemployment" for workers has garnered more than 11,000 signatures and the attention of top Starbucks executives. "Morale is at the lowest I've seen it in my nearly nine years of service with Starbucks," barista Jaime Prater writes in his online petition on Coworker.org. "What's happening currently is some of the most extreme labor cuts in Starbucks history."
---
BOEING
► In the Financial Times — Boeing CEO seeks to close the gap on Airbus — Boeing CEO Dennis Muilenburg says the most important goal for now is to "successfully execute and deliver on our commercial airplane production ramp-up" … "We don't really see a turn in the cycle here. We are still in this unprecedented position of about 5,700 aircraft in [the order] backlog." Boeing expects to win an order for one new commercial aircraft this year for every jet it delivers, keeping that backlog going far longer than in previous cycles, he adds.
---
TRANS-PACIFIC PARTNERSHIP
► From Politico — Bernie v. Hillary: What Sanders wants on trade — Sen. Bernie Sanders' campaign on Tuesday shared the specific language he wants inserted in the Democratic Party platform concerning the Trans-Pacific Partnership trade deal. The amendment reads, "It is the policy of the Democratic Party that the Trans-Pacific Partnership must not get a vote in this Congress or in future sessions of Congress."
ALSO at The Stand — 'Rock Against the TPP:' Talib Kweli to perform in Seattle on Aug. 19
---
ELECTION 2016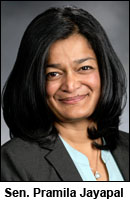 ► In today's Seattle Times — Boost from Bernie Sanders plays into Seattle race for Congress — In a Seattle-area congressional race pitting progressive Democrats against each other, Bernie Sanders could be a difference-maker. The Vermont senator has been helping Pramila Jayapal with her bid to replace retiring U.S. Rep. Jim McDermott.
EDITOR'S NOTE — Pramila Jayapal has been endorsed by the Washington State Labor Council, AFL-CIO.
► From KUOW — Top Sanders supporters talk up Merkley as Clinton VP pick — Some of Bernie Sanders' top supporters are promoting Oregon Sen. Jeff Merkley as Hillary Clinton's running mate. They say that Merkley — the only senator to back Sanders — would help unify the party and doesn't have the political downsides of some more prominently mentioned candidates.
► From Politico — Hillary Clinton's Rust Belt ambassador — As Donald Trump scrambles and realigns American politics, it's a strangely good time to be Sherrod Brown. Ohio's senior senator is, suddenly, Hillary Clinton's ambassador to the Rust Belt, her new confidant on trade, her defender when Trump blasts her as a shill for globalism — and now a potential pick as her vice president.
---
FEDERAL GOVERNMENT
► In today's NY Times — Court strikes down Obama health care rule on insurance standards — A federal appeals court has ruled that consumers must be allowed to buy certain types of health insurance that do not meet the stringent standards of the Affordable Care Act, deciding that the administration had gone beyond the terms of federal law.
---
NATIONAL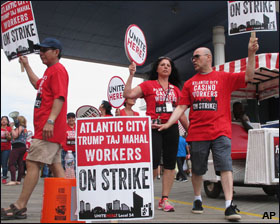 ► From Huffington Post — A thousand workers at the Trump Taj Mahal are still on strike — Roughly 1,000 housekeepers, doormen, busboys and other service workers have been on strike for more than four days after failing to ink a new contract with the casino. The workers lost many of their benefits during bankruptcy proceedings in 2014, including company-sponsored health coverage, pension contributions and paid lunch breaks, according to Unite Here Local 54. Many senior workers say their hourly wages have barely risen, if at all, during the Taj's turbulent last decade. And the housekeepers like Patel say their workload has increased despite having the same wages and fewer benefits as before.
TAKE A STAND — Their America doesn't sound so great. Please sign this petition is support of the striking Trump Taj Mahal workers.
---
TODAY'S MUST-READ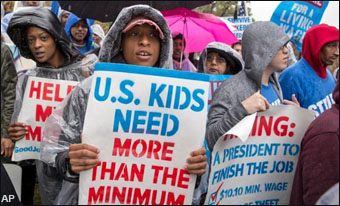 ► In the U.S. News & World Report — Higher wages help everyone (by Ray Offenheiser and Morris Pearl) — It simply isn't true that the economy is a zero-sum game, some kind of tug-of-war between the very poor and very wealthy. It turns out everyone does better when the economy grows from the bottom up, generating benefits for those at the bottom, the top and everyone in between. While the power of certain wealthy elite interests has been able to reshape our economic policies in many ways, at the detriment of the working poor and middle class, it turns out in many ways the prosperity of the very poor and the very wealthy are actually linked. That's why we're joining together, as leaders of a group of wealthy millionaires and of a global anti-poverty organization, to say that increasing wages for the lowest-paid workers in the U.S. is the key to our nation's future prosperity.
---
The Stand posts links to Washington state and national news of interest every weekday morning by 10 a.m.
Short URL: https://www.thestand.org/?p=50445
Posted by
David Groves
on Jul 6 2016. Filed under
DAILY LINKS
. You can follow any responses to this entry through the
RSS 2.0
. Both comments and pings are currently closed.