Convention Day 1: WSLC tackling neglected race issues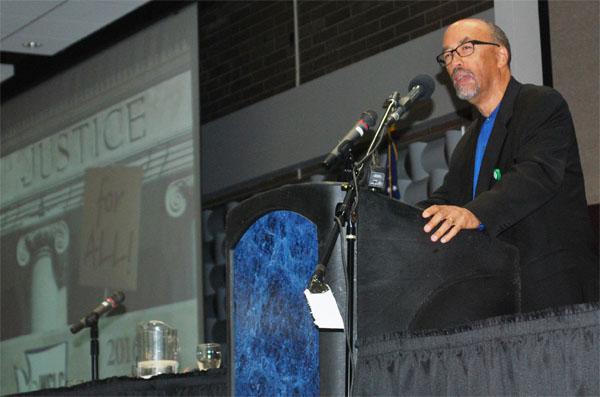 WENATCHEE (July 20, 2016) — Delegates representing unions from across Washington state were told that their state federation — the Washington State Labor Council, AFL-CIO — was taking a bold step by wading into issues of race and unions that historically have been ignored by organized labor.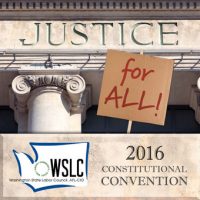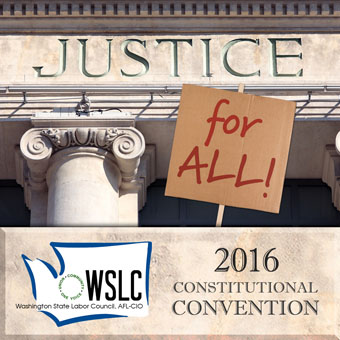 So said author/commentator Bill Fletcher, Jr., the keynote speaker on Tuesday's opening session of the WSLC 2016 Constitutional Convention in Wenatchee. He said that the WSLC's passage of Resolution 12 last year and the subsequent efforts to openly discuss and address institutionalized racism within the labor movement are critically important at a time when ongoing violence between police and people of color have set the nation on edge.
"I grieve with everyone else for the loss of the lives of the police that were killed in Dallas and Baton Rouge," Fletcher said. "I was not surprised that it happened. There has been anger that's been bubbling up for a very very long time, and until society grapples with that, we are on a very very slippery slope."
Fletcher said the WSLC's efforts are like sailing through the Sargasso Sea, an area in the North Atlantic Ocean where, in centuries past, ships would often become bogged down by lack of wind and the presence of heavy Sargassum seaweed.
"Your federation must keep moving," Fletcher concluded. "Our members desperately wish to understand why their lives are collapsing and who is to blame. But in not charting the right course, they can become entangled in Sargassum weed, and therefore forever be lost. This I would argue is the mission of organized labor, the question is whether it is our destiny."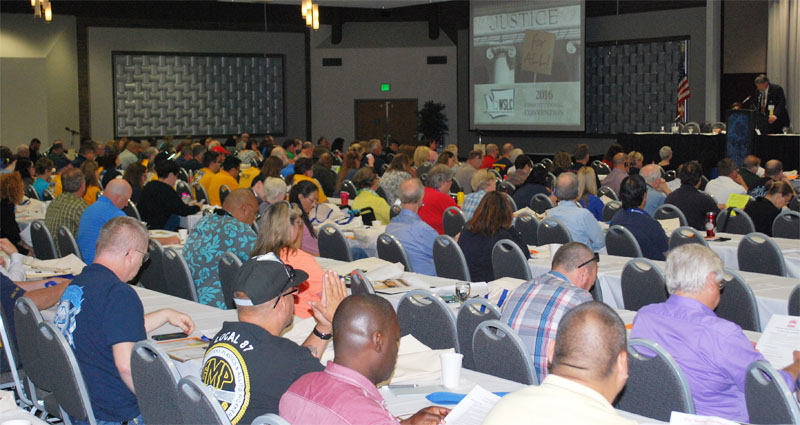 Delivering his opening address, WSLC President Jeff Johnson echoed that sentiment in discussing the convention theme of "Justice for All."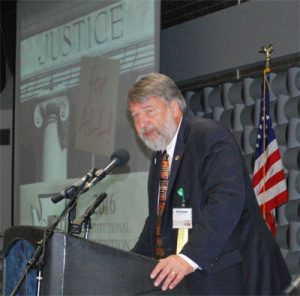 "The sad truth is that we don't have justice for all in America today," he said. "When black and brown men in America are not safe, there is no justice for all. When immigrant families live in fear of being separated by deportation, there is no justice for all. When workers' pensions and health caree benefits are taken away by greedy corporations, there is no justice for all. When workers lose their jobs to trade deals that centralize corporate power, there is no justice for all. When carbon pollution creates climate refugees, there is no justice for all."
But Johnson struck a hopeful note saying he was inspired by the energy and commitment of the union members and leaders in the room.
"For all the challenges we face, the one thing that encourages me is the labor movement," he said. "Leaders like you are leading the way towards a just transition and shared prosperity. Leading the way towards strong voices at work and in the community. Leading the way towards creating a society abundant with optimism, opportunity and justice for all."
Other convention highlights from Tuesday include:
●  Infrastructure investment — A panel of labor and environmental leaders discussed the critical importance of investing in public infrastructure, including the passage of Sound Transit Phase 3. The panel included Monty Anderson of the Seattle Building Trades, Darcy Nonemacher of the Washington Environmental Council, Mo McBroom of The Nature Conservancy, Rob Harmon of the MEETS Coalition, and Bob Guenther of IBEW Local 77. Anderson echoed a common thread in the discussion when he said, "This is important. It's not only important for jobs, it's important for the environment."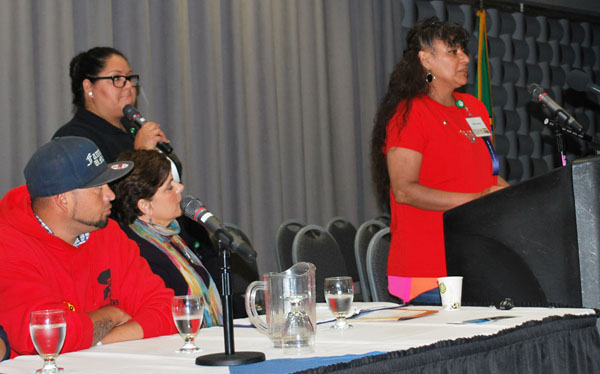 ●  Farm workers' issues — Maria, a dairy worker in Washington state (pictured above), described the deplorable and unsafe working conditions at the state's dairies. The United Farm Workers have been leading a campaign to work with Darigold, the state's largest dairy cooperative, to improve working conditions at the dairies but Darigold is resisting such efforts. Ramon Torres (seated at left), President of Familias Unidas por la Justicia, delivered the great news that the Sakuma Brothers Farms in Skagit County, under pressure by Häagen-Dazs ice cream and other vendors subjected to a consumer boycott of Sakuma's Driscoll's berries, has agreed to work with the union to establish a framework for a union election among the workers. Torres said this is a big win but there is much work remaining to ensure Sakuma farm workers get a fair union contract.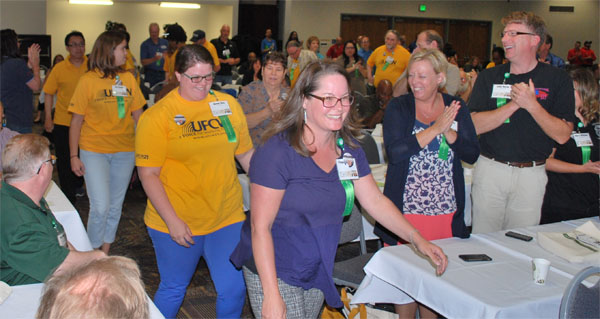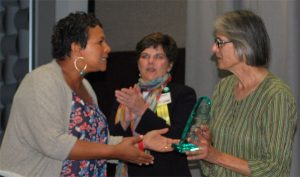 ●  The 2016 Power to the People Awards for outstanding political activism were given to the individual and organization that collected the most signatures for Initiative 1433 to raise the state minimum wage to $13.50 by 2020 and allow all workers to earn paid sick days. The winners were volunteer petitioner extraordinaire Diane Jones of IBEW Local 77 who collected a remarkable 2,403 signatures and UFCW Local 21, which exceeded it's 45,000-signature goal to collect 52,373 signatures. (Above, the UFCW 21 delegation heads to the stage to accept their award. At right, Jones accepts the award from WSLC Field Mobilization Director April Sims.)
●  Elsie Schrader Award — Jacqueline Jones-Walsh of the Washington Federation of State Employees Local 843 received the 2016 Elsie Schrader Award. The WSLC Women's Committee presents this annual award for the advancement of women in leadership roles and/or for activism on behalf of women within the labor movement. Jones-Walsh couldn't attend the convention this week because she is at the AFSCME national convention in Las Vegas, but sent delegates her appreciation and thanks for the honor.
Next up on Wednesday: AFL-CIO President Richard Trumka!
---
There were other important speakers and information delivered Tuesday at the WSLC Convention not included in this summary. TVW, Washington's public-affairs network, is recording the plenary sessions of the WSLC Convention, and The Entire Staff of The Stand will embed clips of each panel and speech on this page when they are posted online. Comprehensively Yours, TESOTS.

Short URL: https://www.thestand.org/?p=50725
Posted by
David Groves
on Jul 20 2016. Filed under
TAKE A STAND!
,
W.S.L.C.
. You can follow any responses to this entry through the
RSS 2.0
. Both comments and pings are currently closed.