More than 360,000 signatures submitted for Initiative 1433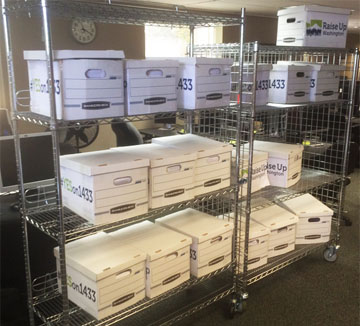 OLYMPIA (July 6, 2016) — Supporters of Initiative 1433, the citizen's initiative to raise Washington state's minimum wage to $13.50 by 2020 and allow all Washington workers to earn paid sick leave turned in petitions today to the Secretary of State's Elections Office. Campaign organizers believe that the more than 360,000 signatures submitted — most of which were gathered by over 1,000 volunteers across the state in a strong show of grassroots support — is more than enough to qualify for this November's ballot.
"This is a great day for the working people across Washington — and for our economy," said Ariana Davis, a grocery worker and UFCW Local 21 member from Renton who is the citizen sponsor of I-1433. "I was on the streets every weekend gathering signatures and can attest to the strong support for this measure. On behalf of the thousands of volunteers who gathered signatures, we are excited for this moment, and confident that a majority of Washington voters will join the 360,000 who signed petitions and pass this important initiative in November."
About 247,000 valid signatures are necessary to qualify for the ballot. As officials with the Secretary of State's office confirm the signatures submitted for I-1433, the focus now turns from signature gathering to the fall campaign, as supporters look to expand their statewide network of support.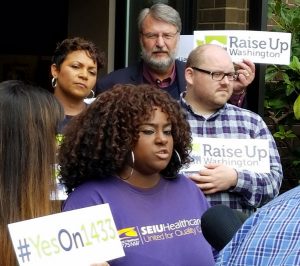 "We continue to build support because raising wages is common sense," said Tanika Aden (pictured at left), a home care worker who lives in Olympia. "Too many Washingtonians are working harder than ever but struggling to make ends meet. They are single moms like me, working full-time to take care of others, but struggling to get by making less than $13.50 an hour. Or moms who can't afford to stay home when their kids get sick, fathers with families to support, people in rural, urban, and suburban communities across the state."
The proposal to allow every Washington worker the opportunity to earn up to seven days per year in paid sick leave is critical for many, especially in the food and health care sectors.
"No one should have to choose between staying home to take care of themselves or a sick child or losing a paycheck," said Ron Cole, a nurse in Seattle. "I've seen it happen too many times – a patient can't afford to take the day off so they wait another day, another week, as their condition escalates and costs increase. We need to do better — we need to make our communities safer, healthier and stronger."
This sentiment is echoed by a growing number of small business owners endorsing the I-1433 campaign. In food and restaurant industries, where two-thirds of all food-related norovirus outbreaks start, independent studies show 1 in 5 workers report going to work while sick with flu-symptoms because they were afraid of losing their paychecks or their jobs.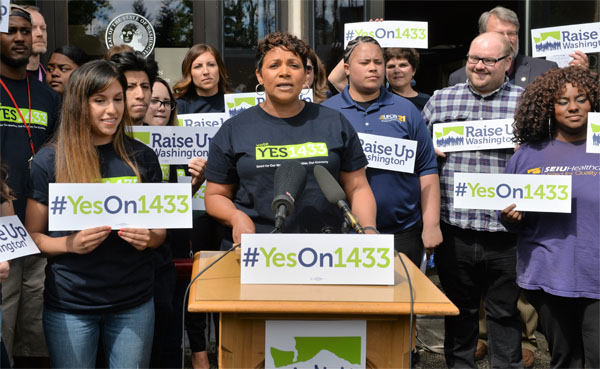 It is estimated that raising the minimum wage to $13.50 over four years will add $600 to the pockets of more than 730,000 minimum-wage workers in Washington every month, adding nearly $2.5 billion to the economy every year. Supporters see this as a win not just for workers earning more, but for businesses and local economies as well.
"I know first-hand what raising the minimum wage means for our local economy," said Jody Hall, owner of Cupcake Royale in Seattle. "When families have the opportunity to earn more money, they gain the ability to become customers at stores in their communities. It means more families can afford to go out for cupcakes or coffee every now and then, which boosts my business. Raising the minimum wage lifts us all up — it's good for workers and smart for business owners."
The Yes on 1433 campaign believes they will continue building grass roots momentum through the summer and fall, as attention to the presidential election and other important races grows.
"Economic inequities are a focus of the national debate," said I-1433 manager Carlo Caldirola-Davis. "Here in Washington State, we are uniquely positioned as a campaign, and a movement, to help voters take real action to improve the lives of hundreds of thousands of low wage workers, and help local economies grow. We have a growing statewide network of support, and look forward to the hard work ahead to win this critical effort."
For more information, visit the Raise Up Washington website.
Short URL: https://www.thestand.org/?p=50470
Posted by
David Groves
on Jul 6 2016. Filed under
ELECTION
. You can follow any responses to this entry through the
RSS 2.0
. Both comments and pings are currently closed.