Oregon's Schrader, other Dems seek to delay OT rule changes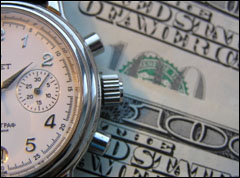 WASHINGTON, D.C. (Aug. 17, 2016) — Overtime rules can be a powerful way to prevent working people from getting overworked without getting paid more for their additional effort. Such rules protect both working people and their families, but the federal rules on overtime are out of date and don't protect nearly enough Americans.
That's why the Obama administration proposed updates to these rules in May that will extend overtime protections to 4.2 million more Americans, and boost pay by $12 billion over the next 10 years, according to the U.S. Department of Labor. The rule changes, which include raising the salary threshold for eligibility for time-and-a-half overtime pay from $455/week to $913 ($47,476 per year), are scheduled to take effect Dec. 1. So employers will have had more than six months to prepare.
But if Congressman Kurt Schrader (D-Ore.) and a handful of pro-corporate members of the House's New Democrat Coalition get their way, that won't happen.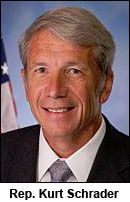 Schrader has proposed legislation that would delay the scheduled increase in the overtime salary threshold for three more years. Schrader's "Overtime Reform and Enhancement Act" would also gut a key provision of the new overtime rules — the one that indexes the salary threshold to wage growth, which is necessary to keep people from losing their overtime protection over time. This indexing provision is one of the key reasons why the administration proposed new overtime rules in the first place: so Congress couldn't neglect the update the rules as wages rise, which excludes more and more workers from eligibility over time.
If the Schrader bill were to pass, an estimated 10.4 million fewer working people would have salaries below the threshold by 2035, which means they would be less likely to have overtime protection.
TAKE A STAND — Rep. Schrader is wrong and this legislation will hurt both working people and the economy. Tell Schrader: Don't take overtime protections from working people.
The New Democrat Coalition is a group of pro-corporate Democrats who have aligned with President Obama's efforts to expand so-called "free trade" agreements and other priorities of business lobbying groups. A year ago, the coalition vowed to get more "assertive" in pursuing its corporate agenda and this effort to delay and weaken the new overtime pay rules appears to be part of that effort. Rep. Schrader and all four of the co-sponsors of his bill are members of the New Democrat Coalition.
Although Washington Reps. Suzan DelBene, Denny Heck, Derek Kilmer, Rick Larsen and Adam Smith are all among the 52 members of the New Democrat Coalition, none of them have signed on as co-sponsors to Schrader's bill, which was introduced on July 14.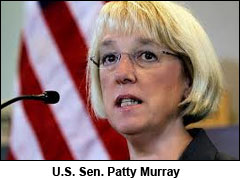 Sen. Patty Murray (D-WA) has been an outspoken proponent of Obama's overtime rule changes.
"In this country, hard work should pay off, and when workers put in extra hours on the job, they should be paid fairly for it," said Sen. Patty Murray (D-WA). "But far too many Americans have been working longer and longer hours without being fairly compensated, as businesses take advantage of weak, inadequate and outdated overtime rules. These updated worker protections will make a meaningful difference in the lives of millions of workers and their families across the country and in my home state of Washington. Strengthening basic worker protections like this will help our economy grow from the middle out, not the top down and will help ensure our economy works for everyone, not just the wealthiest few."
---
AFL-CIO Now and the Northwest Labor Press contributed to this report.
Short URL: https://www.thestand.org/?p=51395
Posted by
David Groves
on Aug 17 2016. Filed under
NATIONAL
. You can follow any responses to this entry through the
RSS 2.0
. Both comments and pings are currently closed.