Give labor its due, GOP vs. black voters, loving Daisy…
Friday, September 2, 2016
---
LOCAL
► In the Seattle Weekly — Giving labor its due (editorial) — Conventional wisdom has held for some time that the labor union is a dying species in America. Don't tell anyone at City Hall that. Seattle policy-makers seem unafraid to take bold action on everything from housing density to ride-share policy to worker schedules at McDonald's. In many cases, labor has been in the thick of things, a dynamic force speaking up for workers who badly need a voice in increasingly stratified Seattle. With Labor Day on Monday, it's apropos to take stock of these accomplishments.
ALSO at The Stand — Labor Day: We're standing up for fair wages, better conditions (by Jeff Johnson)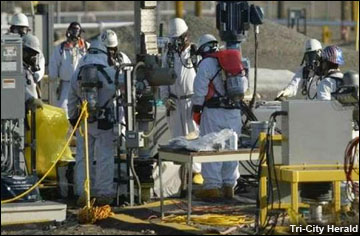 ► In today's Tri-City Herald — Tentative union agreement reached on Hanford stop work order — The Hanford Atomic Metal Trades Council has agreed that if certain conditions are met, it will lift an order prohibiting tank farm work unless workers are protected from chemical vapors by supplied air respirators. Conditions placed on the agreement reached by HAMTC, an umbrella group for 15 unions, and the tank farm contractor will require supplied air respirators for the immediate future.
► In the P.S. Business Journal — Shippers, apple growers thrown into a frenzy as Hanjin is barred from Port of Seattle — Seattle joined other ports around the United States and the world that blocked Seoul-based Hanjin ships, fearing the insolvent Asian shipper will never pay terminal fees. The news threw the global freight forwarding and shipping logistics world into disarray.
► From AP — Settlements totaling $12M-plus reached in minimum wage cases — Several companies that provide transportation and hospitality services at or near the airport have agreed to settle back-pay lawsuits alleging that they ignored the nation's first $15 minimum wage law after it took effect, deals that will put more than $12 million in the pockets of their current and former workers.
► From KNKX — Survey: Washington needs more skilled laborers to keep up with construction — A new survey from the AGC reports that employers, including 75 percent of those surveyed in Washington state, are struggling to find skilled crafts workers. These are people like carpenters and painters who make up the bulk of the labor force on a given project.
► In today's Bellingham Herald — Former Lynden employees allege gender, age bias; file lawsuit against city — A lawsuit accuses Lynden City Administrator Mike Martin of creating a hostile work environment by discriminating against female employees based on age and gender.
► MUST-READ from David Bacon — No other way than to struggle — Felimon Piñeda is vice president of Familias Unidas por la Justicia, the independent farm workers union in Washington state. He was one of the original strikers when the union was organized in 2013. The union, together with the union of striking farm workers in Baja California, Mexico, has organized a boycott of Driscoll's Berries, the world's largest berry company. They demand that Driscoll's take responsibility for the conditions and violations of labor rights by the growers whose berries they sell. Piñeda describes the life of a farm worker producing Driscoll's berries, and his own history that brought him into the fields of Washington state.
FROM THE CALENDAR at The Stand — Familias Unidas urges supporters of Sakuma farm workers and the boycott of Driscoll's berries to participate in an informational picket line Saturday, Sept. 3 from 10:30 a.m. to noon at the Fremont PCC, 600 N. 34th St. in Seattle. Join them and stand up for the rights of all workers by standing up for farm workers.
---
ELECTIONS 2016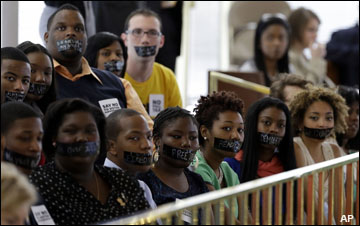 ► MUST-READ in today's Washington Post — Inside the Republican creation of the North Carolina voting bill dubbed the 'monster' law — Several thousand pages of documents produced under court order show that North Carolina GOP leaders launched a meticulous and coordinated effort to deter black voters, who overwhelmingly vote for Democrats. The law, created and passed entirely by white legislators, evoked the state's ugly history of blocking African Americans from voting — practices that had taken a civil rights movement and extensive federal intervention to stop.
► From Think Progress — How North Carolina may end up back in court over foot dragging on early voting — After a costly legal battle that has ricocheted all the way up to the Supreme Court, North Carolina may end up in court yet again over GOP officials' ongoing efforts to restrict access to the ballot box — particularly for minority voters.
---
TRANS-PACIFIC PARTNERSHIP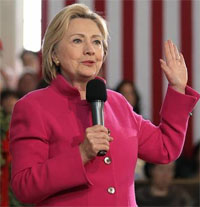 ► In the Christian Science Monitor — Trumka: 'No doubt' he can trust Clinton on trade — Said the AFL-CIO President: "I have no doubt in my mind. I've looked her squarely in the eye, just like I'm looking at you, and we've talked about TPP. I've known her for 30 years, and there's never been one time where Hillary Clinton has given me her word on anything that she didn't follow through on. I have absolute trust that she will follow through on that."
► In today's NY Times — TPP faces rough road in Congress — President Obama, reaching Asia on Friday, will reassure allies of his determination to win congressional approval of the far-reaching trade accord, but back home in congressional races, his party is on the air and online slamming it as a bad deal — and hitting Republicans for supporting it. Republicans are caught in a vise between Democrats' attacks and fear of alienating Trump's working-class voters — damned if they endorse the TPP and damned as flip-floppers if they oppose it.
---
FEDERAL GOVERNMENT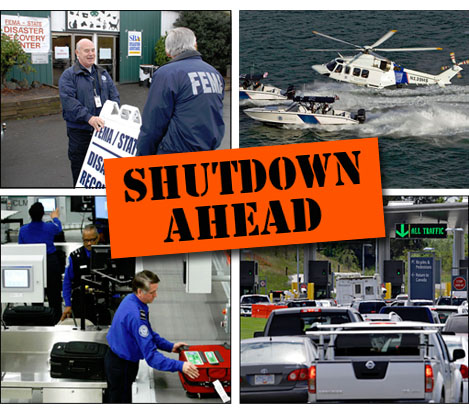 ► From The Hill — Senate braces for shutdown fight — Lawmakers are returning to Washington next week to confront an impasse over funding bills that threatens to cause a government shutdown. Some House conservatives are insisting that a stop-gap funding measure to keep the government open beyond Sept. 30, the end of the fiscal year, extend into 2017. These conservatives want to avoid a lame-duck session because they think that's when Obama and congressional leaders will negotiate a massive omnibus package that boosts spending levels for next year. They want to delay talks until next year in hopes that Donald Trump wins the election and will slash the budget once in office.
EDITOR'S NOTE — The Republicans who control Congress have made the threat of shutting down our government absolutely routine. And Republicans here in Washington state have also engaged in this selfish, costly game of chicken in the State Legislature. Maybe it's time to elect some people who will stop this nonsense — and try a little governance.
► In the Washington Post — Obama order on contractor workplace violations takes effect soon, despite objections — Obama administration officials are preparing to implement a controversial two-year-old executive order that will give agencies greater ability to deny federal contracts to companies with labor-law violations.
► From AP — Volkswagen files appeal of UAW ruling at Tennessee — Volkswagen on Thursday challenged a NLRB ruling allowing a small group of employees at the German automaker's lone U.S. plant to be represented by the UAW union.
---
NATIONAL
► From Mother Jones — California lawmakers vote to expand overtime pay for farmworkers — For the last 80 years, farm workers have toiled for long hours in grueling conditions with little or no overtime pay. On Monday, California lawmakers passed a bill that would change that. If signed by the governor, the law would make the Golden State the first to require the agricultural industry to meet the federal labor standards applied to most other industries.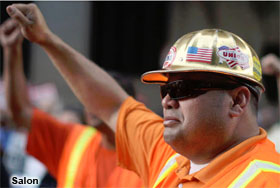 ► From Salon — "I'm in a union. You're welcome." How having strong labor unions helps everyone who works earn more — Millions of Americans today earn less than their predecessors did 40 years ago, adjusted for inflation, and a big reason for that is declining private-sector union membership — which has dropped from a third of all private-sector employees to just 6.7 percent today. A new study by the Economic Policy Institute has attempted to quantify how much today's nonunion workers would have benefitted if union membership remained as at the levels of 1979. The main takeaway: The typical full-time private-sector worker — whether a union member or not — would be making thousands of dollars more a year now if unions had the power they once did to influence a state's or region's standard wages and benefits packages.
► From The Concourse — Don't get mad. Join a union. — Economic inequality is high and wages are low and people are mad. Want to do something about it? Don't vote for Donald Trump. Join a union.
► From Huffington Post — A lot of people are dying at this understaffed Texas jail — Harris County Jail is one of the largest jails in the country. Like many other jails in America, it's full of people who are locked up on minor charges and can't afford to pay bail, it struggles with understaffing, and it's plagued by lawsuits. And inmates die there at a high rate.
---
T.G.I.F.
► We lost another legendary entertainer this week with the passing of Gene Wilder. You won't find a more moving and thoughtful tribute to Wilder and why his passing affects us so deeply in the digital age than this by L.A. Times Pulitzer Prize-winning columnist Mary McNamara. She describes seeing Wilder in Young Frankenstein for the first time in the very same Westminster, MD theater where The Entire Staff of The Stand saw our first R-rated movie, another Wilder classic, Blazing Saddles. But it's this scene from Woody Allen's Everything You Always Wanted to Know About Sex — where Wilder finds out his new patient is in love with a sheep — that we'll always remember as demonstrating his legendary comedic and acting chops. RIP and thank you, Mr. Wilder, for many, many laughs.
---
The Stand posts links to Washington state and national news of interest every weekday morning by 10 a.m.
WASHINGTON IS A UNION STATE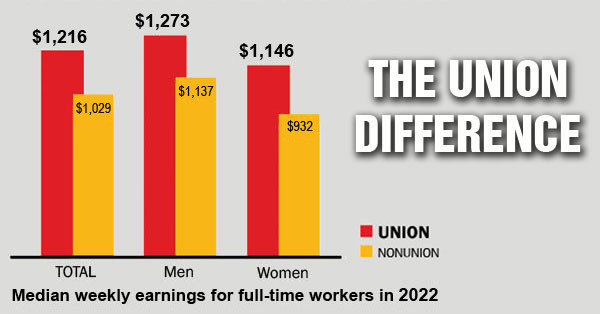 CHECK OUT THE UNION DIFFERENCE in Washington state: higher wages, affordable health and dental care, job and retirement security.
FIND OUT HOW TO JOIN TOGETHER with your co-workers to negotiate for better working conditions and respect on the job. Or go ahead and contact a union organizer today!