Labor Neighbor walk Sept. 17 in Wellman vs. Litzow race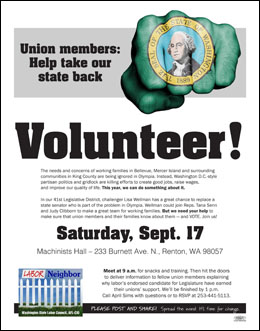 The general election efforts of Labor Neighbor, the grassroots member-to-member political action program of the Washington State Labor Council, AFL-CIO, kick off this Saturday, Sept. 17. A neighborhood walk will be held to inform union members about labor-endorsed State Senate candidate Lisa Wellman in the 41st Legislative District, which includes Mercer Island, Bellevue, Newcastle and the area southeast of Lake Sammamish.
TAKE A STAND — VOLUNTEERS ARE NEEDED for Saturday's walk. We'll meet at 9 a.m. at the Machinists Hall, 233 Burnett Ave. N. in Renton, to pair up, assign neighborhoods, and get literature and materials. Volunteers will be finished by 1 p.m. Click here to volunteer or call 206-281-8901 for more information. Also, download, post and share the flier announcing this Saturday's walk.
The needs and concerns of working families in Bellevue, Mercer Island and surrounding communities in King County are being ignored in Olympia. Instead, Washington D.C.-style partisan politics and gridlock are killing efforts to create good jobs, raise wages, and improve our quality of life.
This year, we can do something about it.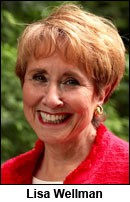 Challenger Lisa Wellman has a great chance to replace a state senator who is part of the problem in Olympia.
Republican Sen. Steve Litzow is leading the effort to spend tax dollars on private charter schools for 1,100 kids at a time the State Legislature is in contempt of court for failing to fully fund public schools for 1.1 million kids. He voted to allow increased class sizes in public schools, despite a voter-approved initiative ordering smaller classes.
In contrast, Wellman says "fully funding public education is our top priority and that great schools lead to an economy that works for all of us. Our Legislature is failing to fulfill its constitutional obligation to our state's 1.1 million public school students… This shouldn't be happening — our kids deserve better."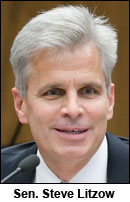 Other examples of Sen. Litzow opposing the interests of working families include:
●  Litzow voted to restrict paid sick leave standards in cities and counties.
●  Litzow voted to create a so-called "good-faith defense" so businesses that violate minimum wage and overtime pay laws could avoid penalties.
●  Voted to cut health benefits for state workers and eliminate their pensions and replace them with 401(k)-style savings plans.
Wellman says everyone should have access to paid sick leave: "When someone is sick, it's a public health issue for them to come into work… everyone deserves to have the chance to take time when necessary to take care of themselves and their families." She also opposes taking away state employees' pensions, saying, "We need to keep the promises we've made to retired and retiring workers."
Lisa Wellman could join 41st District Reps. Tana Senn and Judy Clibborn to make a great team for working families. But the Labor Neighbor program needs your help to make sure that union members and their families know all this.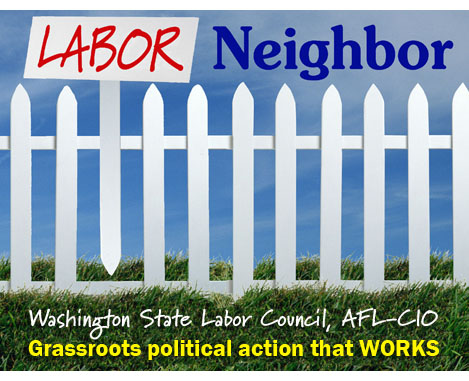 Volunteer for this Saturday's walk and help make that happen!
Also, check out the Labor Neighbor calendar so you can mark your calendars to help out at other walks that are scheduled in the coming weeks. For more information, email WSLC Field Mobilization Director April Sims or call 206-281-8901.
Short URL: https://www.thestand.org/?p=51870
Posted by
David Groves
on Sep 13 2016. Filed under
ELECTION
,
W.S.L.C.
. You can follow any responses to this entry through the
RSS 2.0
. Both comments and pings are currently closed.