732 needs work, 'rigged' chickens roost, silent no more…
Tuesday, October 18, 2016
---
STATE ELECTIONS
► In today's News Tribune — No on I-732; carbon tax rough draft needs work (editorial) — Unfortunately, the main selling point of I-732 — that it would be revenue neutral — doesn't seem to pencil out. A fiscal impact study by state economists estimates the initiative would suck $800 million from the state general fund over the next six years…. Plus, I-732 has glitches — such as an overgenerous tax break for Boeing — that its authors concede could require retroactive fixes by the Legislature.
ALSO at The Stand — NO on I-732: It's a giant misstep on climate policy (by WSLC President Jeff Johnson)
► In the (Everett) Herald — I-1433's leave policies would aid victims of domestic violence (by Traci Underwood) — For too many Washington women, not having access to paid time off can mean the difference between staying in a dangerous situation or having the time they need to get out from under an abuser's control. Initiative 1433 will allow more than 1 million Washington workers to earn paid sick and safe leave and raise the state minimum wage to $13.50 over four years. That's why I'm voting "Yes" on I-1433 this November, and I hope you do, too.
► In the PSBJ — State minimum wage hike backers are outraising opponents almost sixtyfold (subscription req'd) — Activists and unions have come out in droves to support the initiative on November's ballot to raise Washington's minimum wage, while just a handful of contributions have come in opposition from trade groups.
► From AP — A few competitive races could change control of Legislature — In the Senate, Republicans — along with a Democrat who caucuses with them — hold a 26-23 advantage but a few close races in that chamber give Democrats hope they can regain a slim majority. Democrats currently hold a 50-48 advantage in the House, and if they lose just one seat, they'll be forced to share power with Republicans, something that last happened from 1999 to 2001. If Republicans pick up more than one seat they'll take outright control for the first time since 1998.
---
LOCAL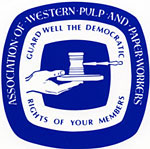 ► In today's Columbian — Camas mill workers still without contract — AWPPW Local 5 represents some 350 employees at Georgia-Pacific's pulp and paper mill, where workers have been on the job without a contract since the last deal expired in May 2014. The latest offer from G-P, union representatives contend, cuts wages for new hires, drops a handful of paid holidays and offers "substandard" health insurance.
► In today's Seattle Times — Can we talk, even a little bit, about deep poverty? (by Jerry Large) — Little attention has been paid in this presidential campaign to the lives of the poorest Americans, even though more of us live in deep poverty than you might imagine.
---
TRANS-PACIFIC PARTNERSHIP

► MUST-SEE video from WRTV (Indianapolis) on Facebook — "I seen a lot of guys in there crying. They were hurt. They felt like it was ripped out from underneath us." You can hear the anger in Draper Alumbaugh's voice when he talks about losing his job of 13 years at Rexnord, which announced today it is moving 350 jobs from Indy to Monterrey, Mexico. Alumbaugh says the reason the jobs are going elsewhere can be summed up in one word – greed.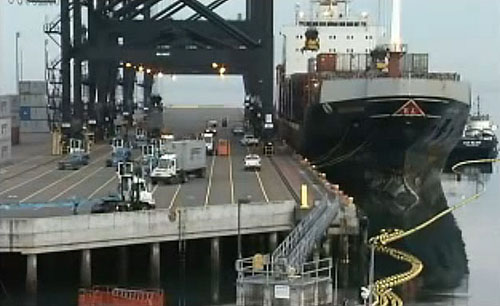 ► In the News Tribune — Why I'm in favor of trade, but oppose TPP (by ILWU 23 President Dean McGrath) — If this agreement passes Congress, it may directly benefit my workforce through an increase in jobs, but in this day and age of globalization, it would be very shortsighted to think only about the effects of something so substantial through a lens of self-interest. The reason is simple: TPP isn't really about trade. Of the agreement's 30 chapters, only six have to do with reducing barriers to trading goods and services. The deal is mostly about giving the world's biggest corporations special rights and privileges that would come at the expense of workers, the environment, even consumers.
► From Yes magazine — Trump's fake critique of trade deals leaves out workers (by Jonathan Rosenblum) — It's not simply that Trump has effectively channeled workers' pain and anger through his rhetoric. The harsh truth is that Trump gets traction on trade — and his glaring defects get a pass from many — because he's filling a huge vacuum in the country's political discourse. For years, neither of the two main political parties has articulated a vision of international trade that puts workers, communities, and our environment ahead of corporate interests.
---
NATIONAL ELECTIONS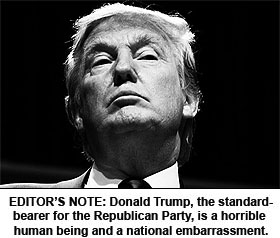 ► In today's Washington Post — Election officials brace for fallout from Trump's claims of a 'rigged' vote — Donald Trump's escalating effort to undermine the presidential election as "rigged" has alarmed government officials administering the vote as well as Democratic and Republican leaders, who are anxiously preparing for the possibility of unrest or even violence on Election Day and for an extended battle over the integrity of the outcome. Hillary Clinton's advisers are privately worried that Trump's calls for his supporters to stand watch at polling places in cities such as Philadelphia for any hint of fraud will result in intimidation tactics that might threaten her supporters and suppress the votes of African Americans and other minorities.

► From TPM — Is Trump urging his gun-toting supporters to break voter intimidation laws? — It appears that some of Trump's supporters are prepared to heed his call. Steve Webb, a 61-year-old Trump supporter from Ohio, told the Boston Globe he planned to go "watch" from his precinct. "I'll look for… well, it's called racial profiling. Mexicans. Syrians. People who can't speak American. I'm going to go right up behind them. I'll do everything legally. I want to see if they are accountable. I'm not going to do anything illegal. I'm going to make them a little bit nervous."
► From The Hill — Some in GOP say Trump has gone too far
EDITOR'S NOTE — But not Cathy McMorris Rodgers. Yes, Washington's Republican Secretary of State Kim Wyman calls Trump's rhetoric "irresponsible," but as the following column points out, it's her party that created this phantom "rigging" notion. And now, the chickens have come home to roost.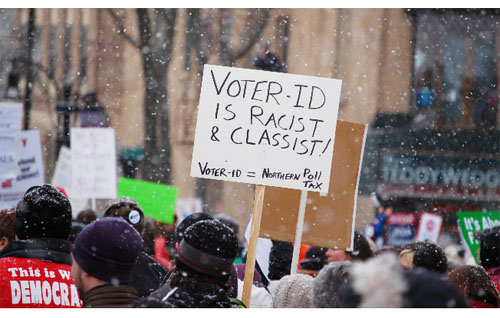 ► From Think Progress — Republicans created the 'voter fraud' monster. Now it's tearing their party apart. — Trump is, of course, wrong that "large scale voter fraud" is happening, but it's hard to blame him for his surprise at Republican leaders that suddenly became truth-tellers about the risk that this election will be rigged. False tales of widespread fraud have been the Republican Party's bread and butter for the last decade. They've used these tales to sell laws like voter ID which accomplish nothing other than disenfranchising groups that tend to prefer Democrats over Republicans. And yet, now that Trump is deploying this very same rhetoric — albeit in a more bombastic fashion — many of these Republicans are acting as if Trump is somehow outside the norm.
► In today's Washington Post — Trump poses an unprecedented threat to peaceful transition of power (editorial) — If he loses, Donald Trump says, it will be due to cheating that makes the result illegitimate. If he wins, he will imprison his defeated opponent. Many Americans may not have given much thought to what a breathtaking departure this represents, because until now we have had the luxury of never having to think about such things. We have been able to take for granted the quadrennial peaceful transition of power. No more.
---
FEDERAL GOVERNMENT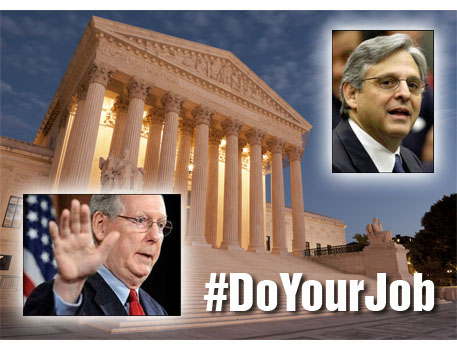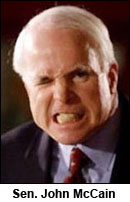 ► From AP — McCain suggests GOP would oppose Clinton Supreme Court picks — Sen. John McCain pledged Monday that Republicans will unite against any Supreme Court nominee that Hillary Clinton puts forward if she becomes president, forecasting obstruction that could tie Capitol Hill in knots. "I promise you that we will be united against any Supreme Court nominee that Hillary Clinton, if she were president, would put up," McCain said. "I promise you." There is already one vacancy on the court after the death of Antonin Scalia. Republicans have refused to fill the opening for months, arguing it should be left up to the next president. Given the ages of some of the eight remaining justices, additional vacancies are expected.
---
NATIONAL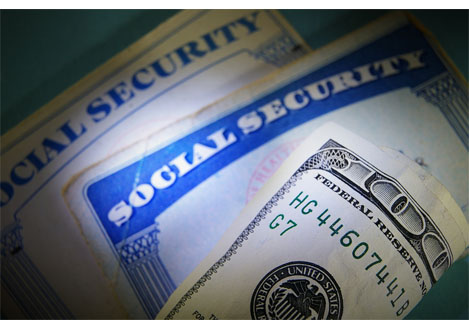 ► From AP — Social Security recipients to get tiny increase in benefits — Millions of Social Security recipients and federal retirees will get a 0.3 percent increase in monthly benefits next year, the fifth year in a row that older Americans will have to settle for historically low raises.
ALSO at The Stand — King County Council supports expanding Social Security, Medicare
► From Huffington Post — Nation's largest seniors group is using conservative scare tactics on Social Security — Critics of AARP's "Take A Stand" TV ad campaign say that the group, which has 37 million members across the country and incredible influence in Washington, is making Social Security's financial challenges seem much more dire than they really are. In doing so, the group is playing right into the crisis framing favored by conservatives, who want benefit cuts to seem inevitable.
---
TODAY'S MUST-READ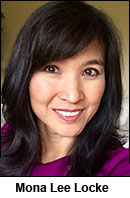 ► In the Seattle Times — Women, like me, are suffering in silence amid sexual harassment (by Mona Lee Locke) — I am appalled that this election has become the biggest reality show of our country's recent history. In fact, I am so sick to my stomach that I have to speak out. I have been sexually harassed. Not once, not twice, but multiple times. And I'm not counting catcalls, offhand comments from strangers or the time I learned about a bet a group of male co-workers at one job made about who could sleep with me first. It happened in the workplace. It happened in the political arena… I have been a public figure my entire career, as a former journalist, the former first lady of Washington state, former wife of the U.S. secretary of commerce who then became U.S. ambassador to China. Yet I have been silenced through the years by the fears of what could happen to me and how I would be perceived by the public, my peers, future employers, my family and friends. Just imagine how many countless other women have suffered in silence, like me.
---
The Stand posts links to Washington state and national news of interest every weekday morning by 10 a.m.
WASHINGTON IS A UNION STATE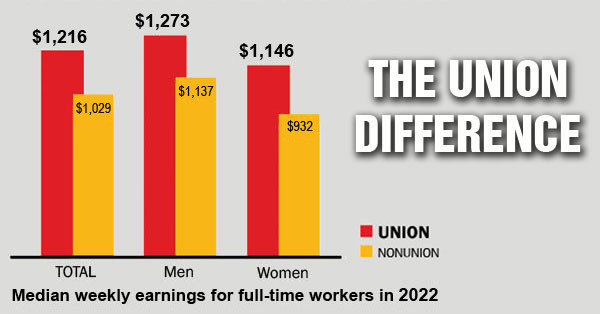 CHECK OUT THE UNION DIFFERENCE in Washington state: higher wages, affordable health and dental care, job and retirement security.
FIND OUT HOW TO JOIN TOGETHER with your co-workers to negotiate for better working conditions and respect on the job. Or go ahead and contact a union organizer today!