SeaTac, fast-food workers to join 'day of disruption' on Nov. 29
The following is from the Service Employees International Union:
SEATTLE — Strikes by McDonald's fast-food cooks and cashiers from coast to coast, baggage handlers and cabin cleaners at Chicago O'Hare International Airport, Uber drivers in two-dozen cities, hospital workers in Pittsburgh and other fast-food workers, combined with mass civil disobedience by working Americans across the service economy, will headline a nationwide Fight for $15 day of disruption Tuesday that includes workers in Seattle area.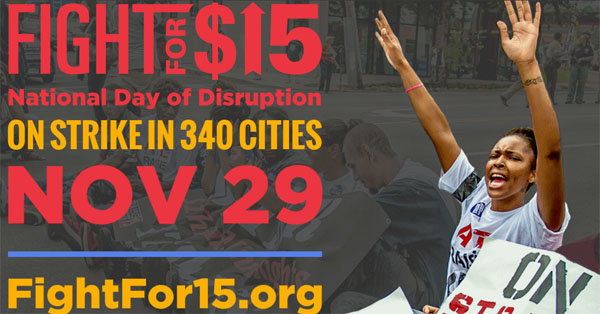 In addition to the strikes demanding $15 and union rights, the workers will wage their most disruptive protests yet to show they will not back down in the face of newly-elected politicians and newly-empowered corporate special interests who threaten an extremist agenda to move the country to the right. The protests, at nearly 20 major airports, which serve 2 million passengers a day, and outside McDonald's restaurants from Durham to Denver, will underscore that any efforts to block wage increases, gut workers' rights or healthcare, deport immigrants, or support racism or racist policies, will be met with unrelenting opposition by workers in the Fight for $15.
Here in Seattle — workers, labor unions and community supporters have fought hard to raise the minimum wage in the City of SeaTac to $15 an hour — and won. Today, they continue the fight forward for union rights so they can protect the gains they made. More than 250 workers employed by Prospect Airport Services, an airline contractor that provides ticket, gate agents, and cargo services at Sea-Tac, have been standing together to win their union.
TAKE A STAND — All are invited to join SEIU Local 6 for a rally for SeaTac workers at 1 p.m. on Tuesday at the Flag Pavilion, Sea-Tac Airport entrance on International Blvd. These workers have struggled for years to secure fair pay, safe working conditions, respect, and the right to form a union free from employer retaliation. See the Facebook event page for details.
"Making $15 meant I could stretch my paycheck further and better take care of basic necessities," said Shanice Foy, a passenger service agent who works for Prospect at Sea-Tac International Airport. "The $15 we won through Prop 1 helped me every day but now we need a union and that's why I stand with everyone out there across the country fighting for $15 and a union."
The rally will also focus on companies' full adherence to Proposition 1 that SeaTac voters approved in 2013. Among many other provisions, Prop. 1 requires employers to provide paid sick/safe time and provides for worker retention when subcontractors change. However, many employers are still not following the law and SeaTac workers want to ensure all employers implement the provisions immediately. Workers will demonstrate to urge the SeaTac city council to drop any plans to reverse Prop 1 and instead, retain and enforce the law given that it has raised the standards of living for many workers and their families.
At 1 p.m., SeaTac workers, community supporters, labor unions and more will take their protest to Sea-Tac International Airport — where they'll send a message to the major airlines that it's time they take responsibility for those whose dedication and hard work help to generate $36 billion in profits for the aviation industry. Despite the unprecedented industry profits, airlines have created a race to the bottom that has hammered airport staff.
Galvanized by the election and frustrated with an economy that is rigged for the rich, airport, fast-food, home care, higher education and child care workers organized the massive demonstrations to mark the fourth anniversary of the Fight for $15, a movement that has won raises for 22 million Americans since it started in 2012.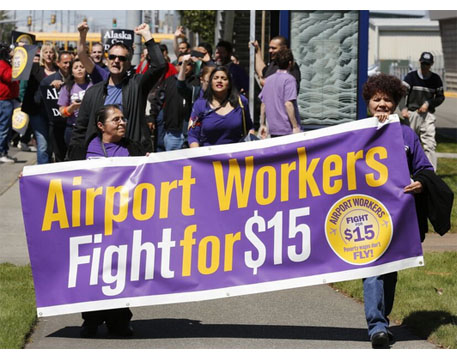 BACKGROUND
Airport workers have been linking arms with fast-food and other underpaid workers in the Fight for $15 movement, which has grown into a global phenomenon that includes fast-food, home care, child care, university, retail, building service and other workers across hundreds of cities and scores of countries.
As part of the Fight for $15, personnel at major origin and destination hubs across the U.S. are coming together in Airport Workers United, a movement of workers and their allies, raising their voices to make our airports safe and secure for passengers, employees and our communities. By sticking together, speaking out for change, and going on strike, these workers have won wage increases in Los Angeles, New York City, Newark, Minneapolis, Boston, Philadelphia, Seattle, Portland, and Fort Lauderdale. Today, more than 85,000 airport workers nationwide have either received wages increases or other improvements, including health care, paid sick leave and worker retention policies.
All told, the Fight for $15 has led to wage hikes for 22 million underpaid workers, including more than 10 million who are on their way to $15/hour. The movement was credited as one of the reasons median income jumped last year by the highest percentage since the 1960s.
Short URL: https://www.thestand.org/?p=53713
Posted by
David Groves
on Nov 28 2016. Filed under
LOCAL
. You can follow any responses to this entry through the
RSS 2.0
. Both comments and pings are currently closed.