Saint Martin's, Seattle University faculty walk out on Nov. 29
(Nov. 29, 2016) — Faculty, staff and students plan to walk out today at both Seattle University and Saint Martin's University in Lacey to protest faculty working conditions and the administrations' decision at both Catholic universities to block faculty from having a voice at work through a union. The protests, organized by Service Employees International Union (SEIU) Local 925, coincide with a national Day of Disruption being held today by fast-food and airport workers — including at Sea-Tac International Airport — in support of the Fight for $15 and the freedom to form unions.
All are invited to show their support by joining in one of the following protests today: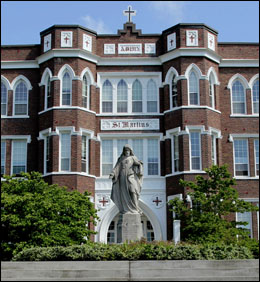 SAINT MARTIN'S UNIVERSITY in LACEY — A classroom walkout, picket and teach-in action by St. Martin's faculty, staff and students at 1 p.m. Tuesday at the Old Main Stairs, 5000 Abbey Way SE in Lacey. Faculty and students are coming together for quality education for students and a stronger voice for faculty by walking out of their classrooms to protest the administration's refusal to recognize the faculty union.
Contingent faculty at St. Martin's had a union election where they voted 2:1 to form a union. Tenure-track faculty have also been seeking an election to form a union. However, St. Martin's administration refused to negotiate with the contingent faculty union and has filed a request for review by the National Labor Relations Board. Now Saint Martin's University is appealing their right to form a union. While their request to appeal is pending review by the NLRB, the administration has decided not to fulfill its legal obligation to negotiate.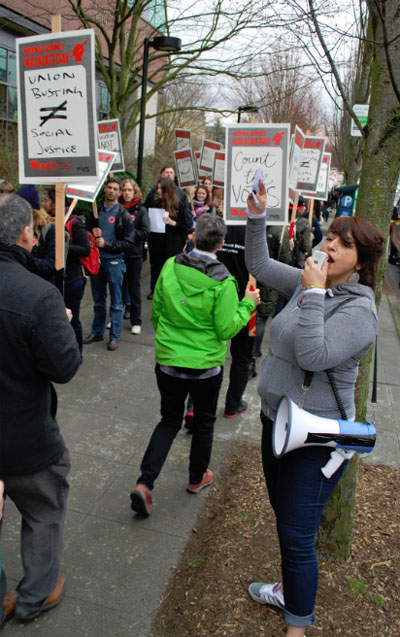 SEATTLE UNIVERSITY — A funeral and picket to mark the death of Seattle University's contradictory vision of social justice principles will be conducted by SU faculty, staff and students at 12:30 p.m. Tuesday at the SU Lemieux Library Plaza, 901 12th Ave. in Seattle. It's been two months since Seattle University announced its refusal to bargain with the adjunct and contingent faculty union certified by the National Labor Relations Board. SU continues to fail to follow its idealized social justice mission, leading faculty, students and staff to conduct a "search party" that determined the SU social justice mission is dead.
The SU administration's three-year fight against the union demonstrates the university administrations dedication to a costly, irresponsible anti-union campaign that comes at the expense of teaching and instruction. The true costs of unsuccessful legal appeals and anti-union consultants are most significantly felt by faculty and students in our classrooms. Every dollar spent obstructing faculty union rights is a dollar that should have gone directly to our classrooms.
SEA-TAC AIRPORT — All are invited to join SEIU Local 6 for a rally for SeaTac workers at 1 p.m. Tuesday at the Flag Pavilion, Sea-Tac Airport entrance on International Blvd. These workers have struggled for years to secure fair pay, safe working conditions, respect, and the right to form a union free from employer retaliation. Click here for details.
Short URL: https://www.thestand.org/?p=53735
Posted by
David Groves
on Nov 29 2016. Filed under
LOCAL
. You can follow any responses to this entry through the
RSS 2.0
. Both comments and pings are currently closed.