Here the GOP hides, look who's hiring, RTW=low wages…
Thursday, February 23, 2017
---
TOWN HALLS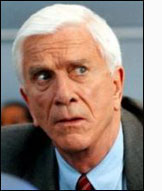 ► In today's News Tribune — Direct heat comes with the job, congressman (editorial) — U.S. Rep. Dave Reichert (R-8th) picked the wrong time to hide behind a Facebook screen. His constituents have legitimate questions about a federal government dominated by Republicans, and the veteran congressman from Auburn should answer them in person.
ALSO at The Stand — Stand up, be heard at actions this week
TODAY, Feb. 23 in ISSAQUAH — Rally outside Rep. Dave Reichert's office to urge him to protect all Washingtonians from the administration's attack on immigrant families and health care. It begins at 11 a.m. at 22605 SE 56th St. #130, Issaquah.
TODAY, Feb. 23 in SPOKANE — Rally outside Rep. Cathy McMorris Rodgers' office to urge her to protect all Washingtonians from the administration's attack on immigrant families and health care. It begins at 11 a.m. at 10 N. Post St., Suite 625, in Spokane.
► In today's Tri-City Herald — Activists plan town hall meeting without Newhouse — A town hall-style meeting is planned Saturday to focus on concerns of constituents of Washington's 4th Congressional District. Organizers say they have invited U.S. Rep. Dan Newhouse (R), to field questions, but he is not expected to attend. He and many other members of Congress have not scheduled any public appearances during the congressional break this week.
► In today's Columbian — Herrera Beutler conducts phone town hall — "My question is, 'Do you not care what our response is? And if you do, will you commit to hosting a traditional town hall in person?' " said John Beardsley of Vancouver.
MEANWHILE, in places around the country where Republican members of Congress are willing to meet with their constituents…
► From TPM — Thousands attend town hall to grill, shout at Sen. Tom Cotton: 'Do your job!' — Sen. Tom Cotton (R-Ark.) faced a raucous crowd of about 2,000 people for two hours as attendees jeered and quizzed him on Republican plans to repeal Obamacare and the senator's support for President Donald Trump. As Cotton attempted to answer questions, he was often met with chants like "Do your job" and "tax return."
► In today's Washington Post — In New Jersey, a record crowd at town hall presses Rep. Lance to get tough on Trump — Among Republican Leonard Lance's most pointed answers were his support for calls for the president to release his tax returns and his stance that he wants to maintain, and possibly increase, sanctions against Russia.
► In today's NY Times — Repeal of health law faces obstacles in House, not just in Senate — After weeks of loud protests, boisterous town hall meetings and scores of quieter meetings with health care professionals, patients, caregivers and hospital managers in their districts, it is becoming increasingly likely it will be just as hard to reach consensus in the House as it is in the Senate.
---
THIS WASHINGTON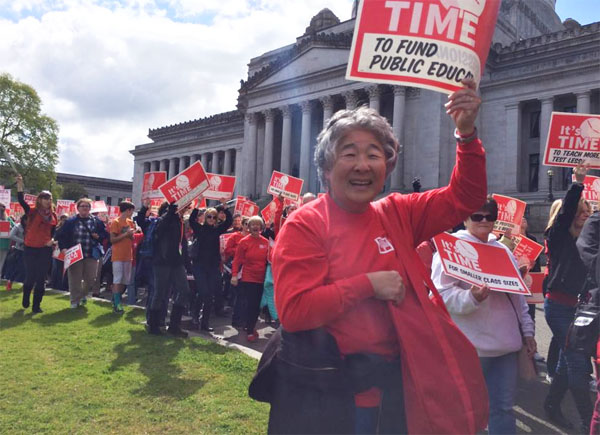 ► In today's Olympian — State House passes plan to fix school funding, but not how to pay for it — The Washington state House approved a plan Wednesday to fix the way the state pays for public schools, but without approving the taxes Democratic leaders say will be necessary to pay for it. The measure, which cleared the House on a 50-47 vote Wednesday, is Democrats' preferred way to respond to a state Supreme Court order requiring lawmakers to fully fund public schools. HB 1843 would boost what the state pays to hire beginning teachers to $45,500, while also requiring the state to pay school districts an average of about $71,000 per teacher and $117,000 per school administrator. It differs from a rival plan favored by Republican leaders in the state Senate, which would impose a new statewide property tax to replace local school district property tax levies.
► In today's Seattle Times — Revised GOP plan to fund schools would boost taxes — Senate Republicans have released new numbers for their proposal to fully fund the state's K-12 school system. The updates would give many Seattle-area homeowners a big property-tax increase.
► In today's Seattle Times — Lawmakers must talk with each other to reach McCleary deal (by Donna Gordon Blankinship) — The lawmakers who wrote the framework for the Supreme Court's McCleary decision say today's legislators need to start talking with each other or they will never get to go home.
► In today's Columbian — Interstate 5 Bridge bill advances in House — The House Transportation Committee passed a measure Wednesday evening declaring the Interstate 5 Bridge a project of statewide significance.
► From WFSE — Gestures of condolences continue to come in for Rainier School employee — Expressions of condolences continue to come in from around the union after the tragic death of Rainier School Local 491 member Cody Buffington, 42, who died Feb. 14 after he and three other co-workers were involved in an assault.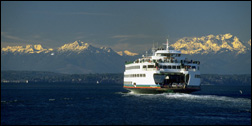 ► In today's Seattle Times — Washington State Ferries looks to train workforce of its future as retirements loom — With about one-quarter of Washington State Ferries' 1,800 employees eligible for retirement within five years, new training simulators in Ballard are part of an aggressive recruiting effort to draw new employees — and help current employees get ready for more advanced roles.
---
LOCAL

► In today's News Tribune — Hiring alert: 900 civilian jobs available at Naval shipyard in Bremerton — Folks looking to break into shipyard work have until Friday to apply for one of 900 "helper trainee" positions at the Puget Sound Naval Shipyard and Intermediate Maintenance Facility in Bremerton.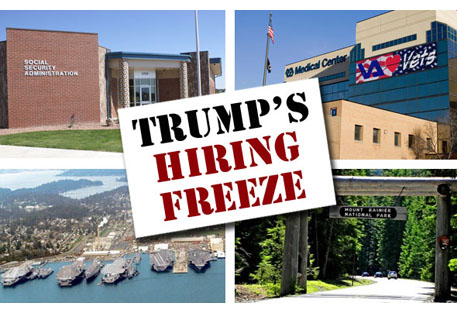 EDITOR'S NOTE — This is happening because the shipyard, which was initially thought to be included in Trump's federal hiring ban, was subsequently exempted. How many hundreds and thousands of other jobs are going unfilled — and how badly are federal services suffering, particularly for veterans, the elderly and disabled — as Trump's symbolic freeze continues?
► In the Peninsula Daily News — Mill official: Nippon has pared down production — Nippon Paper Industries USA has cut operations since late January. AWPPW 155 President Andy Grossell said this week that most of the 105 hourly workers at the Ediz Hook plant have been laid off. About 20 to 30 employees are maintaining the plant.
► In today's News Tribune — Pierce Transit employee killed by bus is identified — A Pierce Transit employee who was hit and killed Tuesday by another employee moving a bus has been identified as Roy Stevens, 60, of Tacoma.
► In today's Seattle Times — While transit use declines elsewhere, it's booming in Seattle — Seattle's transit growth nearly doubled that of any other U.S. metro area last year, at a time when most cities were losing passengers, new data suggests.
---
AEROSPACE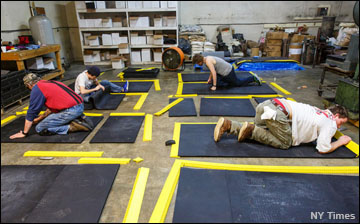 ► In today's NY Times — Trump talk rattles aerospace industry, up and down supply chain — At the small SmartCells factory in Chehalis, Wash., employees make one of the most specialized products in the aerospace industry: the rubber mats that Boeing workers stand on while assembling jets. As long as there are jets and Boeing, business would seem to be steady. But even here workers are bracing for bumps and economic uncertainty over the gritty details of where aviation parts get made and who makes them. President Trump has talked about border tariffs and new trade deals that many people in aerospace fear could raise the cost of American airplanes bought by foreign airlines or governments. And if Boeing's sales or profits suffer, its nerve-system supply chain — more than 13,000 companies across the United States, and more than 1.5 million jobs — would most likely feel the pain, too.
► From Bloomberg — Air Force can't explain Trump's claim of $1 billion savings on Boeing jet — The Air Force says it can't account for $1 billion in savings that President Donald Trump said he's negotiated for the program to develop, purchase and operate two new Boeing jets to serve as Air Force One.
---
THAT WASHINGTON

► In the Washington Post — The increasing importance of a Labor Department that understands the threats to workers in the current economy (by Jared Bernstein) — More than ever, changes in our economy and labor market, and the effect of those changes on workers, elevate the need for an activist Labor Department.
---
NATIONAL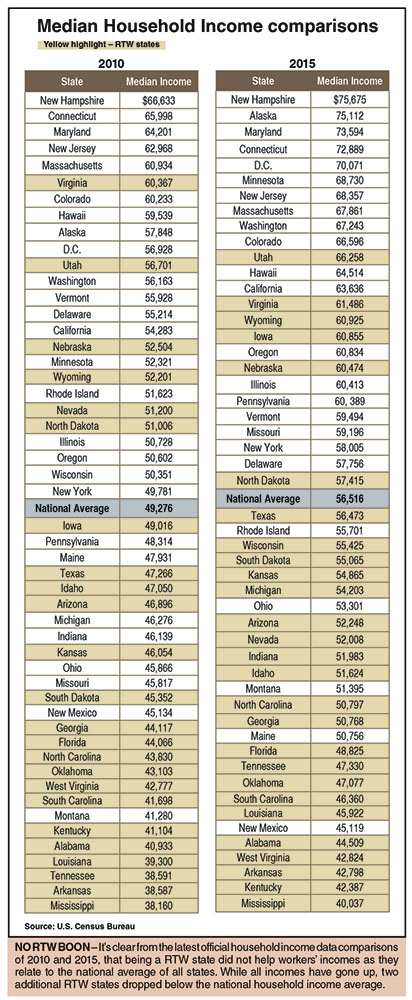 ► In the St. Louis Labor Dispatch — Two new studies show failure of RTW; Governor, legislators take note — A newly issued report on Median Household Income with the latest data from the U.S. Census Bureau comparing 2010 with 2015 median household incomes, shows that more "right-to-work" states slipped BELOW the median household income of all states. In 2010, 18 RTW states (75%) were below the median household income; in 2015 it was 21 RTW states (77%) below.
► In today's Washington Post — Republicans' 'real-live experiment' with Kansas's economy survives a revolt from their own party — Gov. Sam Brownback's tax reform — which slashed taxes for businesses and affluent households, leading to years of budget shortfalls — narrowly survived a mutiny.
► From The Onion — 'What if we try this?' asks robotics grad student about to eliminate 30% of workforce — "Maybe this will work," the 24-year-old said out of mere curiosity, oblivious to the fact that the tiny modification he had suggested making to the actuator circuit of a robotic arm will result in America's most vital industries laying off hundreds of thousands of workers every month. "I don't know, though. I guess it doesn't matter."
"What do you guys think?" he added.
---
The Stand posts links to Washington state and national news of interest every weekday morning by 10 a.m.
Short URL: https://www.thestand.org/?p=55725
Posted by
David Groves
on Feb 23 2017. Filed under
DAILY LINKS
. You can follow any responses to this entry through the
RSS 2.0
. Both comments and pings are currently closed.