Constituents seek contact, RussiaGate, HootieGate…
Friday, February 24, 2017
---
TOWN HALLS


► In today's Seattle Times — Hundreds protest at U.S. Rep. Reichert's office, demand town-hall meeting — Several hundred people demonstrated outside U.S. Rep. Dave Reichert's district office in Issaquah on Thursday, demanding he face constituents at a town-hall meeting. Some carried signs saying "What are you afraid of?" or "Impeach Trump" and imploring the GOP save the Affordable Care Act, also known as Obamacare. Neither Reichert nor his staff emerged from his district office, which was cordoned off with yellow crime-scene tape and guarded by police.
ALSO see coverage from KUOW and The Rachel Maddow Show.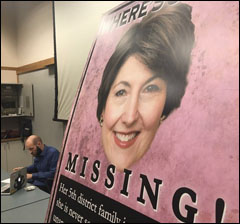 ► From KREM — McMorris Rodgers missing from town hall meeting — Rep. Cathy McMorris Rodgers held nine "public" events on Tuesday, none of which included the opportunity for residents to question her. A town hall meeting was packed full of people addressing Representative Cathy McMorris Rodgers' week in Spokane on Wednesday evening.
► From KREM — Constituents deliver 'golden ticket' to McMorris Rodgers office — Congresswoman Cathy McMorris Rodgers' constituents made another attempt Thursday to invite her to a town hall meeting, heading down to her office in downtown Spokane Thursday to deliver a "golden ticket" to attend a town hall meeting.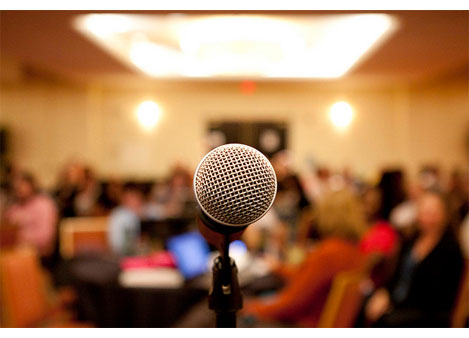 ► In today's News Tribune — Reichert says town halls not worthwhile, talks Obamacare in live-streamed interview — The Republican member of Congress has been pushed to hold in-person town hall meetings, but opted for a live Facebook event instead.
► Also in the News Tribune — Direct heat comes with the job, congressman (editorial) — U.S. Rep. Dave Reichert (R-8th) picked the wrong time to hide behind a Facebook screen. His constituents have legitimate questions about a federal government dominated by Republicans, and the veteran congressman from Auburn should answer them in person.
► From Huffington Post — Bernie Sanders: GOP lawmakers dodging town hall events 'shouldn't be in Congress' — "If you don't have the guts to face your constituents, then you shouldn't be in the United States Congress," Sanders said.
► From TPM — Closed-door events become minefields for GOPers who shirk public town halls — Even those who stuck to closed-door events, facilitating a friendlier crowd, haven't managed to escape the tough questions and protests that earned their colleagues so many headlines.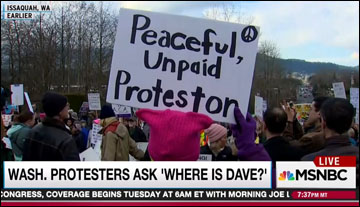 ► From Politico — The left rallies to save Obamacare with passion but little cash — Obamacare is blowing up congressional town hall meetings from California to Virginia. But high rollers aren't stepping up to write checks to defend the law and possibly turn voter outrage over losing coverage into a sustainable movement. Though many Republicans charge the town hall sessions are stoked by moneyed interests and professional protesters, health care groups and foundations that have been crucial to the Affordable Care Act cause have remained on the sidelines.
---
AFFORDABLE CARE ACT

► From AFL-CIO Now — Congress' plan to tax your health benefits — Late last week, Republican leaders met behind closed doors with Republicans in the House of Representatives to go over the big health care changes they are considering. The AP reported that taxing working people's health benefits was being pushed by House Speaker Paul Ryan and other leaders in that meeting.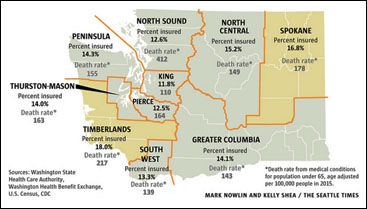 ► In today's Seattle Times — Washington state's sickest regions would take biggest hit if Obamacare is repealed — A repeal of Obamacare would hit Washington hard — but nowhere harder than in parts of the state where people are the sickest. The Affordable Care Act (ACA) — better known as Obamacare — vastly expanded Medicaid enrollment by extending elligibilty to low-income people under age 65. Washington is one of 31 states, plus the District of Columbia, that had adopted the Medicaid expansion. Here in Washington, data show that regions with the highest percentage of people under 65 with insurance made possible by ACA are in rural areas where people are more likely to die from disease at a relatively young age.
► From the Hill — Poll: 84 percent want to keep Obamacare's Medicaid expansion — The Kaiser Family Foundation poll showed that 84 percent of those surveyed say it is either "very" or "somewhat" important for ObamaCare's replacement to include funding for the Medicaid expansion. That includes 95 percent of Democrats, 84 percent of independents and 69 percent of Republicans.
► From the OIC — Kreidler: Republican claims ignore consumer gains under ACA in Washington — Recent claims by Washington state Congressional Republicans about the Affordable Care Act (ACA) ignore significant consumer gains, Insurance Commissioner Mike Kreidler said, citing three key findings by his office: that deductibles have decreased, health plans have more value, and annual premium increases have slowed.
---
BOEING

► In the PSBJ — Boeing plans first-ever plant in Europe, to build parts for 737 and 777 — Boeing plans to build a plant in the United Kingdom to make parts for its 737 and 777 airliners. When it opens in 2018 it will be Boeing's first plant in Europe.
ALSO at The Stand — Boeing spent our tax breaks investing in other states, nations (by John Burbank)
---
THIS WASHINGTON

► In today's Seattle Times — Inslee signs order limiting Washington state's help in enforcing Trump's immigration policies — In his latest salvo against the Trump administration's policies, Gov. Jay Inslee on Thursday signed an executive order aimed at restricting state workers and agencies from helping enforce federal immigration laws.
► From WFSE — Sen. Ranker: Why state employees should be 'treated well and paid well' –The ranking member of the state Senate Ways and Means Committee, Sen. Kevin Ranker (D-Orcas Island), says his colleagues can look at a successful business model in our state to justify funding our contracts. Funding our negotiated raises will ensure that "employees are treated well and paid well" because state employees provide the critical services we need.
► In today's Seattle Times — State will resist federal crackdown on legal weed, AG Ferguson says — Attorney General Bob Ferguson and Gov. Jay Inslee have vowed to defend the state's legal marijuana law against a federal crackdown suggested Thursday by the White House.
---
THAT WASHINGTON

► Exclusive from CNN — FBI refused White House request to knock down recent Trump-Russia stories — The FBI rejected a recent White House request to publicly knock down media reports about communications between Donald Trump's associates and Russians known to U.S. intelligence during the 2016 presidential campaign, multiple U.S. officials briefed on the matter tell CNN. The direct communications between the White House and the FBI were unusual because of decade-old restrictions on such contacts. Such a request from the White House is a violation of procedures that limit communications with the FBI on pending investigations.
EDITOR'S NOTE — Countdown to Impeachment™ pro tip: When Trump devotes his morning tweetfest to decrying "leaks," it means something embarrassing/illegal — and undeniably true — has been reported. You're welcome.
► From AP — Priebus asked FBI official to deny Trump/Russia stories
► In today's NY Times — Weakened Democrats bow to voters, opting for total war on Trump — Democratic Party leaders will gather in two cities this weekend to plot strategy and select a new national chairman with the daunting task of rebuilding the party's depleted organization. But senior Democratic officials concede that the blueprint has already been chosen for them — by an incensed army of liberals demanding no less than total war against President Trump. Gov. Jay Inslee of Washington, vice chairman of the Democratic Governors Association, said there had been a "tornado of support" for wall-to-wall resistance to Trump.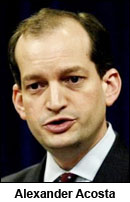 ► In the NY Daily News — Trump's second pick for labor secretary Acosta wins support from unions — The International Association of Fire Fighters endorsed Alexander Acosta's nomination Thursday — just a few days after the Laborers' International Union of North America did the same. Both unions cited their history of working with Acosta in the past as a major factor in their endorsements.
---
NATIONAL
► In the Chicago Sun-Times — Illinois public-employee union members vote to authorize strike — Tens of thousands of state government workers (AFSCME) have sanctioned a strike against Gov. Bruce Rauner and his contract terms, union officials said Thursday, kicking a two-year dispute into an unprecedented higher gear.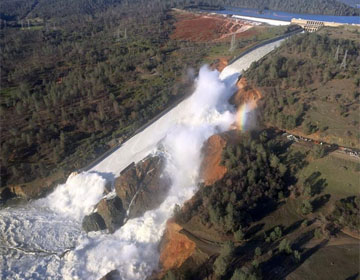 ► MUST-READ in today's NY Times — Rising walls, falling bridges (by Timothy Egan) — Yesterday's dams are trying to hold back tomorrow's climate. And what are we doing about it? We're building a wall along the Mexican border to fix a problem that's already taken care of itself. A wall that could cost upward of $30 billion…. Once, America built bridges and roads and dams to make life easier, to light cities, to invest in tomorrow. Now, the focus is on a useless wall to salve the delusions of a ranting demagogue. It would be fitting if the only infrastructure legacy of the Donald Trump era was something that did not bring water to a desert, or span a gaping chasm, or electrify a rural state, but was an ugly barrier sending this message: Keep out.
► In today's New Haven Register — Yale graduate teachers vote to unionize — After protests, debates and challenges, graduate student teachers in several Yale University departments voted to form a union. "This moment has been decades in the making," said Aaron Greenberg, a Ph.D. candidate in the Political Science Department. "Tonight is a tremendous victory and an opportunity for all of us to come together and work to address the issues we face."
EDITOR'S NOTE — Find out how to organize a union at your workplace.
► From CBS News — Parents fight for higher wages for childcare workers — The cost of childcare has more than doubled since 1997. So when a group of New York parents discovered that the people actually providing that care hadn't seen much of a raise, they decided to ask for one.
► In today's Seattle Times — Involuntary part-time worker ranks still too high (by Jon Talton) — The headline unemployment rate is in favorable territory. The same isn't true for the broader measurement including people marooned in part-time jobs, and that's new.
---
INTERNATIONAL
► In today's Seattle Times (via the NY Times, and NOT The Onion) — Swedish town pitches taking a paid break for sex — A plan to pay town workers in Overtornea, Sweden, to take an hour off for sex has raised eyebrows, but some experts say it has merit… Some proponents worried the proposal was too stingy: "I spoke to a couple of older gentlemen who said, 'One hour? That is not enough time.' "
---
T.G.I.F.
► On this day in 1975, Led Zeppelin released Physical Graffiti, an album that Rolling Stone raved was "the band's Tommy, Beggar's Banquet and Sgt. Pepper rolled into one: Physical Graffiti is Led Zeppelin's bid for artistic respectability." It's the 20th best-selling album of all time, right behind the debut album of… Hootie & the Blowfish. (Full disclosure: The Entire Staff of The Stand owns both albums.)
Please, if you don't own Physical Graffiti, go buy a copy and help right this wrong. Even if you do have it, buy it in another format, like the remastered vinyl version! Please.
All four members of the band agreed that this song from your new album was one of the band's greatest musical achievements, one that they preferred over "Stairway to Heaven" as their signature song. Enjoy.
---
The Stand posts links to Washington state and national news of interest every weekday morning by 10 a.m.
Short URL: https://www.thestand.org/?p=55778
Posted by
David Groves
on Feb 24 2017. Filed under
DAILY LINKS
. You can follow any responses to this entry through the
RSS 2.0
. Both comments and pings are currently closed.