Hostage politics, GOP-care falls flat, teachers' pensions…
Wednesday, March 8, 2017
---
THIS WASHINGTON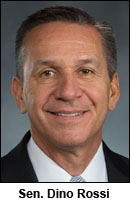 ► In today's News Tribune — Should state worker unions be allowed to donate to the governor's campaign? GOP lawmakers say no — On a strict party-line vote, Senate Republicans approved a measure Tuesday that would prohibit state employee unions — as well as other groups that collectively bargain contracts with the state — from making donations to gubernatorial candidates. "It has the appearance of corruption," said Sen. Dino Rossi (R-Sammamish), a former two-time candidate for governor who sponsored SB 5533. Senate leaders said they would like to see the measure pass the full Legislature if they are to approve labor contracts that would provide about $500 million in salary increases and benefits for state workers and publicly funded non-state employees, such as home health care workers.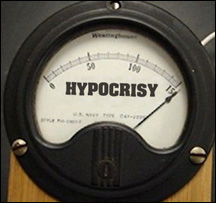 EDITOR'S NOTE — Apparently, Senate Republicans don't think an "appearance of corruption" exists when Washington corporations that negotiate billions in tax breaks with the state contribute to governors' and legislators' campaigns. Proposed amendments to SB 5533 that would have expanded the contribution ban to corporations doing business with the state, and to state legislators themselves, were rejected by Senate Republicans on party-line votes yesterday.
Senate Republicans are openly declaring that they will try to hold hostage cost-of-living wage increases for tens of thousands of hard-working public employees in order to pass a partisan political Freedom Foundation-backed bill to silence unions. As long as political contributions equal free speech in this country — a tenet of the Citizens United Supreme Court decision that Republicans so strongly support — SB 5533 is clearly unconstitutional. It's nothing more than an exercise in anti-union politics by a two-time loser that unions never supported — three times if you count his U.S. Senate loss — and a waste of the Legislature's time.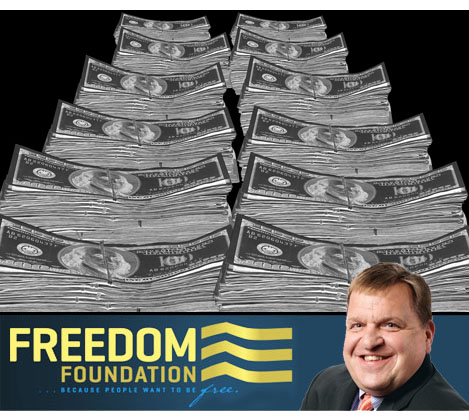 EDITORS NOTE 2 — On another party-line 25-24 vote yesterday, Senate Republicans also approved Rossi's SB 5339, which allows public employees who are "religious objectors" to unionization control which charity receives their dues equivalent, rather than the current practice of agreeing on a charity with their union. The bill expands the list of acceptable "charities" to include — surprise — the Freedom Foundation! That's true religion.
► In today's Seattle Times — Rep. Helen Sommers dies; she served in state House for 36 years — Former state Rep. Helen Sommers, a Seattle lawmaker who carved out a powerful perch over decades in the Washington Legislature, died Tuesday in Palm Beach Gardens, Fla., where she lived. She was 84.
---
LOCAL
► In today's Spokesman-Review — What would happen if every woman in Spokane went on strike Wednesday? — That's the question posed by the Day Without a Woman, a general strike on International Women's Day designed to showcase the importance of the work women do. It's organized by the same group that held the Women's March on Washington, and it encourages women to strike for the day, shop only at women-owned businesses or wear red in solidarity. In Spokane, many groups opted for solidarity rather than striking.
EDITOR'S NOTE — In Seattle, there will be an International Women's Day March and Rally on Wednesday from 6 to 9 p.m. at Westlake Park (4th & Pine). Get details.
► From Think Progress — On International Women's Day, not all women can go on strike — Some women — particularly immigrants, low-wage workers, and working mothers — cannot participate in a national strike because they're worried about losing their jobs or because they rely on their daily income.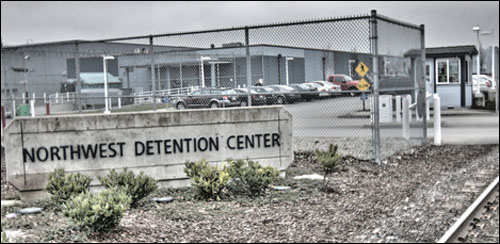 ► In today's News Tribune — Tacoma approves interim rule to block expansion of immigration detention center — The Tacoma City Council voted Tuesday to drastically limit where public correctional facilities can be sited within city limits, and to ban new or expanded private correctional facilities across the city.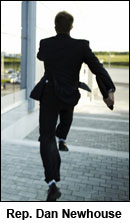 ► In today's Tri-City Herald — Newhouse talks trade, immigration and regulatory reform in Pasco — Rep. Dan Newhouse was the featured speaker at a Washington Policy Center event costing $85 a head to attend at the Pasco Red Lion. The reception was chillier outside, where protesters waved signs near the hotel's entrance calling on Newhouse to hold a public town hall meeting and support investigations into allegations of Russian meddling in the U.S. presidential election.
► In today's Tri-City Herald — Richland creates transportation district to fund new bridge, road repairs — Mayor Bob Thompson has said charging a license renewal fee is the most direct way to raise money the city needs to complete the funding for the $38 million Duportail Bridge project and to bolster badly needed road maintenance.
---
GOP-CARE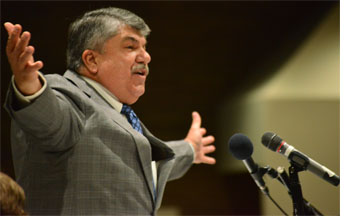 ► From The Hill — Union president blasts GOP healthcare plan after meeting with Trump — Union president Richard Trumka slammed the Trump-backed GOP healthcare proposal, just hours after meeting with the president at the White House on Tuesday. The AFL–CIO president said he talked about a variety of topics with President Donald Trump, but he did not mention healthcare as one of them.
► In today's Washington Post — Backlash grows against House GOP proposal to replace Obamacare — Lawmakers prepared Wednesday for a marathon day sifting through a Republican proposal to revise the Affordable Care Act, which has met with widespread resistance from conservatives in and out of Congress, moderates in the Senate and key industry stakeholders since House GOP leaders released it on Monday.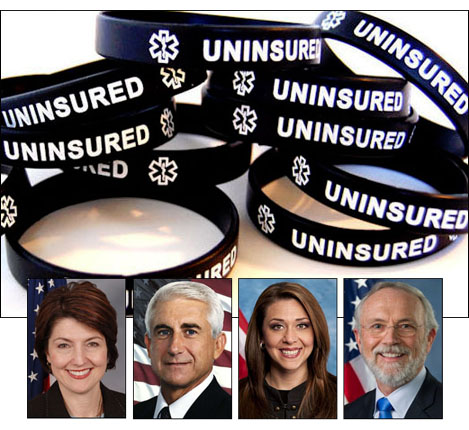 ► From Huffington Post — Health care industry really doesn't like GOP's Obamacare replacement — Groups representing hospitals, doctors, nursing homes, patients and older people criticized the Republican proposal. While some major industry players, including insurers and drugmakers, were notably silent, one big Medicaid provider predicted the GOP plan would wreck the insurance marketplace.
► In today's NY Times — GOP health bill faces revolt from conservative forces — House Republicans were rushing the legislation through two powerful committees — Ways and Means, and Energy and Commerce — with the hope of a full House vote next week, an extraordinarily compressed time frame considering that the legislation affects many parts of the United States economy and could alter the health care of millions of Americans.
► From The Atlantic — The GOP's plan is basically a $600 billion tax cut for rich Americans — Look beyond the bill's quasi-mandate and tax credits, and the Obamacare replacement bill is a $600 billion tax cut, with the benefits going almost entirely to the wealthy.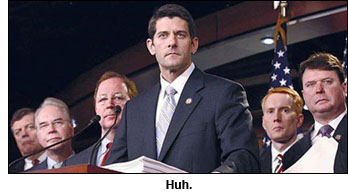 ► In today's Washington Post — An Obamacare repeal that's both heartless and reckless (editorial) — Adding to this irresponsible picture, Republicans are poised to mark up their bill without a full analysis from the Congressional Budget Office of its budgetary impact or — crucially — of how many people the proposal would (or would not) cover.
► In today's Spokesman-Review — Take time to evaluate health care plan (editorial) — It's surreal to see Republican congressional leaders try to rush through a health care plan, when so many mocked then-House Speaker Nancy Pelosi's line: "We have to pass the bill so that you can find out what's in it."
► In today's NY Times — No wonder the Republicans hid the health bill (editorial) — When House leaders finally unveiled their plan, the suffering it would inflict on millions of Americans was clear.
---
THAT WASHINGTON

► From TPM — Hawaii to file legal challenge of Trump's new travel ban — The state will ask a federal judge for a temporary restraining order against the new order on Wednesday.
► From AP — U.S. to pay state's costs, drop appeal on original travel ban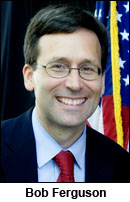 ► From Huffington Post — Trump's new travel ban targeting Muslims may still be unconstitutional — Bob Ferguson, the Washington state attorney general, is claiming victory for the scaled-back travel ban on certain Muslim-majority countries, unveiled Wednesday after more than a month of delays and false starts. And Ferguson may be justified in doing so: He was behind an important legal victory last month against the original executive order, which fueled chaos at airports, protests and dozens of lawsuits.
► From Think Progress — Trump's federal hiring freeze is hitting military families hard — Military spouses face diminished job prospects and offers put on hold after moving with their service members.
ALSO at The Stand — Trump's federal hiring freeze is killing jobs, hurting vets
---
NATIONAL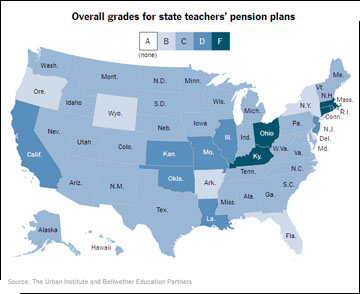 ► In today's NY Times — The state of state teachers' pension plans — As teachers across the country retire, their pensions are being subsidized by newly hired teachers to a surprising degree. Teachers' pension plans have always rewarded long-serving veterans at the expense of short-termers. But now, as more and more plans develop shortfalls, states have been imposing cost-cutting measures, and recent research shows that the newest hires are bearing the brunt of the changes, raising questions of fairness.
EDITOR'S NOTE — Washington was among 33 states that received an overall "C" grade from the Urban Institute for its teachers' pension plan. But the state scores well for reforms that will allow teachers to "break even" more quickly, reaching the point that their accumulated pension benefits exceed their individual contributions sooner.
► From AP — U.S. trade deficit balloons to 5-year high — The U.S. trade deficit jumped in January to the highest level in nearly five years as a flood of mobile phones and other consumer products widened America's trade gap with China. The figure underscores the challenges facing President Donald Trump in fulfilling a campaign pledge to reduce America's trade deficits.
---
The Stand posts links to Washington state and national news of interest every weekday morning by 10 a.m.
Short URL: https://www.thestand.org/?p=56109
Posted by
David Groves
on Mar 8 2017. Filed under
DAILY LINKS
. You can follow any responses to this entry through the
RSS 2.0
. Both comments and pings are currently closed.