Women in red, big biz's I-1433 suit, Dave ♥'s Trumpcare…
Thursday, March 9, 2017
---
THIS WASHINGTON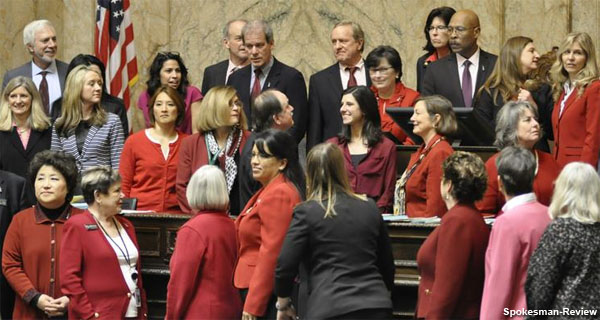 ► In today's Spokesman-Review — House passes Equal Pay changes on Women's Day — With many women in the chamber sporting red for International Women's Day, the House approved changes to the state's Equal Pay Act that supporters said would fight discrimination on wages for all ages. "It's not just about women, it's about their families," said Rep. Jessyn Farrell (D-Seattle).
ALSO at The Stand — Post-cutoff update on working family legislation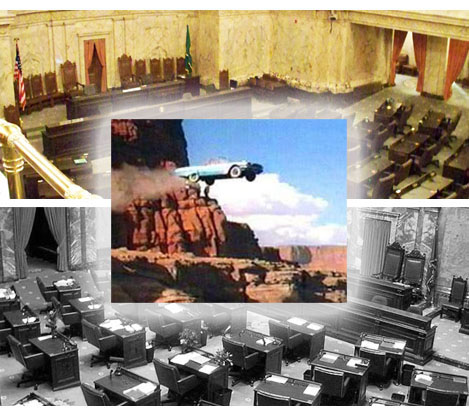 ► In today's Olympian — Senate passes bill to extend 'levy cliff,' responding to school district pleas — Lawmakers in the state Senate came to an agreement Wednesday on a plan to extend school districts' current taxing authority for another year. Without a change in law, the state's 295 school districts stand to lose between $350 million and $500 million in the 2017-18 school year. Senators approved SB 5023 on a 48-1 vote Wednesday, with only Sen. Michael Baumgartner (R-Spokane) voting no. The House already approved a similar measure back in January, and now will have to consider the measure again, as it was amended by the Senate.
EDITOR'S NOTE — KOMO reports this morning that the House will convene at 10 a.m. this morning to consider it.
► In today's News Tribune — Legislators can't unring the bell of Sound Transit 3 (editorial) — Republican proposals to rein in Sound Transit are a misguided attempt to unring a bell that more than 700,000 Puget Sound voters rang last fall — a clarion call for relief in one of America's most traffic-jammed regions, where 800,000 more residents will settle by the year 2040. The worst part, in the unlikely event these bills were to become law: Sound Transit would have an excuse to delay the extension of the light rail "spine" to Tacoma. The first train to Tacoma Dome station is now set for 2030, a promise that must be kept.
ALSO at The Stand — Transportation coalition decries Senate's possible ST3 delays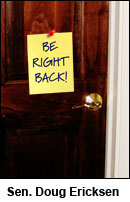 ► In today's Bellingham Herald — Sen. Doug Ericksen paid at least $1,993 a week for Trump transition work — When asked in January how much he would be paid for his job at the EPA, Ericksen has said he didn't know, adding: "I'm definitely losing money off this deal." Ericksen is listed with a salary grade of GS-15, which means an annual salary of between $103,672 and $134,776. He couldn't be reached for comment Wednesday.
► In the Kitsap Sun — Local districts lobbying for elimination of 1% property tax cap — Local officials are throwing their support behind a bipartisan measure that would replace the state's 1 percent cap on property tax growth, which they say has hampered governments' ability to provide services.
► In today's Seattle Times — Lawmakers: Don't meddle in local laws that address difficult social problems (editorial) — Existing Seattle regulations on paid family leave, Uber drivers and tenant protections would all be killed by the supposedly wiser minds in Olympia exercising their power to pre-empt local efforts. There's a trend at work, and it is not a good one. The Legislature — in particular the Senate — needs to back away from an impulse to rein in Seattle.
► In today's (Everett) Herald — Talk of taxes and unions: Prelude to a political season (by Jerry Cornfield) — Senate Republicans' protracted conversations Tuesday about banning income taxes and restricting state employee unions were about constructing a message GOP candidates might use on the campaign trail in special elections this fall, particularly in the race to elect a successor to the late Republican senator, Andy Hill, in the 45th Legislative District in King County.
---
LOCAL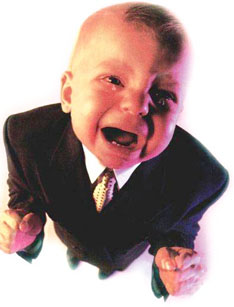 ► In the P.S. Business Journal — Washington business groups sue to stop minimum wage hike and sick leave law (subscription req'd) — The Washington office of the National Federation of Independent Business, Washington Retail Association, Northwest Food Processors Association, Washington Farm Bureau and the Washington Food Industry Association joined to file the lawsuit to challenge the validity of Initiative 1433 in Kittitas County Superior Court. The complaint calls for the initiative to be voided because it covered two separate topics under one measure with a title that "fails to give adequate notice of the measure's purpose."
► From the Seattle P-I — Hundreds rally for women's rights in Westlake Park — A crowd gathered in Seattle on Wednesday evening to cap International Women's Day by showing its support for women's rights and hearing from several noteworthy speakers.
ALSO see coverage of demonstrations in Olympia, Richland., and Washington, D.C.
► From AP — Washington unemployment rate at 5.1 percent — Washington state's unemployment rate held steady last month at 5.1 percent even as the state lost about 7,200 jobs. The unemployment rate in the Seattle-Bellevue-Everett area was 3.7 percent.
► In today's Tri-City Herald — Senators call for investigation of Hanford worker compensation — Sens. Patty Murray and Maria Cantwell are asking the Department of Energy Office of Inspector General to investigate how worker compensation claims are being handled at Hanford.
► In today's Seattle Times — Boeing's talking with airlines about a '797,' and they like what they hear — Major players in the world of airplane finance said this week that Boeing seems keen to go ahead with a new jet sized between the largest single-aisle 737 and the smallest twin-aisle 787, and capable of carrying more than 200 passengers.
EDITOR'S NOTE — And discussions about granting Boeing billions more in tax breaks commence… now.
---
TRUMPCARE

► From Politico — White House: Don't call it Trumpcare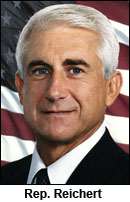 ► In today's Washington Post — Trumpcare plan clears first hurdle in House committee early Thursday — A key committee in the House of Representatives approved a Republican proposal to replace the Affordable Care Act before dawn Thursday morning after roughly 18 hours of debate, giving the bill its first procedural victory even as opposition mounted from conservatives, Democrats and health-care industry groups. The House Ways and Means Committee voted 23 to 16 to advance the American Health Care Act shortly before 4:30 a.m.
EDITOR'S NOTE — On this party-line vote, Rep. Dave Reichert (R-8th) voted "yes" on Trumpcare and Rep. Suzan DelBene (D-1st) voted "no." Said DelBene: "Republicans are forcing people to pay more for less. This certainly isn't 'insurance for everybody,' as the president promised." Reichert's office did not release a statement on his vote.
► A related story from The Hill — Vulnerable Republicans feel the heat on Trumpcare — Republicans facing challenging reelection races in 2018 have so far been largely silent on the legislation.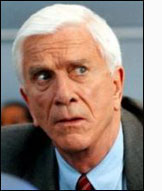 ► A related Letter to the Editor in today's (Everett) Herald — Reichert needs to find courage to meet with constituents — There are so many things in this world that are so incredibly sad. But among the saddest things that I've witnessed is the sight of a former sheriff, once so courageous in the face of evil, reduced to a quivering mess of quince jelly because of a suddenly developed fear of crowds; Washington D.C. seems have that effect on some.
► From Vox — Republicans' rushed Trumpcare is everything they said they hated about Obamacare — It passed out of committee exactly 58.5 hours after it was introduced on Monday evening. The committee voted in the bill's favor without knowing how much it costs or who it covers because they voted before the Congressional Budget Office — or any other credible authority — had time to assess the bill's likely impacts… They are doing this despite repeatedly and angrily criticizing the Affordable Care Act for being moved too quickly and with too little deliberation.
► From Huffington Post — White House preemptively attacks CBO on Trumpcare — The Trump administration has begun undermining the credibility of the Congressional Budget Office — days ahead of its likely analysis that a Republican health care plan will result in millions losing their insurance.
► In today's NY Times — How many people are affected by Obamacare premium increases? (Hint, it's fewer than you think) — Republicans cite rising insurance premiums as a primary reason for repealing the Affordable Care Act. But only a narrow slice of the market was actually affected by the increases… just 3 percent of all Americans.
---
NATIONAL
► From The Hill — U.S. infrastructure report card: D+ — U.S. infrastructure received an overall grade of D+ in the latest report card from the American Society of Civil Engineers, largely uncharged since the previous report in 2013. The findings suggest that only incremental progress has been made in revitalizing the nation's infrastructure over the past four years. The D rating is considered "poor" and "at risk," just one step above failing and unfit for purpose.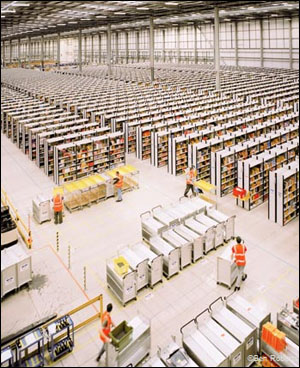 ► In today's NY Times — 'Superstar firms' may have shrunk workers' share of income — For much of the last century, the slice of the total economic pie going to workers was constant: roughly two-thirds. But in the 2000s, it slipped significantly. Labor's portion has not risen above 59 percent since before the recession. The decline has coincided with a slowdown in overall growth as well as a stark leap in inequality… The usually cited culprits: technological advancements, "free trade" powered by cheap foreign labor, tax policies that favor wealth over wages, flagging skills and education, and the weakening of unions. But a new study points to another story line: "Superstar firms." From manufacturing to retailing, giant companies have managed to gobble up a larger and larger share of the market.
► In the P.S. Business Journal — Alaska Airlines CEO Brad Tilden supports air traffic control privatization to modernize system (subscription req'd) — He tells Congress that the nation's air traffic control system should be privatized and modernized to deal with congestion and delays.
---
The Stand posts links to Washington state and national news of interest every weekday morning by 10 a.m.
Short URL: https://www.thestand.org/?p=56144
Posted by
David Groves
on Mar 9 2017. Filed under
DAILY LINKS
. You can follow any responses to this entry through the
RSS 2.0
. Both comments and pings are currently closed.