Roadblock for drivers, not ready to talk, Trump's choice…
Wednesday, April 5, 2017
---
LOCAL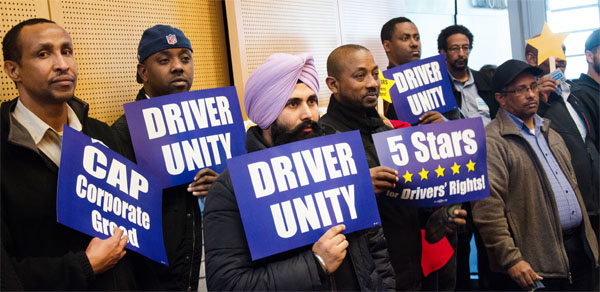 ► In the P.S. Business Journal — Judge blocks Seattle's Uber/Lyft driver unionization law — A federal judge on Tuesday temporarily blocked implementation of a Seattle ordinance that extended collective bargaining rights to drivers from taxi, for-hire and app-based transportation companies. The law went into effect in January and companies had an April 3 deadline to provide drivers' names and contact information to the Teamsters Local 117, allowing the union to solicit interest in representation. U.S. District Judge Robert Lasnik granted a temporary injunction on the April 3 disclosure requirement until the court cases are resolved.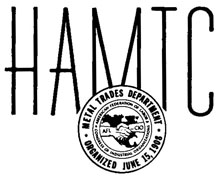 ► In today's Tri-City Herald — Hanford union leader resigns; has good words for vapor improvements — The Hanford Atomic Metal Trades Council is encouraged by the strides made to improve worker safety in the Hanford nuclear reservation's tank farms, President Mark Molnaa said in a letter to Hanford leaders this week. The letter, a turnaround from HAMTC's opinion shared in letters last summer, is one of the final messages Molnaa is likely to send as president of the umbrella group of about 15 unions doing work at Hanford. He has announced his resignation, effective April 16. He's been president for 12 years. His replacement is expected to be named April 12 by the HAMTC Executive Board.
► From Bloomberg — NLRB judge tells T-Mobile to end company-controlled worker group — A National Labor Relations Board judge ruled that Bellevue-based T-Mobile US violated the New Deal prohibition against company-controlled labor organizations and must dissolve T-Voice, a group of company-selected employee "representatives" formed in 2015.
► In today's (Everett) Herald — Union takes no-confidence vote in two fire commissioners — IAFF Local 1828 at Snohomish County Fire District 1 has taken a no-confidence vote in two elected commissioners who made racially charged remarks last month.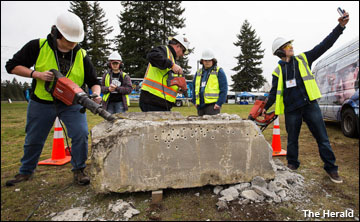 ► In today's (Everett) Herald — Pros teach high-schoolers career options other than college — Around the yard, there was a cement mixing truck, a long semi-truck with a blaring horn, a Community Transit bus, a UPS truck and several displays where teens could try jackhammering a concrete block or hammering at a wooden frame. The Trade UP event in Arlington brought students together to listen to men and women talk about their jobs and options after high school. The program started about two and a half years ago and has grown, with more students and new presenters.
---
THIS WASHINGTON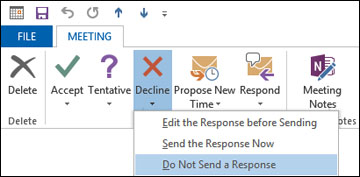 ► In today's (Everett) Herald — Dems ready to negotiate tax plan; GOP calls it 'beyond belief' — Democrats pushed their $3 billion tax package through a House committee Tuesday and declared themselves ready to sit down with their Republican counterparts in the Senate to negotiate a new two-year state budget. Not so fast, Republicans said. Talks can't get serious until the House acts on the tax bill. GOP leaders contend the budget passed by House Democrats last month assumes an infusion of $3 billion from new taxes yet without a vote it's unclear if there is political support for all the tax changes. Democratic leaders counter it's pointless. The House budget, which calls for $44.9 billion in spending, is dead on arrival in the Senate, just as the Senate plan, which spends $43.3 billion and contains a new statewide property tax, never got a vote in the House. It won't be any different with the tax bill.
► In today's News Tribune — Republicans are planning a showdown over Sound Transit 3. 'We're protecting our constituents' — Republicans will try to push through several measures to address concerns about Sound Transit 3, the $54 billion transit package voters approved in November, in a battle on the floor of the state House Wednesday.
► In the (Aberdeen) Daily World — Sparks fly during, after Senate committee meeting on Fish and Wildlife budget — The hearing led to some harsh words for the department's director Jim Unsworth from Ways and Means committee chairman Sen. John Braun (R-Centralia), and later, criticism from another Republican lawmaker calling into question Unsworth's ability to lead the department.
---
TRUMPCARE 2: FROM BAD TO WORSE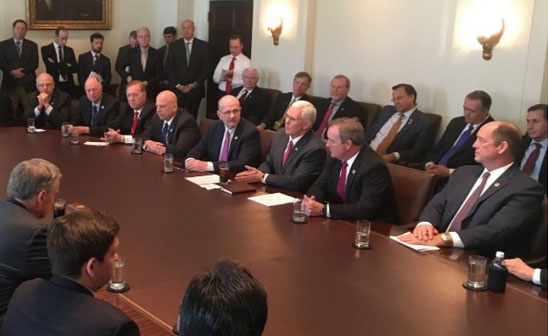 ► From The Hill — Centrists push back on new ObamaCare repeal plan — A new proposal from the White House and GOP leaders to revive ­ObamaCare repeal is facing pushback from centrist Republicans who were already wary of the legislation. Seeking to win over conservative holdouts, Republicans have talked about redesigning their "Trmpcare" healthcare bill so that states can apply for waivers that, in effect, would cast aside the Affordable Care Act's guarantee that insurance will cover pre-existing conditions. "While we haven't picked up any votes yet, this concept is already showing signs of losing a ton of them," a senior Republican source said.
► From Politico — Pence's Obamacare diplomacy fails to yield a deal — The White House's latest last-ditch effort to save the GOP's Obamacare replacement bill hit a brick wall Tuesday night, as conservative and moderate Republicans met and realized they had two very different understandings of the changes sought by top Trump officials.
► From Huffington Post — Obamacare's popularity just hit a record high — Americans' views of the current health care law are more positive than they've been since the bill was signed in 2010. On average, nearly half of the public now favors Obamacare with only about 42 percent opposed.
---
THAT WASHINGTON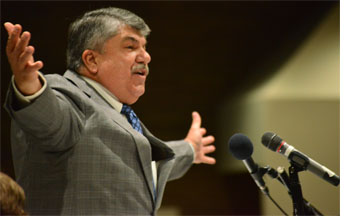 ► From AP — Union chief: Trump must choose between Wall Street, workers — AFL-CIO President Richard Trumka said Tuesday that President Donald Trump is in danger of letting a wealthy faction of his administration "hijack" the pro-worker agenda he's promised. "President Trump needs to decide who he stands with. The coal miners, farmers, steelworkers and other regular Americans who he promised to help in the campaign, or the Wall Street tycoons who are rigging the economy at our expense," Trumka said at the National Press Club. "That decision will be the single greatest test and the most defining thing in his presidency."
► From Reuters — U.S. labor chief wants more drastic changes to NAFTA from Trump — Top U.S. labor leader Richard Trumka on Tuesday blasted the Trump administration's initial plan to revamp the NAFTA, calling it "very timid." Trumka said that the administration could leave the "most oppressive pieces" of NAFTA in place despite President Donald Trump's harsh criticism of the 23-year-old trade deal with Mexico and Canada.
► From AFL-CIO Now — Highlights from Trumka's address at the National Press Club
► From Yahoo — Trump speaks at the North America's Building Trades Unions conference (video)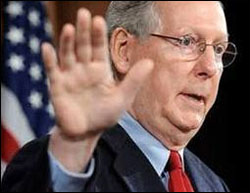 ► In today's NY Times — The Supreme Court as partisan tool (editorial) — Partly as a result of its own actions, but more important as a result of increasing polarization in Washington and the nation as a whole, the court is devolving into a nakedly partisan tool… The lion's share of the blame now belongs to one man — Mitch McConnell, the Senate majority leader. In blocking even a hearing for Judge Merrick Garland, President Barack Obama's moderate and eminently qualified candidate, as well as dozens of Obama nominees for other positions, he deeply degraded the nominating process. There was a time when the leaders of the Senate were responsible stewards of republican traditions and ideals. Not Mr. McConnell, whose determination to steamroll and humiliate political opponents exceeds any other consideration.
► From Huffington Post — Trump signs bill making it easier for employers to hide workplace injuries — President Donald Trump signed legislation late Monday loosening the reporting requirements that employers face when workers get hurt or sick due to their jobs. The GOP-controlled Congress used an arcane legislative tool known as the Congressional Review Act in an effort to repeal the Obama regulation last month, drawing sharp rebukes from Democrats. By signing the bill, Trump may be legally preventing OSHA from ever issuing a similar rule again.
► In today's NY Times — Police unions hail Trump's easing of scrutiny. local officials worry. — While mayors and police chiefs welcome federal oversight of the police, unions say it keeps officers from doing their jobs and makes the public less safe.
---
NATIONAL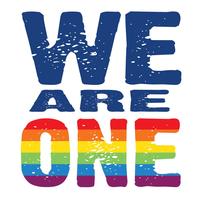 ► In today's Washington Post — Court: Workplace discrimination against gays is prohibited by federal law — A federal appeals court ruled Tuesday that workers may not be fired for their sexual orientation, becoming the highest court in the country to find that the 1964 Civil Rights Act protects gays from workplace discrimination and setting up a possible Supreme Court battle.
► In today's Seattle Times — Railroads a better bet than coal for restoring jobs (by Jon Talton) — More enlightened government policy could invest in high-speed rail and rail transit; maintain, improve and extend Amtrak's network; more aggressively fund safety and traffic improvement projects. These would provide construction and operating jobs, even with the trend toward automation. Rail is by far the most climate-friendly major transportation option.
ALSO at The Stand — Solutionary Rail campaign would electrify the nation's rail system
---
TODAY'S MUST-READ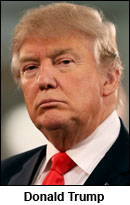 ► In the LA Times — Our dishonest president: Trump's authoritarian vision (editorial) — What's uniquely threatening about Trump's approach is how many fronts he's opened in this struggle for power and the vehemence with which he seeks to undermine the institutions that don't go along. It's one thing to complain about a judicial decision or to argue for less regulation, but to the extent that Trump weakens public trust in essential institutions like the courts and the media, he undermines faith in democracy and in the system and processes that make it work… That's why the public has to be wary of Trump's attacks on the courts, the "deep state," the "swamp." We can't afford to be talked into losing our faith in the forces that protect us from an imperial presidency.
---
The Stand posts links to Washington state and national news of interest every weekday morning by 10 a.m.
Short URL: https://www.thestand.org/?p=56745
Posted by
David Groves
on Apr 5 2017. Filed under
DAILY LINKS
. You can follow any responses to this entry through the
RSS 2.0
. Both comments and pings are currently closed.