Stand Up today, retail woes, Trumparency…
Wednesday, April 19, 2017
---
THIS WASHINGTON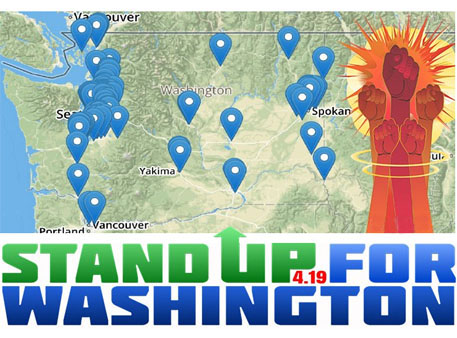 ► In today's News Tribune — State workers will demonstrate to urge lawmakers to support new labor contracts — Washington state workers are staging demonstrations Wednesday to urge the Legislature to approve their new two-year labor contracts. Statewide, employees at about 150 job sites plan to demonstrate at noon. "It's really calling attention to the need to support public services and fund state employees' contracts," said WFSE spokesman Tim Welch. "If you want to have good services, you have to fund those contracts, and stop the recruitment and retention crisis."
ALSO at The Stand — Take action TODAY to fund public services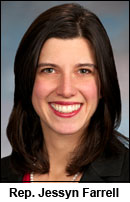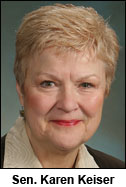 ► From KIRO — Expecting mothers could get new workplace protections under Washington bill — New and expecting mothers could get new protections in the workplace and in hospitals under a wide-ranging bill aiming to promote healthy outcomes for women and their infants. SB 5835, sponsored by Sen. Karen Keiser (D-Kent), arrived to Gov. Jay Inslee's office on Tuesday after it passed the state House unanimously earlier this month. Said Rep. Jessyn Farrell (D-Seattle), who sponsored the companion bill in the House:
"[If the bill is signed] both employers and employees will now have more clarity with regards to workplace accommodations for expectant mothers, and the important work of improving health outcomes for mothers and babies will continue."
► In today's News Tribune — Outrage over Sound Transit 3 car tabs predictable, and preventable (by Matt Driscoll) — For the most part, lawmakers who are now feigning surprise and dismay about ST3's inflated car-tab fees should have been paying more attention, because it was all there to be found. The idea that they were deceived, or misled, or somehow tricked into allowing Sound Transit to ask what it asked of voters is, at best, not a great look for those we elect to represent us.
► In today's Seattle Times — Educating prisoners pays off (editorial) — The new legislation — sponsored by Sen. Maureen Walsh (R-Walla Walla, home of the state's first prison) and now headed to Gov. Inslees' desk — allows inmates heading toward their release to walk out the prison gates with a business or vocational associate degree.
---
LOCAL
► In today's (Everett) Herald — Pacific Northwest leads most of the nation in employment — Snohomish and King counties gained jobs at a faster rate from February 2016 to February 2017 than almost every other major metropolitan area in the U.S., according to the federal Bureau of Labor Statistics. The Tacoma area also saw employment grow at a fast clip.
► In today's News Tribune — Legacy MultiCare urgent care centers say yes to union; Indigo workers say no — The two groups of doctors, nurses and nurse practitioners voted Monday on whether to form unions under the Union of American Physicians and Dentists. Workers in MultiCare's legacy urgent care centers voted 43-7 to join the union, while those working for Indigo Urgent Care clinics voted against forming a union.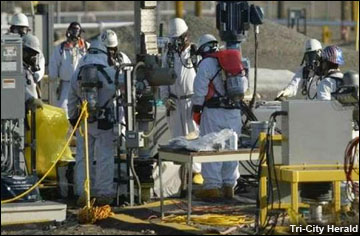 ► In today's Tri-City Herald — Audit: Hanford project cost millions more than planned, despite appearances — Work to begin moving Hanford's radioactive sludge has cost millions more than expected, but you wouldn't know it from looking at project accounts. A cost overrun of almost $18 million has not been transparent, according to a new audit report.
► In today's Columbian — Herrera Beutler optimistic about money for I-5 Bridge — U.S. Rep. Jaime Herrera Beutler said when the time comes to move forward on replacing the Interstate 5 Bridge, she believes federal funding will be available to help pay for it.
► In today's Seattle Times — More citizen oversight of King County deputies clears major hurdle, but union talks loom
---
RETAIL WOES

► In today's Bellingham Herald — National retailer to close Bellingham, Everett stores — Rue21, a company that focuses on teen apparel, announced it was closing about 400 stores. That includes its Bellis Fair space, which is in the Macy's wing, as well as a store in Everett. In the past four months, Wet Seal, Family Christian, Pac-Sun, Teavanna and Radio Shack have closed or are in the process of closing stores in Whatcom County.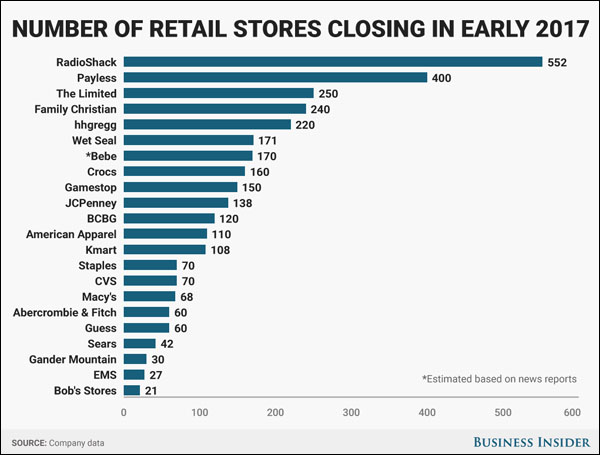 ► From Business Insider — Retail apocalypse creating 'slow-rolling crisis' rippling through the U.S. economy — Retailers are closing thousands of stores and going bankrupt at a rate not seen since the recession, and tens of thousands of people are losing their jobs as a result. The effects of these job losses will hit local economies hard, according to Mark Cohen, the director of retail studies at Columbia Business School: "This is creating a slow-rolling crisis. The people that work in retail stores will lose their jobs, then spend less money in retail stores because they are no longer employed. That creates a cascade of economic challenges."
---
THAT WASHINGTON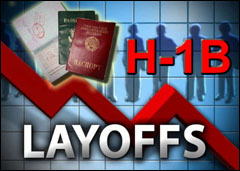 ► In today's Seattle Times — Tougher H-1B visa rules could benefit local tech companies — An executive order signed by President Trump on Tuesday orders a review of the H-1B visa program for highly skilled workers. It won't have an immediate effect on the tech industry, but could benefit local tech giants and startups alike. Local tech leaders hope changes will work out in their favor by leaving more visas for large tech companies and startups, instead of outsourcing firms. In Washington state, Microsoft and Amazon are the leading applicants for the high-tech visas. Microsoft applied for 4,294 last year, and Amazon applied for 2,552 visas.
► From CNN — AFL-CIO's Thea Lee on Trump's 'Buy American' order — "Our Buy American provisions are so full of loopholes and exemptions and waivers that it looks like a big block of Swiss cheese. (This order will help) begin to close some of those loopholes but it's only a first step."
► From The Hill — Health subsidy demand jams up shutdown fight — Democrats' demand that ObamaCare subsidies be wrapped into a must-pass spending package is complicating GOP efforts to prevent a government shutdown at the end of next week.
► From The Hill — Poll: Bernie Sanders country's most popular active politician — Vermont Sen. Bernie Sanders (I) is the country's most popular active politician, underscoring his importance to the Democratic Party as it seeks to rebuild in the wake of a disastrous 2016 election cycle. He is the only person in a field of 16 Trump administration officials or congressional leaders included in the survey who is viewed favorably by a majority of those polled.
► From The Hill — Sanders: I don't consider myself a Democrat — "If the Democratic Party is going to succeed — and I want to see it succeed — it's gonna have to open its door to Independents," he said. "There are probably more Independents in this country than Democrats or Republicans. It's got to open its doors to working people and to young people, create a grassroots party. That's what we need."
► In today's NY times — Jon Ossoff, a Democrat, narrowly misses outright win in Georgia House race — Making his first bid for elective office, he narrowly missed winning outright in a heavily conservative House district, throwing a scare into Republicans in a special congressional election that was seen as an early referendum on President Trump.
► In the Washington Post — Why the GOP shouldn't be celebrating a runoff in Georgia's 6th District (by Jennifer Rubin) — Imagine if a Republican won 48 percent of the vote in an 18-candidate race, say, in a New York City congressional district when the Democrats spent a boatload of money and President Barack Obama weighed in. Democrats would not be "breathing easy;" they'd be popping antacids.
---
NATIONAL
► From the Hollywood Reporter — Writers Guild edges closer to strike with talks suspended until next week — A one-week postponement will leave just five more days of talks before a threatened walkout.
---
TODAY'S MUST-READ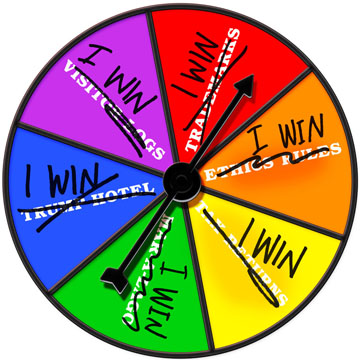 ► In today's NY Times — Trump plays by his own rules (or no rules) (editorial) — The president and his administration are fostering a culture of self-enrichment and self-dealing in the White House. The result is an almost total absence of openness in an administration that is already teeming with real and potential conflicts and that has decided it can grant secret waivers to ethics requirements. The other is a culture of self-enrichment and self-dealing in which corporate CEOs, lobbyists and foreign officials seeking the first family's favor hold parties at Mar-a-Lago and at the Trump International Hotel in Washington, a couple of blocks from the White House. One has to ask when this seamless meshing of statesmanship and merchandising will stop, if ever.
Americans who expect that their government will stop this grotesque flouting of rules and traditional norms have been deeply disappointed. The Office of Government Ethics received 39,105 public queries and complaints about Trump administration ethics over the past six months, compared with 733 during the same period eight years earlier at the start of the Obama administration. But the office has no investigative or subpoena power: Its authority rests on the willingness of a president to take transparency in public service seriously, which this president does not.
---
The Stand posts links to Washington state and national news of interest every weekday morning by 10 a.m.
Short URL: https://www.thestand.org/?p=57120
Posted by
David Groves
on Apr 19 2017. Filed under
DAILY LINKS
. You can follow any responses to this entry through the
RSS 2.0
. Both comments and pings are currently closed.