Mark your calendars for MayWorks 2017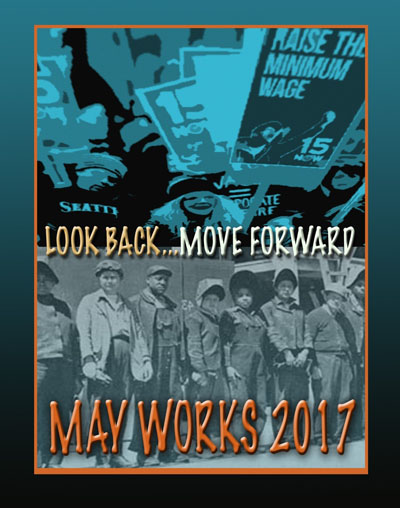 MayWorks is an annual month-long celebration of workers' culture and history. While Canada has carried the tradition for years — in Toronto, Winnipeg, Montreal, Vancouver — the Washington State Labor Council, AFL-CIO first organized MayWorks in 2012 to commemorate the 200th anniversary of the 1812 Bread and Roses March. Since 2012, MayWorks events have popped up around the state every year — celebrating our past and present cultural lives. We need bread, and roses, too!
The WSLC is proud each year to help organize and promote MayWorks exhibits, concerts, movie nights, workshops, and other events to celebrate the union movement's critical contribution to the production of arts and culture.
Here is what's happening for Mayworks 2017.
(Visit MayWorksWA.org the the coming days as additional events that continue to be added!)
---
APRIL 30 in SEATTLE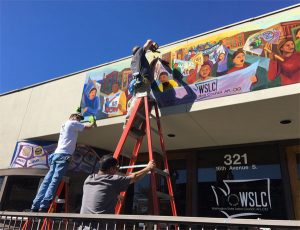 The Washington State Labor Council, AFL-CIO invites all to join local dignitaries, union and community leaders, and neighbors for the Jackson Street Workers Mural's Unveiling Ceremony & Block Party from 1 to 4 p.m. Sunday, April 30 at 321 16th Ave. S. in Seattle. Three years in the making, this historical mural depicts stories of the everyday workers who built Washington state and continue to fight for social justice. Join the WSLC on April to celebrate the mural's completion and installation. There will be music and entertainment, plus an open mic for artistic and musical performances. Get more details here or RSVP at the Facebook event page.
---
MAY 1 in SEATTLE and YAKIMA
May Day Marches and performances — In Seattle, the 18th Annual May Day March for Workers and Immigrant Rights will begin on Monday, May 1 with a rally at Judkins Park, 2150 S. Norman St., at 11 a.m. and the march begins there at 1 p.m. At 3:30-4 p.m., upon the march's arrival at Seattle Center, cultural performances are planned at Fisher Green and are scheduled to conclude at 6 p.m. Get details.
In Yakima, the March for Immigrants begins at noon at Miller Park, 513 N. 3rd St., and will proceed through downtown before returning to its starting point at Miller Park, where there will be a program with speakers and entertainment. The event will conclude at 4 p.m. Get details.
---
MAY 6 in TACOMA
Join the Pierce County Central Labor Council for its annual Walking Tour of Tacoma's Labor History. Enjoy the narrative of local and state labor history from Brian Kamen, Patty Rose, Ross Rieder and Dr. Ron Magden. It will be from 1 to 3 p.m. on Saturday, May 6. Meet at Fireman's Hall, 803 A St. in Tacoma, at 1 p.m. This tour is very accessible and on the flat. Get details and RSVP at the Facebook event page. And after the tour make plans to join the PCCLC at…

---
MAY 6 in FIFE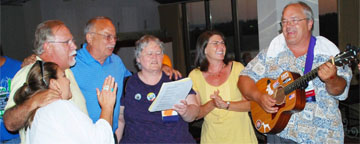 The 2017 Labor Hootenanny will be from 6 to 8 p.m. on Saturday, May 6 at the ILWU Local 23 Hall, 1306 Alexander Ave. E. in Fife. Join the Pierce County Central Labor Council as they sing the songs of the Labor Movement, from "Hold the Fort" to "Solidarity Forever." Songbooks will be provided, plus you are welcome to bring suggestions of your own labor-related tunes. Bring your acoustic musical instruments and your voice and join in the fun! Beverages and some light refreshments will be provided. Get details and RSVP at the Facebook event page.
---
MAY 11 in SEATTLE
Join Friends of Waterfront Seattle for History with HistoryLink, a panel discussion on the history of labor on the Seattle waterfront with a focus on cannery labor led by Jennifer Ott of HistoryLink, from 5:30 to 7 p.m. on Thursday, May 11 at Waterfront Space, 1400 Western Ave. in Seattle. This is a free community event open to all with requested RSVP. Get details.
---
MAY 13 in SEATTLE
The Coalition of Black Trade Unionists will host a free screening of the film 13th, Ava DuVernay's extraordinary and galvanizing documentary that refers to the 13th Amendment to the Constitution, which reads "Neither slavery nor involuntary servitude, except as a punishment for crime whereof the party shall have been duly convicted, shall exist within the United States." The screening will be at 7 p.m. at the Washington State Labor Council hall, 321 16th Ave. S. in Seattle. Here's an event flier and here's the film's trailer:
---
MAY 17 in SEATTLE
"Rosie the Riveter" Yesterday and Today: Washington Women in the Trades will begin at 6:30 p.m. Wednesday, May 17 at the MOHAI History Café (South Lake Cafe at MOHAI), 860 Terry Ave. N. in Seattle. Hear the personal stories of women who have led the way in breaking barriers for female workers in Washington. WSLC Secretary Treasurer Lynne Dodson will moderate. Free and open to the public. Get details.
---
MAY 21 in SEATTLE
Join UNITE HERE Local 8 from 1 to 5 p.m. at the Seattle Labor Temple, 2800 1st Ave., on Sunday, May 21 for Storytelling to Build Power, a community training. This training is for Local 8 members as well as anyone who wants to join them in building a movement of workers, students and activists fighting together for justice, and will specifically focus on the power of storytelling as a tool in strengthening our organizing and communities. Space is limited! Email Caitlin or call 219-484-1799 for details or to RSVP. Get details.
---
MAY 25 in SEATTLE
"Beyond $15: Lessons from the Historic SeaTac Campaign:" In 2013, SeaTac workers made history by winning the first $15 minimum wage initiative in the country. Jonathan Rosenblum, the SeaTac campaign director, has written a book about it: "Beyond $15: Immigrant Workers, Faith Activists, and the Revival of the Labor Movement" (Beacon Press). Come check out an author presentation and discussion of how we can build power for workers in Seattle, in Washington state, and beyond. It will be from 6 to 7:30 p.m. on Thursday, May 25 at the Capitol Hill Branch of the Seattle Public Library, 425 Harvard Ave. East. Get details.
---
MAY 26-28 in VANCOUVER, B.C.

The Pacific Northwest Labor History Association's 2017 conference, "Echoes of the 1917 Russian Revolution: Decades of Radicalism and Red Scares in the Labour Movements of the Pacific Northwest," will be May 26-28 at the University of British Columbia in Vancouver, B.C. Co-sponsored by the B.C. Labour Heritage Centre, other topics will include an Oral History workshop (Bailey Garden), women's labour history in multimedia and song (The Re:Sisters), 1930s theatre presentation with audience participation (Trish Everett-Kabut), Teaching labour history in BC (Wayne Axford), "The People's Museum" (Cumberland Museum and Archives)….and more! Get details.

---
MAY 26-29 in SEATTLE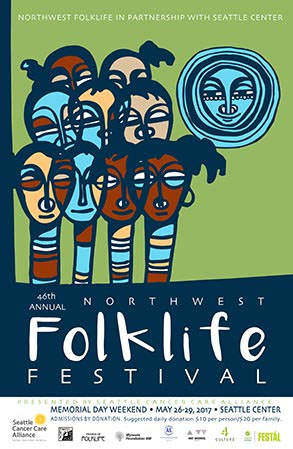 The 2017 Northwest Folklife Festival will be Friday, May 26 to Monday, May 29 at the Seattle Center. This is a place to learn, to dance, to play, to try something new, and to discover arts and cultures that inspire celebration of one another and our big neighborhood. As always, there will be a Labor Showcase, this year featuring immigrant stories and music celebrating the solidarity of the union movement. Get details. The festival schedule (when it is available) will be posted here.
---
Check back for MORE!
More events are being added to this MayWorks schedule as the details get ironed out, so check back for updates. If you have an event you would like to promote in conjunction with MayWorks, please email us the details and we'll add it to this schedule.
Short URL: https://www.thestand.org/?p=57354
Posted by
David Groves
on Apr 27 2017. Filed under
W.S.L.C.
. You can follow any responses to this entry through the
RSS 2.0
. Both comments and pings are currently closed.