GOP's blind rush, Boeing apologists weigh in, Unions Now…
Thursday, May 4, 2017
---
TRUMPCARE
► In today's Washington Post — House Republicans say they have votes to pass controversial health-care bill today — The flagging GOP effort to reshape the nation's health-care system picked up steam as leaders tried to address concerns about people with preexisting medical conditions. House Majority Leader Kevin McCarthy said Republicans had the votes to pass the bill. But independent analysts remained skeptical that the new proposal would fully address the needs of at-risk patients who currently receive coverage guarantees under the Affordable Care Act.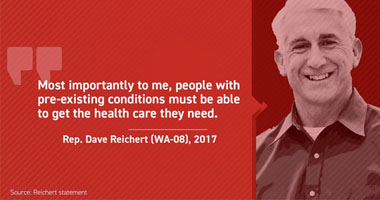 ALSO at The Stand — WILL DAVE CAVE? — House Republican leaders say they will vote TODAY on their long-stalled bill to repeal the ACA and replace it with legislation that will result in more than 23 million Americans losing their health insurance and removes protections for people with pre-existing conditions. And Rep. Dave Reichert (R-8th), who has said he is undecided and has faced intense lobbying — including from President Trump, who is desperate for a political victory on "repealing Obamacare" — could literally be the deciding vote! Please call your U.S. Representative RIGHT NOW toll-free at 866-829-3298 — especially if it's Dave Reichert — and tell him or her to vote "NO" on the new version of the American Health Care Act (AHCA), also known as Trumpcare.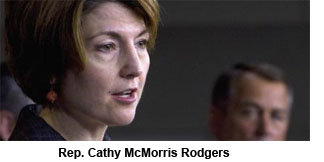 ► In today's Spokesman-Review — McMorris Rodgers walking back on promise to protect people with pre-existing conditions (by Shawn Vestal) — She called it a "top priority." A "fundamental principle." She promised it in big letters on the House Republicans' web site: "We Will Protect People with Pre-Existing Conditions." She co-sponsored the Pre-Existing Conditions Act of 2017 in the U.S. House. She said, in a post on Facebook, "The Pre-Existing Conditions Protection Act, which I've co-sponsored, will ensure those with pre-existing conditions have access to health care, and that insurance companies can't raise rates based on an individual's health." In a February news release, she said, "With this bill, we are giving individuals with pre-existing conditions the peace of mind that they will have protections beyond Obamacare." So, what's the status of Rep. Cathy McMorris Rodgers' top priority? Her fundamental principle? Not so top. Not that fundamental.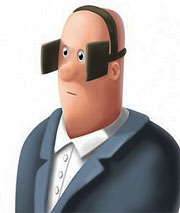 ► From The Hill — GOP rushing to vote on healthcare without analysis of changes — House Republican leadership's decision to press ahead with the floor action means lawmakers will be voting on the bill without updated figures from their nonpartisan scorekeeper on how many people would lose coverage under the bill or how much it would cost… The lack of analysis comes despite years of GOP attacks on Democrats for what Republicans argued was a rushed process that rammed through ObamaCare in 2010.
► From TPM — Confusion reigns as House lurches toward ACA repeal vote — Even as rumors of a House vote as early as today to repeal the Affordable Care Act rippled around the Capitol Wednesday afternoon, lawmakers told TPM they have not yet seen the final text of the bill, will not wait for the Congressional Budget Office to analyze it, and do not know if there are enough Republican supporters to ensure its passage.
► From The Hill — GOP's ACA repeal plan could remove protections for people on employer health plans: report — Those who get insurance from their employers could lose protections limiting the amount out-of-pocket necessary for catastrophic illnesses under one provision, according to the Wall Street Journal.
► Robert Reich on the GOP's health care bill: "This is lunacy. We must stand up to it."
---
THIS WASHINGTON

► In today's (Everett) Herald — Aerospace tax breaks aid our employers, community (by Snohomish County Executive Dave Somers and Umbra CEO Leonardo Baldacinni) — The incentives are also a good deal for taxpayers and workers… (even though) recent market pressures have unfortunately forced Boeing to reduce its employment numbers companywide, putting some of our friends and neighbors out of work.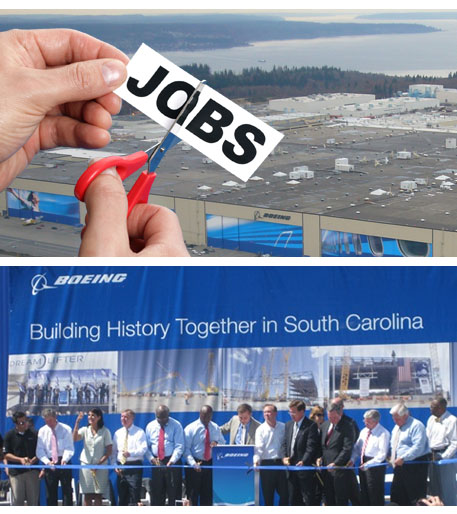 EDITOR'S NOTE — But not in South Carolina, Mr. Executives. Or in many other states and countries where Boeing jobs are being transferred. Meanwhile, Boeing pays state taxes at a rate far lower than other manufacturers and small businesses, shifting the tax burden to the rest of us at a time that state lawmakers are struggling to fund public schools. Washington taxpayers are literally subsidizing the exporting of good jobs out of state because our political leaders are afraid to insist on a little accountability for special tax breaks — like other states do.
ALSO at The Stand — Amid Boeing job cuts, legislators eye tax break accountability
► In today's (Everett) Herald — Lawmakers should tie Boeing tax breaks to jobs (letter to the editor) — Have you ever noticed how, right after issuing hundreds of employees layoff notices, the Boeing Co. takes out a multiple-page ad in The Herald, proclaiming all of the wonderful things they do for our community? Anyone out there still buying this?
► In the (Longview) Daily News — Counties still going after property tax reform in special session — HB 1764 (and its Senate companion, SB 5772) seek to lift a cap in place since 2001 that limits county-collected property tax increases to 1% per year. The proposal would instead change the cap to a "floating" number driven by inflation and population growth, and approved by local governments.
► In today's (Everett) Herald — AG seeks public advice on forcing Trump to show his taxes — Some Democratic lawmakers want to know if they can legally keep President Trump's name off the ballot in Washington in 2020 if he doesn't release his tax returns. If not, they want to know if they can prevent presidential candidates from receiving any of the state's electoral votes if they haven't made those tax records public.
---
LOCAL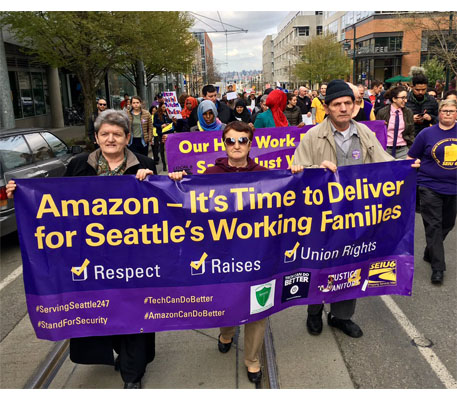 ► From The Stranger — Security officers claim employer retaliated against them for May Day speech about Amazon working conditions — After participating in the May Day press conference, contract security officers Abdinasir Elmi and Betiel Desta discovered that they were removed from Security Industry Specialists' company scheduling system, SEIU announced. "[This] is a shocking amount of retaliation," said an SEIU spokesperson.
► In today's (Everett) Herald — Aerospace suppliers spending huge sums to boost capacity — With airplane makers cranking up production and military spending on the rise, there is plenty of work for Cobalt and other aerospace suppliers. To win it, suppliers are under intense pressure to keep costs down, quality high and deliveries on time.
► In today's (Everett) Herald — Controversial aerospace exec to run for Mukilteo City Council — Peter Zieve, the president of a major aerospace firm who led a campaign last year to try to prevent a mosque from being built in Mukilteo, says he wants to run for City Council.
---
THAT WASHINGTON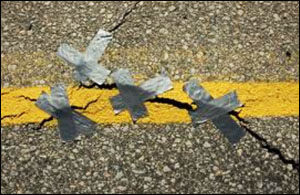 ► From The Hill — GOP flashes stop sign at Trump on gas tax — Republicans are balking over President Trump's openness to raising the federal gas tax to help pay for U.S. roads and highways — a politically fraught issue that lawmakers have avoided for years. The Highway Trust Fund is financed by a federal fuel tax of 18.4 cents per gallon of gasoline and 24.4 cents per gallon of diesel fuel. The taxes have been frozen since 1993, while their buying power has been sapped by improvements in car fuel efficiency in recent years.
EDITOR'S NOTE — "Infrastructure schminfrastructure. Jobs schmobs."
► In today's NY Times — James Comey 'mildly nauseous' over idea he swayed the election — The F.B.I. director spoke publicly for the first time about his decisions about the Hillary Clinton email inquiry in the days before the election.
EDITOR'S NOTE — Literally putting it mildly.
---
NATIONAL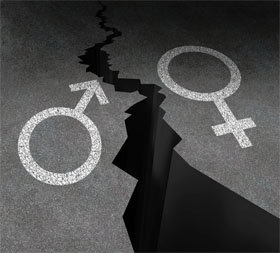 ► From HuffPost — Women make less than men straight out of college. And it's getting worse. — In their first four years out of school, female college graduates make $17.88 an hour on average, while their male peers earn $20.87, according to a new Economic Policy Institute report.Put another way, young women make 86 percent of what men earn. That's slightly better than in 2015, when the gap was 83 percent, but far worse than in 2000, when female college grads made 91 percent of what their male peers earned.
► In today's Washington Post — Wells Fargo tellers targeted undocumented immigrants on street corners, lawsuit claims — The allegations are the latest in a scandal that continues to engulf the financial firm, which was forced to pay $185 million following revelations that more than 2 million accounts were opened for customers without their knowledge.
PREVIOUSLY at The Stand — AFSCME, IBT decry right-wing funding by Wells Fargo exec (Feb. 17, 2016)
► In today's NY Times — Companies compete but won't let their workers do the same (by Orly Lobel) — Once reserved for upper management, noncompetes now cover one-sixth of the nation's workers, restricting choice and suppressing wages.
---
TODAY'S MUST-READ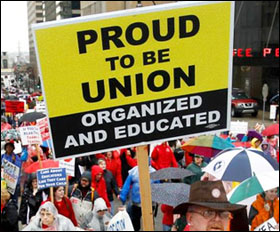 ► From Vice — America needs unions now more than ever (by Matt Taylor) — Since Election Day, America has seen massive protest after massive protest against Donald Trump. Labor organizations and their members have been involved in all of them, of course, occasionally doing some of the heavy lifting on the ground. Still, it's striking that most of the larger protests so far in the Trump Era have not put economic inequality front and center…
The goal of a union isn't to shame any particular boss or get a particular politician out of office, or even support a political party. It's to improve the daily lives of workers. Trump will (actually) be gone in four or eight years, and there will still be battles for unions to fight. Unions probably won't determine the fate of the Resistance, but if they can figure out how to make themselves more relevant to this presidency, they might shape what kind of country we all live in.
---
The Stand posts links to Washington state and national news of interest every weekday morning by 10 a.m.
Short URL: https://www.thestand.org/?p=57561
Posted by
David Groves
on May 4 2017. Filed under
DAILY LINKS
. You can follow any responses to this entry through the
RSS 2.0
. Both comments and pings are currently closed.