Hasegawa's in, ILWU's port talks, the end of Medicaid…
Tuesday, May 9, 2017
---
THIS WASHINGTON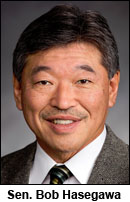 ► In today's The Stranger — Bob Hasegawa is running for Seattle mayor — Add State Senator Bob Hasegawa to the growing list of people running for mayor of Seattle as Ed Murray faces allegations of sexual abuse and mulls ending his re-election bid. Hasegawa is a former UPS driver and union official and the son of Japanese-American parents who were incarcerated during World War II. In a statement, the campaign said he believes his experience "makes him the strongest candidate to stand toe-to-toe against an increasingly hostile federal government." Hasegawa will make a municipal bank "the lynchpin for his economic justice agenda."
► In today's Seattle Times — Another challenger emerges as rumors persist that Seattle Mayor Ed Murray will leave race — The flurry of news in the city's once-sleepy race came a month after Murray was sued and a week before the period during which candidates must officially file.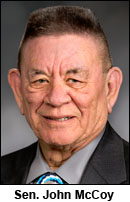 ► In the (Everett) Herald — Republican state lawmakers using Trump tactics on state budget (by Sen. John McCoy) — Like Trump at the federal level, my GOP colleagues have been insisting on a state budget that includes cuts to popular programs including women's health care, homeless assistance, toxic cleanup programs and more. Our biggest divide is over K-12 education, which affects 1.1 million students and their families in our state. Lawmakers are under a Supreme Court order to amply fund our schools, and the deadline is up. On this issue, Senate Republican have employed another favorite Trump tool: alternative facts.
► In today's News Tribune — $65 million on the line with latest Western State review — Inspectors are looking for improvements in safety and quality of care problems that put the hospital at risk of losing federal money. The 800-bed psychiatric facility in Lakewood has struggled with the issues for years.
► In today's Spokesman-Review — State Patrol agrees to pay veteran employees $13 million in back wages — The Washington State Patrol has agreed to pay up to $13 million in back wages to military veterans in their employ who didn't receive credit for their service in hiring and promotional decisions.
► From KUOW — Washington's first tech apprenticeship connects employers to workers — Apprenticeships are common in sectors like building and manufacturing, but now Washington state is trying to apply the model to the tech industry. The first cohort of 41 apprentices were pinned by Governor Jay Inslee in a ceremony Friday honoring the state's only registered tech apprenticeship program called Apprenti.
---
LOCAL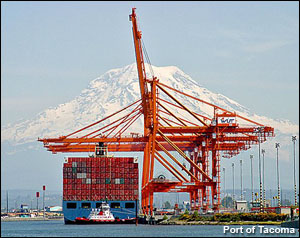 ► In today's News Tribune — West Coast ports have a lot riding on stable labor relations (by Bill Virgin) — Delegates to a meeting of the International Longshore and Warehouse Union have approved a proposal to ask members about extending the current five-year agreement with the Pacific Maritime Association for another three years, from 2019 to 2022.
► From AP — Northwest Immigrant Rights Project sues Justice Department to keep giving legal help — The U.S. Justice Department has ordered a Seattle-based immigrant rights group to halt a large part of the work it does to advise immigrants of their legal rights and help them fill out paperwork – a demand that the organization says would force thousands of people to go without legal help in deportation cases.
ALSO at The Stand — Immigrant rights group sues DOJ after move to block legal aid
► In today's Kitsap Sun — Superintendents' letter on education funding riles unions — The letter from Olympic Educational Service District 114 spells out a platform calling (in part) for limits on collective bargaining for some non-classroom teaching activities that the superintendents say should be considered part of basic education. Kirstin Nicholson, president of the Central Kitsap Education Association, said her members are opposed to limiting collective bargaining rights in any way. She found the letter "alarming."
► In today's Peninsula Daily News — Port Angeles paraeducators calling for pay increase — Port Angeles School District paraeducators have been at a standstill with the district throughout the school year over what their wage should be. Paraeducators, who have a base pay of $14.87 per hour, have been without a contract since the end of August, said Theresa Rothweiler, president of the Port Angeles Paraeducators Association.
► In the NW Labor Press — Cafeteria workers unionize at Lewis & Clark College — Bon Appétit Management Company, the contractor that runs the cafeteria at Lewis & Clark College in Southwest Portland, voluntarily agreed to recognize Seattle-headquartered UNITE HERE Local 8 there after a majority of workers signed union cards.
► In today's News Tribune — At 92, nation's oldest nurse still working in Tacoma General Hospital — Florence "SeeSee" Rigney, the country's oldest working registered nurse, turned 92 Monday. She celebrated by going to work at Tacoma General Hospital.
---
TRUMPCARE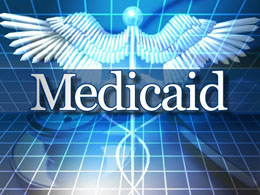 ► From TPM — Will the Republican Senate end Medicaid as we know it? — Republican governors, hospitals, insurers and patient groups begged Republicans not to pass a bill that would gut Medicaid. House Republicans voted last week to do so anyway. The last round of negotiations that secured the GOP's Obamacare repeal its narrow passage in the House focused on its protections — or lack thereof — for people with pre-existing conditions. But at the heart of the bill is its nearly trillion dollar cut in federal funding to Medicaid, a program that has long been in the crosshairs of Republicans. The provisions in the legislation, the American Health Care Act, to phase out the Medicaid expansion and to overhaul the traditional Medicaid program stand to remake the American health care system in a way that will put states in a financial pinch and leave the country's most vulnerable exposed to a lapse in care.
ALSO at The Stand — Unions to McMorris Rodgers: Shame on you
► In today's Washington Post — Iowa congressman walks out of a TV interview and into an angry town hall meeting — Rep. Rod Blum, a member of the conservative House Freedom Caucus, struggled to explain his vote to support the American Health Care Act to a pre-screened audience.
► In today's Columbian — Rep. Herrera Beutler to hold telephone town hall Tuesday — It will be 6 p.m. Tuesday. Call 1-877-229-8493, pass number 116365.
EDITOR'S NOTE — Be sure to thank her for her principled vote against the AHCA, but call her out on her vote to end the 40-hour workweek.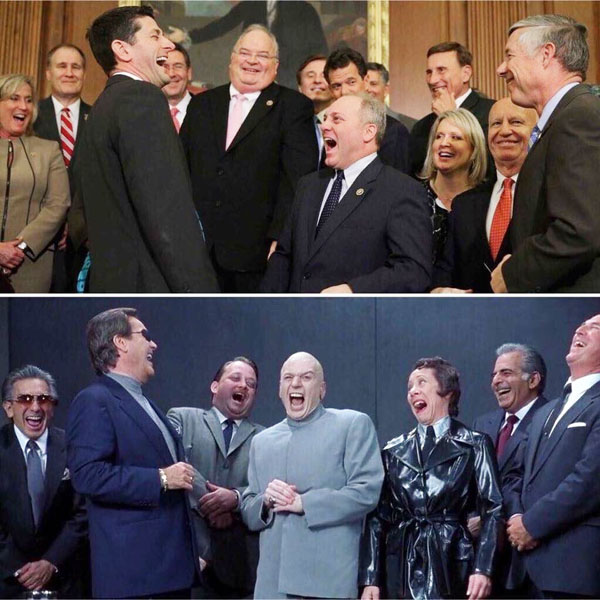 ► From The Onion — Tips for not condemning millions of people to sickness and death — #2: Do your research: Find out if any of the people you are paid to represent are human beings who use health care… #5: Check whether or not a single medical professional, patient advocate, economist, or literally anyone familiar with the subject in question supports the legislation you're about to vote in favor of… #7: Acknowledge that serving in public office sometimes means putting aside your personal beliefs about how all poor people deserve to die in a wet ditch.
---
THAT WASHINGTON
► In the Minneapolis Star-Tribune — Trump welcomes some unions over others at the White House — Trump has put out the welcome mat for the nation's construction trades, with whom he's had relationships during decades of building office towers and hotels. Also invited in have been auto, steel and coal workers who backed him during the 2016 election. But there's been no White House invitation for other unions.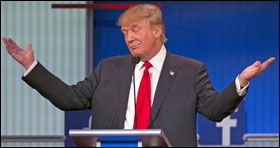 ► In today's NY Times — Sally Yates tells senators she warned Trump about Michael Flynn — Less than a week into the Trump administration, Sally Yates, the acting attorney general, hurried to the White House with an urgent concern. The president's national security adviser, she said, had lied to the vice president about his Russian contacts and was vulnerable to blackmail by Moscow. But President Trump did not immediately fire the adviser, Michael Flynn, over the apparent lie or the susceptibility to blackmail. Instead, Flynn remained in office for 18 more days. Only after the news of his false statements broke publicly did he lose his job on Feb. 13.
EDITOR'S NOTE — As officials from Trump's campaign were communicating with the Russians amid their intervention in the U.S. election, here's what Michael Flynn was saying…
Lock him up.
► In today's Washington Post — U.S. is poised to ramp up military in Afghanistan — The Trump administration is considering a major shift in strategy in Afghanistan, including an increase of at least 3,000 troops, that would effectively put the United States back on a war footing with the Taliban.
► In today's NY Times — The business case for the Paris Climate Accord (by George Shultz and Ted Halsted) — Remaining in the treaty would spur new investment, strengthen American competitiveness, create jobs and ensure access to global markets.
► In today's NY Times — Kushner family stands to gain from visa rules in Trump's first major law — A marketing campaign by Kushner Companies, tied to a visa program recently renewed by the president, has raised more ethical quandaries in Washington.
► Also in today's NY Times — The Kushners and their Golden Visas (editorial) — The president's in-laws promise Chinese investors green cards. The real scandal is that it's legal.
► In today's NY Times — He wanted to close the Export-Import Bank. Now he may run it. — Less than two years ago, Scott Garrett, then a Republican congressman from New Jersey, took to the House floor and laced into his colleagues for resurrecting an institution that "embodies the corruption of the free enterprise system." The institution he derided was the Export-Import Bank. He could soon be running it.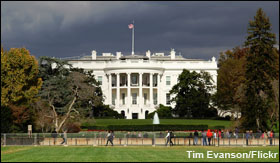 ► From Politico — When CEOs visit the White House, their companies profit — When the the Trump administration announced its plans to stop sharing the White House visitor logs — cutting off the public's ability to know the people, groups and interests with access to the president's advisers — they cited "grave national security risks and privacy concerns" as the rationale. We agree there are major risks associated with the documents' release — political ones. In the first study of its kind, we used the Obama administration's White House visitor logs from 2009–2015 to identify 2,286 meetings between federal government officials and corporate executives from S&P 1500 firms. We found that money can buy you greater access to the White House, and that for corporations, that access translated into big returns on Wall Street.
► And this shocker from Politico — Who has Trump's ear? Often rich, white, Republican men.
---
NATIONAL
► In today's LA Times —  Hollywood guilds flex their muscle as union influence declines nationwide — Hollywood remains a bastion of organized labor, with unions controlling nearly every aspect of production, including the director who calls "action" and the truck drivers who transport equipment to and from sets. Their power can bring the film and TV industry to a standstill.
► From NPR — Restaurants with low Yelp ratings suffer under higher minimum wages — Minimum wage increases in the San Francisco Bay Area have had an impact on the local restaurant industry, according to a study released by Harvard Business School. Restaurants with low or middling Yelp reviews have become more likely to go out of business.
---
TODAY'S MUST-READ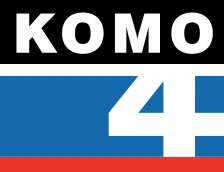 ► With today's news that Sinclair could soon control both KOMO and KCPQ, two of Seattle four local TV stations, this is a MUST-READ in today's Washington Post — A TV company warned its viewers about the media's 'fake news.' Now it's about to take over some of the nation's biggest stations. — Two months before Monday's announcement that Sinclair Broadcast Group would pay $3.9 billion for Tribune Media and add to its dominance as the nation's largest owner of local TV stations, a top executive at Sinclair beamed a short commentary piece to many of the company's 173 stations. In the segment, which looks like it belongs in a newscast, Sinclair vice president for news Scott Livingston stands before a wall of video monitors and warns that "some members of the national media are using their platforms to push their own personal bias and agenda to control exactly what people think." He accuses the national media of publishing "fake news stories" — a direct echo of President Trump's frequent complaint — and then asks viewers to visit the station's website to share "content concerns."
Sinclair appears unique among broadcasters for what some analysts see as a political slant to its programming — from news coverage and must-runs sent by headquarters critical of Democrats to last month's hiring of Boris Epshteyn, a former Trump White House official, as Sinclair's chief political analyst. In Seattle, where Sinclair owns KOMO-TV, some newsroom staffers complained to their union that the must-run spot interfered with their jobs as journalists.
"The must-runs look like they are part of the news," David Twedell, business manager of a local camera workers' union in Seattle, said. "And they're clearly not."
---
The Stand posts links to Washington state and national news of interest every weekday morning by 10 a.m.
Short URL: https://www.thestand.org/?p=57696
Posted by
David Groves
on May 9 2017. Filed under
DAILY LINKS
. You can follow any responses to this entry through the
RSS 2.0
. Both comments and pings are currently closed.