Tick tock Trump, Jessyn & Jenny, we're #1, shaken and stirred…
Friday, May 12, 2017
---
COUNTDOWN TO IMPEACHMENT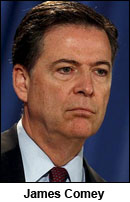 ► In today's NY Times — Trump warns Comey against leaks to the news media — President Trump warned James Comey, the former FBI director, against leaking anything negative about the president. He "better hope that there are no 'tapes' of our conversations," Trump tweeted.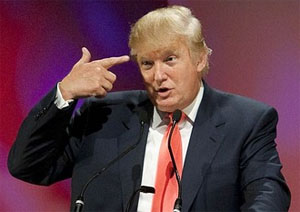 EDITOR'S NOTE — This is important because obstruction of justice is an impeachable offense, but the key is to establish Trump's state of mind when he fired Comey. If it can be shown that Trump wanted to stop/hinder the investigation of his ties to Russian election meddling, the president is guilty of obstruction of justice. Trump's state of mind (such as it is) can be established by his conversations with Comey, which may be why he wants to muzzle him. But then again, maybe Trump will simply talk his own damn way into impeachment…
► Prom Politico — Trump's attempt to fix the Comey crisis made it worse — Speaking to NBC's Lester Holt, Trump said he'd planned to fire James Comey "regardless" of whether the Department of Justice recommended it, undermining the claims made by his spokesman, vice president and every other senior aide to the contrary.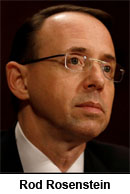 ► MUST-READ from Lawfare — Et tu, Rod? Why the Deputy Attorney General must resign (by Benjamin Wittes) — Trump's idea of correcting the record was to say publicly exactly the thing about a law enforcement officer that makes his continued service in office impossible: That Trump had used Deputy Attorney General Rod Rosenstein as window dressing on a pre-cooked political decision to shut down an investigation involving himself. Once the president has said this about you — a law enforcement officer who works for him and who promised the Senate in confirmation hearings you would show independence — you have nothing left. These are the costs of working for Trump, and it took Rosenstein only two weeks to pay them. The only decent course now is to name a special prosecutor and then resign.
► In today's Washington Post — Trump's warning deepens doubts about his respect for the rule of law (analysis) — This saga, which the president just escalated in a big way, should be viewed through the prism of Trump's entire career. Threatening to release a secret tape of the FBI director, in addition to asking him if he is under investigation during what was essentially a job interview, would both fit with a pattern that suggests this president views the rule of law with disdain.
► In today's NY Times — In private meeting, Trump demanded Comey's loyalty — At a private dinner just after Trump took office, Comey demurred when asked to pledge his loyalty. Associates say Comey now believes it ultimately played a part in his dismissal.
► In today's Washington Post — Trump threatens to cancel White House press briefings because it is not possible to have 'perfect accuracy' — Trump's comments come after his description of his decision to fire FBI Director James Comey flatly contradicted the accounts provided earlier by White House officials.
EDITOR'S NOTE — Step 8 in Naomi Klein's "Fascist America, in 10 Easy Steps."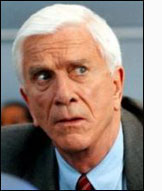 ► In today's News Tribune — From sheriff to FBI director? Dave Reichert's name reportedly floated for top cop job — U.S. Rep. Dave Reichert (R-Auburn) is one of many people who might be being considered to become the new FBI director. Reichert's office said he hasn't been contacted about replacing Comey but Reichert is open to the idea.
► In today's Olympian — Washington state attorney general joins call for independent investigation on Russia
► In today's Seattle Times — Congress must appoint an independent prosecutor to investigate Trump (editorial) — Congress must act quickly to appoint a special prosecutor to continue investigating the Trump administration's ties to the Russian government, after the president fired FBI Director James Comey over his probe of Russian interference in the election. President Donald Trump's action sent shock waves across the nation, while the administration's justification for the firing wilts under media scrutiny. Leaders and regular citizens are dubious as to why the president fired Comey right after the FBI director requested more money to expand his department's probe into Russia influence. The administration is spinning the termination as a way to clean up the FBI. Rather, it appears to be a cynical way to halt an embarrassing investigation that could turn into a scandal.
---
LOCAL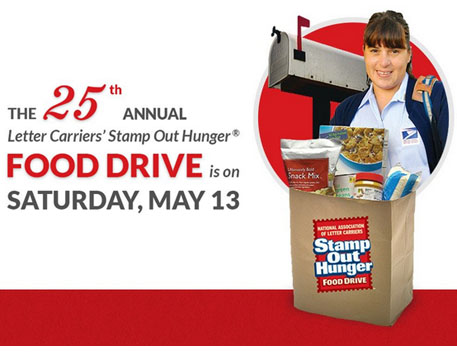 ► In today's Bellingham Herald — If you want to help the hungry, leave food by mailbox Saturday for annual drive — It's time to pick up a few more items at the grocery store or sort through your kitchen pantry for the annual Stamp Out Hunger Food Drive.
ALSO at The Stand — Get ready for Letter Carriers' Food Drive this Saturday
► In today's Tri-City Herald — Hole in radioactive waste tunnel filled, difficult work ahead — Hanford crews finished filling a breach in a radioactive waste storage and disposal tunnel at the nuclear reservation late Wednesday night, ending the immediate threat of a release of radioactive contamination into the atmosphere.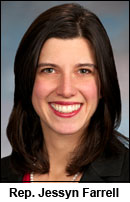 ► In today's Seattle Times — State Rep. Jessyn Farrell joins crowded race for Seattle mayor — Jessyn Farrell, a Democrat who represents northeast Seattle in the state House, announced she is in the running to become Seattle's next mayor. Elected to the Legislature in 2012, Farrell is former executive director of the advocacy group Transportation Choices Coalition.
► In today's Seattle Times — Jenny Durkan, former U.S. attorney, to run for Seattle mayor
► In today's Yakima H-R — Threats of deportation weigh heavily on some domestic violence victims — The nation's most prominent domestic violence hotline reports a sharp increase in calls from abuse victims struggling with issues related to their immigration status.
---
THIS WASHINGTON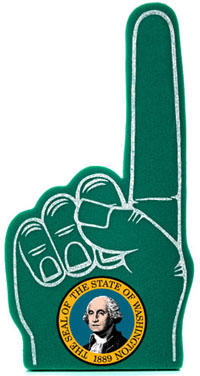 ► In today's Seattle Times — Washington state saw the hottest GDP growth in U.S. last year (by Jon Talton) — Washington ranked high among the states and District of Columbia in growth of gross domestic product last year. State GDP adjusted for inflation here advanced 3.7 percent from 2015 to 2016, ranking No. 1. The information sector was a big contributor to Washington's growth at 1 percent, by far the biggest jump among the states. Retail trade, transportation and warehousing, health care, and professional, scientific and technical services also stood out in growth.
► PLUS THIS UPDATE from critical special-session negotiations for the biennial state budget that fully funds public education and state employee contracts, among other things… click here.
---
THAT WASHINGTON
► In today's NY Times — Attorney General orders tougher sentences, rolling back Obama policy — Attorney General Jeff Sessions ordered federal prosecutors late Thursday to pursue the toughest possible charges and sentences against crime suspects, reversing Obama administration efforts to ease penalties for some nonviolent drug violations.
ALSO at The Stand — As Sessions presses racist policy, see '13th' on Saturday in Seattle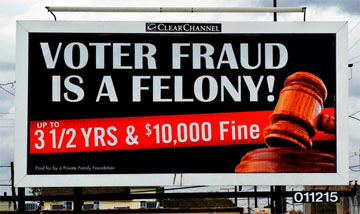 ► In today's Washington Post — Trump creates voter-fraud panel that critics label a 'sham' — President Trump on Thursday launched a long-promised commission on "election integrity," rekindling a controversy over the prevalence of voter fraud at U.S. polls. The commission, established by executive order, is the upshot of Trump's unsubstantiated claim shortly after taking office that more than 3 million undocumented immigrants illegally voted in November's election. White House aides said the scope of the commission, chaired by Vice President Pence, will reach beyond allegations of voter fraud to include voter suppression and other suspect election practices, and would include members of both major political parties.
► From Bloomberg — Two Republican senators oppose Trump's trade pick, cite NAFTA concerns — Republican senators John McCain and Ben Sasse said they plan to vote against President Donald Trump's pick for trade secretary, citing concerns about the nominee's protectionist rhetoric and the renegotiation of the NAFTA. Opposition from just one more Republican senator and all Democrats would be enough to block the confirmation of Robert Lighthizer.
► From Bloomberg — Congress mulls exempting home-care workers from wage laws — Republican lawmakers are preparing a bill that would restore home-care workers' exemption from federal wage laws, in case the labor secretary doesn't act.
---
NATIONAL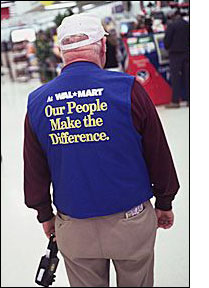 ► In the USA Today — Punching in past 65: Older-worker rate highest since 1962 — Retire by your mid-60s? How 1960s. More Americans age 65 and over are still punching the clock, and the last time the percentage was this high was when John F. Kennedy was in the White House. Last month, 19% of Americans age 65 and over were still working. That's the highest rate since 1962, and it caps a long trend higher since the figure bottomed out at 10% in 1985. As America grows older and as life expectancy gets longer, some workers keep heading to the office because they like it and still feel engaged. But many others are continuing to work for a simpler, darker reason: They can't afford not to.
► In today's Washington Post — I was arrested for protesting against sexual harassment at Yale. I won't stop. (by Julia Powers) — I went seven days without food. Then, on Thursday, May 11, I was arrested for an act of civil disobedience. I'm a teaching assistant at Yale, and I have fasted with my colleagues and gone to jail because our university — our employer — refuses to hear our voices. In February, we voted to unionize in elections held in eight departments. Since then, Yale has ignored its obligation to bargain with us in a bid to buy time until President Trump can seat new appointees to the National Labor Relations Board to void our votes.
► A related story from Bloomberg — Trump to nominate Kaplan, Emanuel for key NLRB spots — Business lobbyists and other stakeholders have been prodding the White House to fill the seats, a move they say will help to peel back various Obama administration labor initiatives. Marvin Kaplan and William Emanuel, if confirmed, would give the five-member board a Republican majority.
EDITOR'S NOTE — Maybe we should wait and let the next president decide, given that we have a lame duck in the final year of his presidency.
---
T.G.I.F.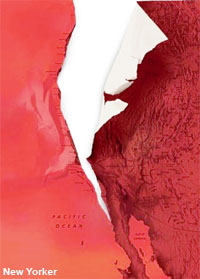 ► The Entire Staff of The Stand does not consider itself to be alarmist. However, inspired by the recent March for Science and curious about the recent spate of small earthquakes in the Puget Sound area, we decided to revisit the excellent July 2015 article in The New Yorker entitled "The Really Big One." Subhead: An earthquake will destroy a sizable portion of the coastal Northwest. The question is when.
Please take 15-20 minutes to read this article at some point during your Mother's Day weekend. You'll be fascinated to learn why there's about a one in three chance a devastating quake will hit the Pacific Northwest in the next 50 years. You'll discover that we are "overdue" given that the average time between major earthquakes in the Cascadia Subduction Zone is 243 years, and the last big one was in 1700, which was 317 years ago.
And you'll learn what to expect when it happens: shaking, electrical grid failure, collapsing structures (also learn which buildings are safest and which are among the million or so that FEMA calculates will collapse or be compromised), landslides, and then the real damage courtesy of The Wave. You'll discover whether you live in The Wave's Inundation Zone, and if you do, how much time you have to get to high ground and how you should do so. (Spoiler alert: "You run. You protect yourself, you don't turn around, you don't go back to save anybody. You run for your life.") And you'll discover what to expect in the weeks and months and years after it happens.
Truly a fascinating read. Which brings us to this week's TGIF video. Enjoy.
---
The Stand posts links to Washington state and national news of interest every weekday morning by 10 a.m.
Short URL: https://www.thestand.org/?p=57830
Posted by
David Groves
on May 12 2017. Filed under
DAILY LINKS
. You can follow any responses to this entry through the
RSS 2.0
. Both comments and pings are currently closed.