Manka in the 45th, complicit Republicans, CA vs. Trump…
Monday, May 15, 2017
---
THIS WASHINGTON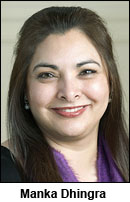 ► In the Seattle Times — Taxes vs. Trump: Eastside contest will determine power in Olympia — Control of Washington's divided Legislature hinges on the results this November of one Eastside Senate contest in the 45th Legislative District. Jinyoung Lee Englund could help Republicans keep the Senate — or Manka Dhingra could help Democrats capture the chamber.
ALSO at The Stand — WSLC endorses Dhingra, 3 others in special elections
---
LOCAL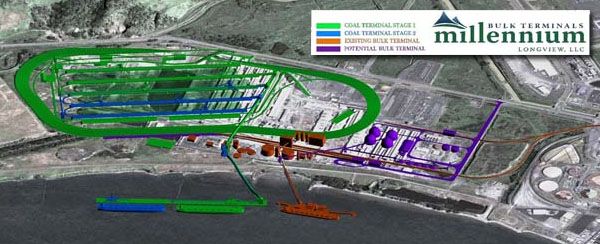 ► In the (Longview) Daily News — BNSF Railway challenges state's review of Longview coal dock — BNSF Railway has appealed a final environmental review of the Longview coal project, arguing the state and county overstated or miscalculated the risk of cancer for people living near the rail line to the terminal site.
ALSO at The Stand — Labor leaders urge Inslee to support two key projects
► In the Seattle Times — Shippers, union must work to prevent port slowdown (editorial) — The shippers and the union should do anything necessary to avoid another debacle, especially in Washington, the nation's most trade-dependent state.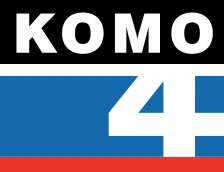 ► In the Seattle Times — Sinclair requires TV stations, including KOMO, to air segments that tilt to the right — Eight current and former KOMO employees describe a newsroom where some have chafed at Sinclair's programming directives, especially must-run pieces, which they view as too politically tilted and occasionally of poor quality.
► In today's Tri-City Herald — Workers who discovered break in Hanford radioactive waste tunnel praised — Hanford radiological control technicians who questioned some unusual radiation readings are being credited with discovering the breach in a waste storage tunnel at Hanford this week.
► In today's Columbian — Health care listening session set — Vancouver-Stand Indivisible, a group of volunteers, will be hosting a health care listening session in Vancouver from 6 to 9 p.m., May 17 at the Clark Public Utilities Meeting Room, 1200 Fort Vancouver Way.
---
COUNTDOWN TO IMPEACHMENT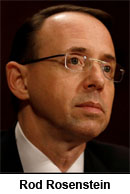 ► From The Hill — Rosenstein in hot seat after Comey firing — The White House's changing story on the role Rosenstein's memo played in Comey's firing has become central to the controversy and reportedly drove Rosenstein to threaten to resign — a claim he denies.
EDITOR'S NOTE — As effectively argued here, Trump's politicization of the Rosenstein memo has already cost the 27-year Justice Department veteran his credibility. His only recourse now is to name a special independent prosecutor and resign.
► From The Hill — Poll: 78 percent think Russian investigation should be independent — A growing 78 percent of Americans believe an independent commission or special prosecutor should handle the investigation into Russia's interference in the 2016 presidential election moving forward, according to a new NBC News/Wall Street Journal poll.
► In today's NY Times — Republican senators, pulling away from Trump, have 'a lot less fear of him' — Senate Republicans, increasingly unnerved by President Trump's volatility and unpopularity, are starting to show signs of breaking away from him as they try to forge a more traditional Republican agenda and protect their political fortunes.
► In today's Washington Post — Republicans who are complicit in Trump's abuse of power will soon have a big problem (by Greg Sargent) — Republicans have tolerated (or even embraced) Trump's actions in the Comey firing, and Trump would be reasonable in concluding that they have no intention of ever mounting a check on his power, no matter what he does. The question is whether a dramatic moment from Comey — in which he asserts that the president did, in fact, demand his loyalty — is enough to change this.
---
THAT WASHINGTON
► In today's Yakima H-R — Carol Newhouse, wife of U.S. Rep. Dan Newhouse, dead at 62 — Carol Newhouse, the wife of U.S. Rep. Dan Newhouse (R-4th), died Friday at a hospital in Seattle after a long battle with cancer.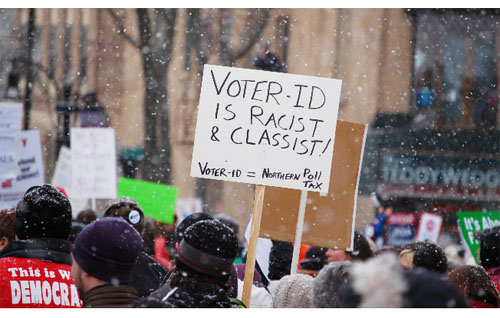 ► In today's NY Times — Strict North Carolina voter ID law Thwarted after Supreme Court rejects case — The Supreme Court on Monday announced that it would stay out of a fight over a restrictive North Carolina voting law. The move left in place a federal appeals court ruling that struck down key parts of the law as an unconstitutional effort to "target African Americans with almost surgical precision."
► From AP — In Wisconsin, voter ID law proved insurmountable for many voters — By one estimate, 300,000 eligible voters in the state lacked valid photo IDs heading into the election; it is unknown how many people did not vote because they didn't have proper identification. But it is not hard to find the Navy veteran whose out-of-state driver's license did not suffice, or the dying woman whose license had expired, or the recent graduate whose student ID was deficient — or Gladys Harris, who at 66 made her way to her polling place despite chronic lung disease and a torn ligament in her knee.
► From Bloomberg — Controversial Bannon ally in line to become top Labor Dept. diplomat — Curtis Ellis, a Trump adviser who accused Democrats of plotting the "liquidation of white, blue-collar working families," is a finalist to become the Labor Department's top diplomat. Ellis — who has written for controversial conservative publications and is aligned with White House adviser Steve Bannon — has emerged as one of two contenders to run the DOL's Bureau of International Labor Affairs.
► From HuffPost — Trump assures farmers immigration crackdown won't affect their workers — At a roundtable on farm labor at the White House last month, Trump said he did not want to create labor problems for farmers and would look into improving a program that brings in temporary agricultural workers on legal visas.
► From Politico — How Trump gets his fake news — White House chief of staff Reince Priebus issued a stern warning at a recent senior staff meeting: Quit trying to secretly slip stuff to President Trump. Aides sometimes slip him stories –including fake news — to press their advantage on policy; other times they do so to gain an edge in the seemingly endless Game of Thrones inside the West Wing.
► In today's NY Times — Young Black Democrats, eager to lead from the left, eye runs in 2018 — In states from Massachusetts to Florida, a phalanx of young black leaders in the Democratic Party is striding into some of the biggest elections of 2018, staking early claims on governorships and channeling the outcry of rank-and-file Democrats who favor all-out battle with Mr. Trump and increasingly question his legitimacy as president.
---
NATIONAL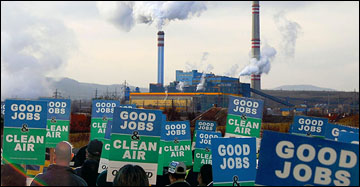 ► From Bloomberg — California leads U.S. economy, away from Trump — Whatever the president says, this state does the opposite. It's working. California is the chief reason America is the only developed economy to achieve record GDP growth since the financial crisis of 2008 and ensuing global recession, according to data compiled by Bloomberg. Much of the U.S. growth can be traced to California laws promoting clean energy, government accountability and protections for undocumented people. In the stock and bond markets, where investors show no allegiance to political parties, California has outperformed the rest of the U.S. the past five years… No state or country has created as many laws discouraging fossil fuels and carbon while promoting clean energy. That convergence of policy and voter preference is paying off in the stock market.
EDITOR'S NOTE — Washington state also isn't doing too bad in the Ignore Trump and Prosper Department. State GDP adjusted for inflation here advanced 3.7 percent in the past year, ranking No. 1 in the nation.
► In the NY Times — Uber has a union of sorts, but faces doubts on its autonomy — A union-led group meant to represent its drivers is also taking an unorthodox approach — as well as Uber's money. The group, the Independent Drivers Guild, was formed roughly one year ago as part of an agreement for the New York City area between Uber and a regional branch of the International Association of Machinists and Aerospace Workers.
---
The Stand posts links to Washington state and national news of interest every weekday morning by 10 a.m.
Short URL: https://www.thestand.org/?p=57859
Posted by
David Groves
on May 15 2017. Filed under
DAILY LINKS
. You can follow any responses to this entry through the
RSS 2.0
. Both comments and pings are currently closed.