What will it take, Styx vs. ST3, H-1B peanuts, legally locked-up…
Tuesday, May 16, 2017
---
COUNTDOWN TO IMPEACHMENT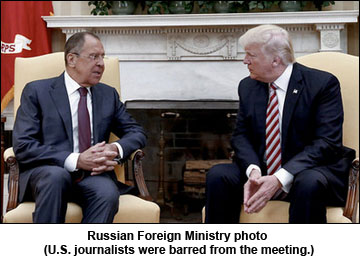 ► In today's NY Times — Trump revealed highly classified intelligence to Russia, officials say — President Trump boasted about highly classified intelligence about an Islamic State plot in a meeting with the Russian foreign minister and ambassador last week, providing details that could expose the source of the information and the manner in which it was collected. A Middle Eastern ally that closely guards its own secrets provided the information, which was considered so sensitive that American officials did not share it widely within the United States government or pass it on to other allies. Trump's disclosure does not appear to have been illegal — the president has the power to declassify almost anything. But sharing the information without the express permission of the ally who provided it was a major breach of espionage etiquette, and could jeopardize a crucial intelligence-sharing relationship.
► From Huffington Post — Trump says he has the right to share info with the Russians — Trump on Tuesday all but admitted that he revealed "highly classified" information while meeting with Russian officials last week, contradicting his administration's earlier attempts to deny the story. Early Tuesday morning, Trump proclaimed that he has "the absolute right" to share any information he wants.
► From The Hill — European official: Country might stop sharing intel with U.S. — A European intelligence official is reportedly warning that his country may stop sharing information with the U.S. after reports that President Trump revealed highly classified intel to Russian officials. The official said sharing information "could be a risk for our sources."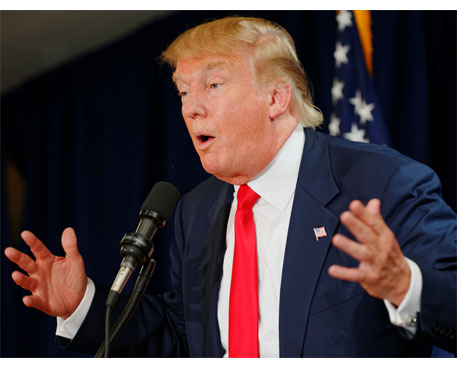 ► In today's Washington Post — The experts were right: Trump isn't fit to be president (by Anne Appelbaum) — None of those disastrous decisions was part of a deliberate plan. Each one was made because of the president's willful ignorance, impulsiveness and inexperience. All of this was not only predictable — it was also predicted. Read, again, the statement issued by 50 prominent Republican national security experts issued last August. Note that it was not "pro-Clinton" or left-wing, or even ideological at all. It simply pointed out that Trump — a man who would not, under normal circumstances, ever be given a high-level security clearance — was unfit to be president.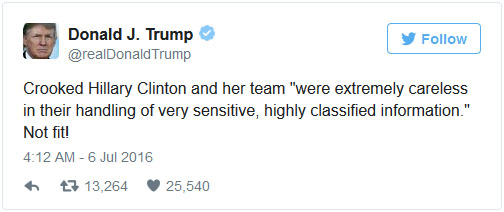 ► From Huffington Post — This is how Republicans treated Hillary Clinton when she was accused of mishandling sensitive information — House Speaker Paul Ryan (R-Wis.) was one of Clinton's biggest critics, tweeting at least once a month from July to November about what he called "reckless" and "downright dangerous" actions. Sen. Marco Rubio (R-Fla.) said Clinton was "disqualified" from being president for her emails. Sen. Rand Paul (R-Ky.) suggested Clinton's actions could have been worthy of jail time.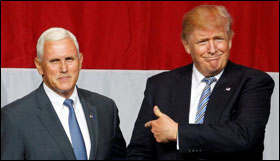 ► MUST-READ in today's Washington Post — Trump doesn't embody what's wrong with Washington. Pence does. (by Richard Cohen) — When history holds its trial to account for the Donald Trump presidency, Trump himself will be acquitted on grounds of madness. History will look at his behavior, his erratic and childish lying and his flamboyant ignorance of history itself and pronounce the man, like George III, a cuckoo for whom restraint, but not punishment, was necessary. Such will not be the case for Mike Pence, the toady vice president and the personification of much that has gone wrong in Washington. On any given day, Pence will do his customary spot-on imitation of a bobblehead. Standing near Trump in the Oval Office, he will nod his head robotically as the president says one asinine thing after another and then, maybe along with others, he will be honored with a lie or a version of the truth so mangled by contradictions and fabrications that a day in the White House is like a week on LSD…
I don't feel an iota of sympathy for Pence. He was among a perfidious group of political opportunists who pushed Trump's candidacy while having to know that he was intellectually, temperamentally and morally unfit for the presidency. They stuck with him as he mocked the disabled, belittled women, insulted Hispanics, libeled Mexicans and promiscuously promised the impossible and ridiculous — all that "Day One" nonsense like how the wall would be built and Mexico would pay for it…

From most of the Republican Party comes not a whisper of rebuke. The congressional leadership is inert, cowed, scurrying to the White House for this or that ceremonial picture, like members of the erstwhile Politburo flanking Stalin atop Lenin's mausoleum. They are appalled, but mute…
America is already worse off for Trump's presidency. He was elected to make America great again, but his future is more like other nations' sordid past. His own party has been sullenly complicit, showing how little esteem many politicians place in our most cherished values, not the least of them honesty and dignity. For all of them, an accounting is coming.
EDITOR'S NOTE:
Dear Republican Reps. Jaime Herrera Beutler, Cathy McMorris Rodgers, Dan Newhouse and Dave Reichert,
What will it take?
Sincerely,
The Entire Staff of The Stand
---
THIS WASHINGTON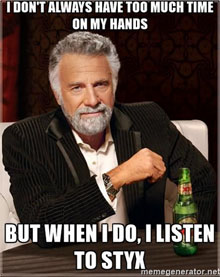 ► In today's Olympian — Did Sound Transit trick voters and lawmakers about Sound Transit 3? Senate panel wants to find out — Sen. Mike Padden (R-Spokane Valley), chairman of the Senate Law and Justice Committee, said he will devote a future meeting to exploring whether Sound Transit purposefully misled voters and the Legislature about Sound Transit 3, the transit package that passed in November. Padden is granting the hearing at the request of two other Republican senators, Steve O'Ban of Tacoma and Dino Rossi of Sammamish.
EDITOR'S NOTE — As the clock winds down on the second overtime special legislative session that all of us are paying for, Senate Republicans are still refusing to meet with Democrats to begin negotiations on a biennial budget that would end the session. So they have plenty of time for holding partisan political hearings.
---
LOCAL
► In the (Longview) Daily News — Nippon in 'recovery', some employees to be furloughed — Production at Nippon Dynawave's Longview paper packaging mill is picking up again as the company slowly gets its wastewater treatment plant working properly. Still, while some employees are returning to work another 85 face brief layoffs later this week, according to AWPPW Local 633.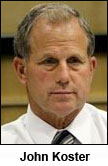 ► In today's (Everett) Herald — For $585,000, county settles John Koster's free-speech suit — The Snohomish County Council authorized settling a federal free-speech lawsuit brought by John Koster over his abrupt, public ouster as the county ombudsman 2½ years ago. Koster's firing in late 2014 came after he signed onto a fundraising letter for the Freedom Foundation, an anti-union Olympia think tank. Some county officials and union members said the letter compromised Koster's neutrality as ombudsman. Council Chairman Brian Sullivan said it was best to avoid an expensive trial, which could have run up millions of dollars in legal costs.
► From MarketWatch — Boeing picks St. Louis for potential jet plant — Boeing Co. said Monday it would assemble new U.S. Air Force trainer jets at its main military aircraft facilities in Missouri if it wins a three-way contest for a program estimated by analysts to be worth around $16 billion. The move sets up the St. Louis plant in competition with facilities in Alabama and South Carolina run or planned by Boeing's rivals in bidding to build an initial 350 T-X jets.
---
THAT WASHINGTON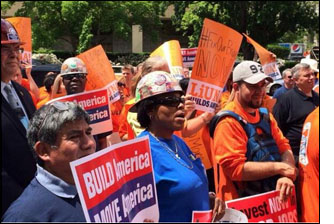 ► In the Washington Post — Trump to outline 'vision' for infrastructure package in coming weeks — President Trump will outline his "vision" in the "next several weeks" of an infrastructure package that relies heavily on state, local and private money to make good on a promised $1 trillion in new investments over the coming decade, Transportation Secretary Elaine Chao said Monday… AFL-CIO President Richard Trumka praised Trump for including the $1 trillion infrastructure pledge in his speech to a joint session of Congress earlier this year but said the size of the package should probably be even larger. "Where is the bill? It's go time," Trumka said.
► In today's NY Times — Trump's fraudulent voter-fraud commission (editorial) — The president's new commission is based on a myth, and is crafted to cover up for his own lies about the election.
► In the Houston Chronicle — Trump's trade policy is unlikely to deliver big wins for U.S. workers (by Greg Wright) — As an economist studying international trade, I'm skeptical that incremental, bilateral negotiations will reap significant rewards for American workers, particularly the kind Trump has promised.
► From Huffington Post — GOP lawmaker asks why men pay for maternity care. Woman's reply is gold. — A GOP congressman asked why men should have to pay for maternity care, and this woman's response is now resonating across the country: "Why should I pay for a flower I won't smell, a park I don't visit, or art I can't appreciate? Why should I pay the salaries of politicians I didn't vote for, a tax cut that doesn't affect me, or a loophole I can't take advantage of?"
---
NATIONAL
► From Computer World — U.S. law allows low H-1B wages; just look at Apple — If you work at Apple's One Infinite Loop headquarters in Cupertino as a computer programmer on an H-1B visa, you can can be paid as little as $52,229. That's peanuts in Silicon Valley. Average wages for a programmer in Santa Clara County are more than $93,000 a year, according to the U.S. Bureau of Labor Statistics. However, the U.S. government will approve visa applications for Silicon Valley programmers at $52,229 — and, in fact, did so for hundreds of potential visa holders at Apple alone.
► In today's NY Times — These 25 men made $11 billion, despite modest returns — Outsize paydays for hedge funds come at a turning point for the industry, where even managers who had a tough year were able to cash in. B
► In today's NY Times — Health insurers bilked Medicare, a whistle-blower says — A former executive at UnitedHealth says he was paid bonuses to make patients look sicker than they were, which led to bigger reimbursements.
---
TODAY'S MUST-READ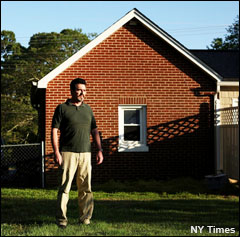 ► In the NY Times — How non-compete clauses keep workers locked up — Keith Bollinger's paycheck as a factory manager had shriveled after the 2008 financial crisis, but then he got a chance to pull himself out of recession's hole. A rival textile company offered him a better job — and a big raise. When he said yes, it set off a three-year legal battle that concluded this past week but wiped out his savings along the way.
"I tried to get a better life for my wife and my son, and it backfired," said Bollinger, who is 53. "Now I'm in my mid-50s, and I'm ruined." Bollinger had signed a noncompete agreement, designed to prevent him from leaving his previous employer for a competitor. These contracts have long been routine among senior executives. But they are rapidly spreading to employees like Bollinger, who do the kind of blue-collar work that President Trump has promised to create more of.
► In today's NY Times — Agreements that lock up workers, legally (editorial) — Contracts barring even low-paid employees from leaving for a competing company hurt the economy and workers.
---
The Stand posts links to Washington state and national news of interest every weekday morning by 10 a.m.
Short URL: https://www.thestand.org/?p=57909
Posted by
David Groves
on May 16 2017. Filed under
DAILY LINKS
. You can follow any responses to this entry through the
RSS 2.0
. Both comments and pings are currently closed.