'Past Forward' event on Left Coast Unionism June 24 at UW

SEATTLE (May 22, 2017) — The Labor Archives of Washington and the and Harry Bridges Center for Labor Studies at University of Washington invite all to mark their calendars for a special event, "Past Forward: The Legacy of Left Coast Militant Unionism and Lessons For Today's Struggles." It will be 5:30 to 7:30 p.m. on Saturday, June 24 at Mary Gates Hall, University of Washington Seattle Campus.
It will be an evening devoted to the dramatic and powerful labor history of the West Coast waterfront, the importance of preserving that history, and the inspiration it can provide us in our present political moment. This three-part program features segments with labor archivists, ILWU activists, and political scientists putting the history and present into perspective. Click here to RSVP or get more info.
Part 1: Labor Archives History Panel
"Under the Hook, in the Hall, on the March, and upon the Shelves: ILWU-Related Collections at Pacific Coast Labor Archives"
Presenters:
Robin Walker, Librarian and Archivist,    ILWU Library and Archives
Catherine Powell, Director, Labor Archives and Research Center, SFSU
Conor Casey, Labor Archivist/Director, Labor Archives of Washington, UW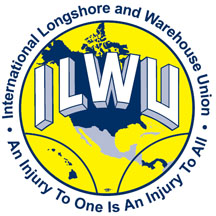 In this panel, labor archivists will talk about the ILWU's rich and often colorful history preserved in archives in California, Oregon, Washington, and Hawaii.
Featuring the directors of three labor archives — the Labor Archives and Research Center at San Francisco State University, the Labor Archives of Washington at the University of Washington, Seattle; and the Anne Rand Library at the International Longshore and Warehouse Union in San Francisco — this panel will discuss the ways in which unions, universities, scholars, and activists have worked together to preserve and promote the legacy of the left coast maritime labor movement.  The presentations will highlight collections from this history, which relate directly to today's struggles for workers' rights, immigrant rights, social justice, civil rights, and other causes. Topics will include the Harry Bridges Deportation trials, the deportation and defense of progressive Filipino American cannery union officers and members, and other episodes in the union's long history of activism.
Part 2: ILWU Activists Panel
"How History Informs Current Struggles"
Presenters:
Rich Austin, Jr., President of ILWU, Local 19
Dean McGrath, President of ILWU , Local 23
Terri Mast, National Secretary Treasurer Inlandboatmen's Union of the Pacific
George Lovell, Harry Bridges Center Chair (Moderator)
ILWU officers consider how the militant history and guiding principles of the union relate directly to today's struggles and how those lessons can help suggest a path for current and future efforts.
Part 3: "The Legacy of ILWU Activism in the Current Political Context"
Michael McCann, Harry Bridges Center Director
Professor of Political Science and Harry Bridges Center Director Michael McCann will consider the history of the ILWU and social justice unionism on the Pacific Coast with issues such as immigration, civil rights, and social justice history and current struggles within the current political context. What lessons from the ILWU's history inform current can and future actions?
For more information, visit the Facebook event page.
---
Conor M. Casey is Labor Archivist at the Labor Archives of Washington, University of Washington Special Collections. To learn more about the Labor Archives of Washington, visit laborarchives.org or LAW's Facebook page, or follow LAW on Twitter.
Short URL: https://www.thestand.org/?p=58061
Posted by
David Groves
on May 22 2017. Filed under
LOCAL
. You can follow any responses to this entry through the
RSS 2.0
. Both comments and pings are currently closed.