Stop the shutdown, rich get richer / poor get dead, our fake democracy, KT+KT+KT
Friday, June 23, 2017
---
THIS WASHINGTON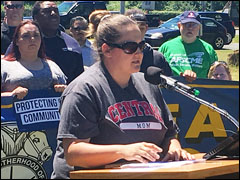 ► From Teamsters 117 — Teamster Jessica Poston speaks out at a rally for state workers — Teamster Jessica Poston, a counselor at the Washington Corrections Center for Women, joined several other state employees who spoke at a rally at the Western State Hospital in Lakewood against the looming state government shutdown:
"If our government shuts down, thousands of hardworking men and women at the Department of Corrections may be laid off. In my unit alone we have 3 Officers watching over 262 offenders. These are women with violent crimes, crimes against children and women serving life without sentences. If the legislature does not pass a responsible, humane budget immediately the safety of the ones that are left behind with 1000+ offenders, worries me most"
ALSO at The Stand — People to Senate GOP: Stop the shutdown!
► In today's Spokesman-Review — Dozens gather in Spokane to protest looming state government shutdown if budget deal isn't reached — They sat in an outdoor play area at the Parkview Early Learning Center on North Division Street as a series of speakers spoke about the damage that could be done if the government shuts down and eliminates everything from state parks to child support checks. The gathering was hosted by the All In for Action coalition, which includes 50 organizations working to reform Washington's tax code.
► In today's News Tribune — Here's what a government shutdown July 1 might mean for state workers and services — Mass layoffs of state workers, disruptions to government health services and a loss of child care assistance might be the result of a government shutdown. Washington state lawmakers hope to avoid that, but there still is a lot of work to do to settle a budget dispute.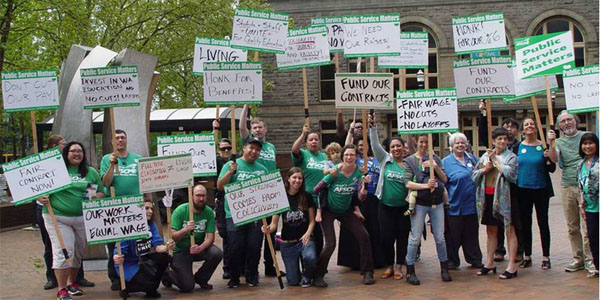 ► In the People's World — With Washington state gov't shutdown looming, unions pressure lawmakers to solve budget impasse — The pressure has ranged from a sit-in at the state capital in Olympia in late May to statewide demonstrations by the teachers on June 10, to a mass "Day of Action" on June 22 – and lobbying in between and beyond. The shutdown is close enough that thousands of state workers have already received pink slip layoff warning notices.
"This is real. This is happening. We must act," the Washington Federation of State Employees/AFSCME Council 28 added. "If the (GOP) Senate majority won't get the job done, services will suffer. "If you're like most state employees, you don't have the luxury of even one day without a pay check. How will we pay our bills? Feed our kids?…We shouldn't let the Senate majority use us as political props…This isn't a game for us. And it's time that we fixed this problem."
► In today's Olympian — Might want to make backup plans if you intend to visit a state park over July Fourth
► From KIRO 7 — What does a state government shutdown mean for you?
---
TRUMPCARE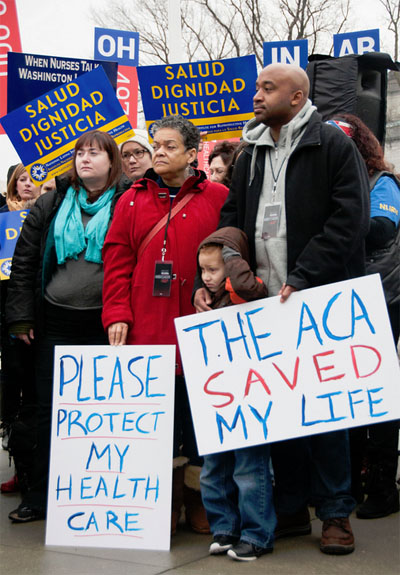 ► From Kaiser Health News — Senate health bill would revamp Medicaid, alter ACA guarantees, cut premium support — Republicans in the U.S. Senate on Thursday unveiled a bill that would dramatically transform the nation's Medicaid program, make significant changes to the federal health law's tax credits that help lower-income people buy insurance and allow states to water down changes to some of the law's coverage guarantees. The bill also repeals the tax mechanism that funded the Affordable Care Act's benefits, resulting in hundreds of billions of dollars in tax cuts for the wealthy and health care industry. Most senators got their first look at the bill as it was released Thursday morning. It had been crafted in secret over the past several weeks. Senate Majority Leader Mitch McConnell (R-Ky.) is seeking a vote on the bill before Congress leaves next week for its Fourth of July recess.
► From The Hill — Healthcare groups issue scathing criticism of Senate bill — The American Hospital Association quickly slammed the Senate bill, urging the Senate to "go back to the drawing board." The American Academy of Pediatrics: "The bill fails children." The American Association of Medical Colleges warned that the Senate bill could place "untenable strain on states and providers" while harming patients.
► In today's Washington Post — Senate Republicans want to get to 'yes' on the health-care bill, but first — some posturing (analysis) — Much of the concern that Republican senators expressed about the draft health-care bill felt more like political posturing than genuine threats to torpedo the effort.
► In today's (Everett) Herald — Health-care bill protest in Everett: 'A life-or-death issue'
► In today's (Everett) Herald — Senate GOP's bill more 'bitter pill' than 'Better Care' (editorial)
► In today's Olympian — Slower action, hearings needed on Obamacare (editorial)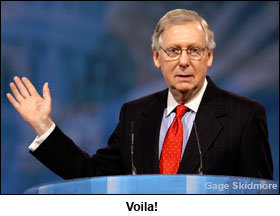 ► In today's NY Times — The Senate's Unaffordable Care Act (editorial) — It would be a big mistake to call the legislation Senate Republicans released on Thursday a health care bill. It is, plain and simple, a plan to cut taxes for the wealthy by destroying critical federal programs that help provide health care to tens of millions of people. If passed in its current form, the Senate bill would greatly weaken Medicaid, the federal-state program that provides insurance to nearly 69 million people, more than any other government or private program. It would do this by gradually but inexorably shifting more of the financial burden of Medicaid to states, in effect, forcing them to cover fewer people and to provide fewer services. Over all, the Senate would reduce federal spending by about $1 trillion over 10 years and use almost that much to cut taxes for rich families and health care companies.
ALSO at The Stand — Trumpcare analysis: 344,000 will lose coverage in Washington, while wealthy get $62K tax cut
► In today's Washington Post — Trumpcare bill would be one of the biggest cuts to the social safety net in history (by Max Ehrenfreund) — Throughout the modern history of Congress, lawmakers have inexorably expanded progressive social policies, and while conservatives have successfully forestalled expansions to the social safety net, they've had very little success in reversing them. Right now, however, Republicans have a chance to buck that trend.
► In today's Washington Post — Senate Republicans ready themselves for a massive theft from the poor (by Eugene Robinson) — It's the first step in a massive redistribution of wealth from struggling wage-earners to the rich — a theft of historic proportions.
---
TODAY'S MUST-READ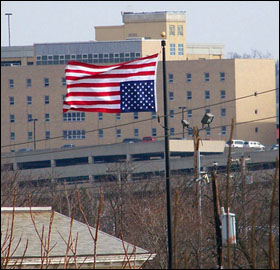 ► MUST-READ in today's NY Times — Our fake democracy (by Timothy Egan) — We have a fake democracy, growing less responsive and less representative by the day. The biggest example of this is the monstrosity of a health care bill, which a cartel of Republicans finally allowed us to peek at on Thursday. The lobbyists have seen it; of course. But for the rest us, our first look at a radical overhaul of one-sixth of the economy, something that touches every American, comes too late to make our voices heard. Crafted in total darkness, the bill may pass by a slim majority of people who have not read it. Inevitably, with something that deprives upward of 23 million Americans of health care, people will die because of this bill. States will be making life and death decisions as they drop the mandated benefits of Obamacare and cut vital care for the poor, the elderly, the sick and the drug-addicted through Medicaid. The sunset of Obamacare is the dawn of death panels.
It would be understandable if Republicans were doing this because it's what most Americans want them to do. But it's not. Only about 25 percent of Americans approved of a similar version of this bill, the one passed by the House. By a nearly 2 to 1 margin, people would prefer that the Affordable Care Act be kept in place and fixed, rather than junked for this cruel alternative.
The symptoms of democratic collapse — from the opioid crises of people who long ago checked out of active citizenship to the stagnation of class mobility — cry for immediate action.
---
LOCAL
► In today's Tri-City Herald — Energy secretary defends proposed Hanford, PNNL cuts — Energy Secretary Rick Perry took the hot seat at a Congressional hearing for the third day Thursday to defend budget cuts proposed for the Hanford nuclear reservation and Pacific Northwest National Laboratory.

► In today's (Everett) Herald — Twin City Foods to close Stanwood plant; 85 jobs affected — The frozen vegetable packaging plant, which has been an institution in the community for decades, is expected to shut down next year and equipment will be shifted to a plant in Pasco. Many of the employees have been working at the plant for years, including one who recently retired after 42 years, said Rachel McKibbin, Teamsters Local 231, which represents the workers at the plant.
► In today's Bellingham Herald — A longtime Bellingham business is leaving something of value to workers – ownership — When Rick Dubrow and Cindi Landreth began pondering passing their business on to someone else, they were not excited about selling it to strangers.
---
BOEING



► In today's The (Charleston) Post-Courier — Layoffs announced for first time at Boeing's S.C. 787 campus, other North Charleston operations — Boeing Co. on Thursday announced layoffs affecting fewer than 200 workers, the first involuntary separations at the facilities since the aerospace giant moved to South Carolina in 2009. While thousands of Boeing workers in Washington state have lost their jobs since the cost-cutting program was announced in December, the layoffs had not impacted North Charleston employees until now.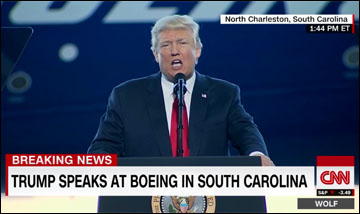 ► From The Hill — Layoffs announced at Boeing plant Trump visited — Trump visited the South Carolina plant in February for the debut of Boeing's 787-10. While there, he touted his efforts to save American jobs and threatened a "substantial penalty" on companies that shift their operations overseas.
► A related story from CNBC — Trump's Carrier deal is not living up to the hype — jobs still going to Mexico — Carrier's plant in Indianapolis is preparing to lay off 600 employees beginning next month. "The jobs are still leaving," said Robert James, president of USW Local 1999. "Nothing has stopped."
---
THAT WASHINGTON
► From The Hill — AFL-CIO fears Labor Department will change Obama worker protection — The White House Office of Information and Regulatory Affairs completed a review last week of a proposed DOL rule on the occupational exposure to beryllium. AFL-CIO President Richard Trumka said working people will die if the Trump administration walks back the rule: "It also will mark the first time in history for the government to roll back worker safety protections against a cancer-causing toxin. The entire labor movement will work together to fight any proposal that takes away standards that keep us safe at work."
---
NATIONAL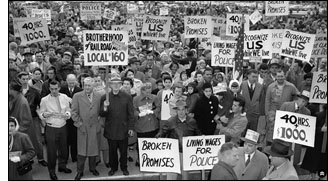 ► From The Atlantic's CityLab — To reduce urban inequality, reconsider unions (by Tanvi Misra) — There's a solution, now largely overlooked, that has helped reduce gross inequality in the past: collective bargaining. In a new working paper, economists at Temple University and Vanderbilt University examine the decades after the Great Depression, when economic inequality declined dramatically — and then stayed low for several decades after. They conclude that the simultaneous rise of unionization during this time "was not merely a coincidence."
---
T.G.I.F.
► The Entire Staff of The Stand wishes Scottish singer-songwriter KT Tunstall a happy 42nd birthday today. Here she is doing her one-person band thing, courtesy of her trusty loop pedal. We like! You like? Check out this bonus song, our favorite by KTT: "Heal Over"  Enjoy!
---
The Stand posts links to Washington state and national news of interest every weekday morning by 10 a.m.
Short URL: https://www.thestand.org/?p=58800
Posted by
David Groves
on Jun 23 2017. Filed under
DAILY LINKS
. You can follow any responses to this entry through the
RSS 2.0
. Both comments and pings are currently closed.