Shutdown averted, budget passed, contracts funded
UPDATE (11:30 p.m., June 30, 2017) — The Washington Federation of State Employees, AFSCME Council 28 reports: "Gov. Jay Inslee at 11:15 p.m. tonight (Friday, June 30) signed the 2017-2019 operating budget that funds our contracts and public services and stops the shutdown of services tied to the operating budget. The governor applauded the full funding of our contracts for our members and "the vital services they provide."
This came after first the Senate, then the House earlier in the day passed the measure, SSB 5883. The budget funds our contracts and the negotiated pay raises of 6% over the next two years in General Government and Higher Education. In General Government, to be clear, that includes funding of the special market-rate increases for more than 12,000 in specific job classes and the funding of the special job class increases that came out of the Corrections arbitration process.
Teamsters Local 117 reports: "(The budget) fully funds the interest arbitration award for our members at the Department of Corrections. It also funds the contract for our members at the University of Washington Police Department as well as for members at the Department of Enterprise Services. This means that all of the terms and conditions of the new collective bargaining agreements for our members who are state employees are now in place."
AFT Washington reports:
The good news:
Members will receive 2% cost-of-living adjustments (COLAs) beginning July 1st this year, July 1, 2018, and January 1, 2019 – for a total of a 6% increase over three years. Unfortunately, this required that the House agree to a collective bargaining transparency bill.
Paraeducators will have access to more financial support to attain educational gains through the implementation of ESHB 1115.
The not-so-good news:
Our budget proviso that included $800k to fund new full-time positions was taken out of the final budget proposal.
The voter-approved Initiative 1351 (lowering class sizes) did not get funded. It's considered education enrichment and not part of the definition of basic education.
There are additional surcharges in your health care plan: $25 per month for tobacco users and $50 per month for spouses/domestic partners who choose not to enroll in their own employer-based healthcare plan if it's "actuarial value" is no less than 95% of the state's plan.
Stay tuned for more budget news.
---
UPDATE (9:45 a.m., June 30, 2017) — State legislators must approve, and Gov. Jay Inslee must sign, a state budget by midnight tonight to avoid a partial state government shutdown tomorrow. They say they have a deal. But what's in it? Printed copies finally arrived at the Capitol this morning at about 7:30 a.m. so the public and the legislators themselves are just getting their first look at the 616-page document as you read this. What we know: it funds all state employee contracts (in exchange for changes in the collective bargaining process), it adds $7.3 billion to school funding in an effort to satisfy McCleary while maintaining staffing and class-size formulas, and that's paid for mostly by increasing property taxes.
---
UPDATE (7 a.m., June 30, 2017) — The Legislature must pass — and the governor must sign — a budget today to avoid a state government shutdown tomorrow. So where is it?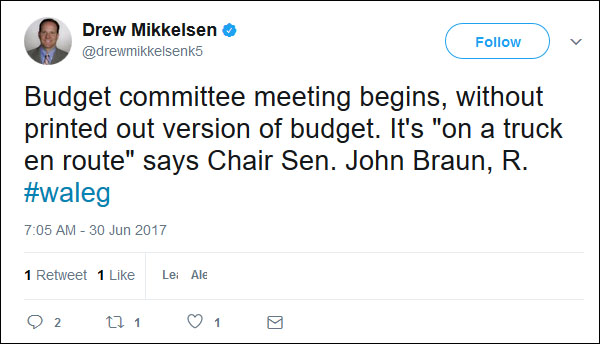 #NoWayToRunAState
---
UPDATE (8 a.m., June 29, 2017) — Rachel La Corte of The Associated Press tweets that this morning's budget briefing for state legislators will be verbal with no paperwork. She later added that a budget summary may not be available until some time tonight at the earliest. And so, this secretly negotiated $41 billion budget will be made public just hours before it is voted upon. No hearings. No time for debate.
There is plenty of blame to be shared for this nonsense, but what stands out is the Senate Republicans' months-long refusal to even begin budget negotiations with House Democrats. Five months were wasted on this strategy. So now, we have just hours to find out whether it worked for them. Under threat of imminent government shutdown, did Republicans succeed in protecting Washington's wealthiest families and biggest corporations from having to pay their fair share to fully fund public education and other essential state services? Stay tuned.
P.S. As The Seattle Times opined, this is no way to run a state.
---
UPDATE (6 a.m., June 29, 2017) — Wednesday's announcement of a tentative deal on the 2017-19 state operating budget was followed by… nothing. Legislative leaders refused to discuss any details in the agreement for the rest of the day until after their caucuses are briefed on the deal Thursday morning. So stay tuned, and we'll post links to a budget summary right here when it becomes available.
The good news is, barring unanticipated delay or internal opposition, it appears that a state government shutdown set to begin Saturday will be averted with the passage of a budget. And as The (Everett) Herald reports (below), state employee contracts appear to have been funded.
---
UPDATE (10:30 a.m., June 28, 2017) – The (Everett) Herald reports that Republicans agreed to fund the state employee contracts in the tentative budget deal — which has yet to be released publicly — in exchange for changes in state employees' collective bargaining process to improve "transparency."
► Today from the (Everett) Herald — Lawmakers to shine more light on state worker contracts — One of the last pieces of the budget puzzle snapped into place Tuesday, sealed in Republican support for funding new state worker contracts. It came when Democratic and Republican senators, and Gov. Jay Inslee agreed on a new bill giving lawmakers a better view of and louder voice in the process of negotiating collective bargaining agreements with state employee unions.
---
Deal to avert shutdown reached 'in principle'
BREAKING (9:40 a.m. – June 28, 2017) — The following was issued by Governor Jay Inslee this morning:
House and Senate budget negotiators reported to Gov. Jay Inslee this morning that they have reached an agreement in principle on the 2017-2019 biennial operating budget. The negotiators and caucus leaders said they were confident that they would complete work on the budget and have a vote of the Legislature before the end of the day Friday, the final day of the fiscal year.
That would avoid a partial shutdown of state government.
The agreement covers spending and resource levels. More details will be available after the four legislative caucuses are briefed on the agreement.
Short URL: https://www.thestand.org/?p=58933
Posted by
David Groves
on Jun 28 2017. Filed under
STATE GOVERNMENT
. You can follow any responses to this entry through the
RSS 2.0
. Both comments and pings are currently closed.