Senate tax vote imminent | Mosqueda sworn in | College loan swindle
Wednesday, November 29, 2017
---
TAX REFORM SCAM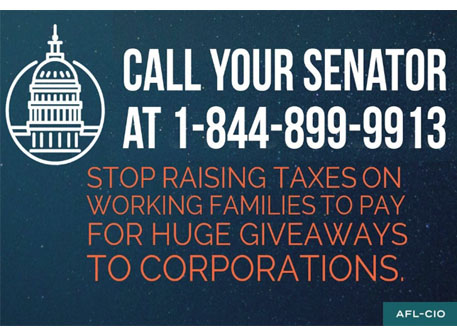 ► In today's NY Times — Republicans clear major hurdle as Senate tax bill advances — Senate Republicans took a significant step toward passing a sweeping tax overhaul on Tuesday, with a key panel giving its approval and several wavering senators indicating they would support the tax package, helping clear the way for full Senate consideration later this week.
ALSO TODAY at The Stand:
GOP tax bills are theft from working people (by Jeff Johnson)
Call U.S. Senators to stop job-killing tax plan — Call your senator today at 844-899-9913. Tell them to oppose the job-killing tax plan that favors the super-rich and wealthy corporations over working people.
► In today's NY Times — Senate considers making a terrible tax bill even worse (editorial) — Dragging its abysmal standards lower, it may throw more money at billionaires to win two crucial votes.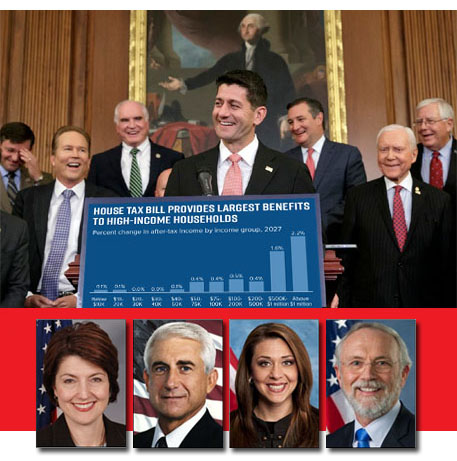 ► From Politico — GOP voter support drops for House tax plan, poll says — Republican voter support for the House GOP tax plan eroded sharply in the past week, and ticked down among all voters… The number of registered voters overall who said they support the bill, which passed the House earlier this month, fell to 36 percent from 39 percent.
► In today's Washington Post — Why are Republicans raising taxes on millions of Americans? (by Marc Thiessen) — President Trump has promised to "give the American people a huge tax cut for Christmas — hopefully that will be a great, big, beautiful Christmas present." Unfortunately for millions of Americans, what they will be getting instead is a lump of coal in the form of a tax increase — courtesy of the GOP.
► In today's NY Times — Tax bills would benefit those who moved money offshore — Big companies wagered that they could save billions by shifting profits overseas. Under the tax plans, those bets would pay off.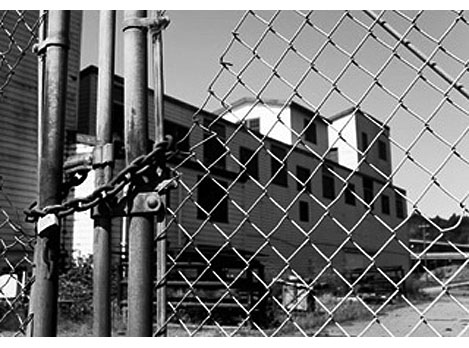 ► From The Hill — Republican tax bills have too many loopholes for shipping jobs overseas (by Robert Pozen and Steven Rosenthal) — Both bills purport to build in protections against U.S. multinationals "shipping jobs and capital overseas" by adopting a minimum U.S. tax, which would be imposed on these firms if their foreign taxes dropped below 10 percent of their foreign profits. However, as explained below, this minimum tax is like Swiss cheese. It has so many holes that it would rarely be paid by U.S. firms. In fact, the proposed territorial system would encourage U.S. multinationals to relocate to foreign countries more of their U.S. factories and U.S. intellectual property such as patents and trademarks.
---
THIS WASHINGTON

► In today's Columbian — EFSEC unanimous in vote against Port of Vancouver oil terminal — The plan to build the largest rail-to-marine oil terminal in the United States suffered a major blow Tuesday at the hands of the state body tasked with its evaluation. Barely five minutes into a special meeting at the State Capitol, the Washington State Energy Facility Site Evaluation Council unanimously recommended disapproval of the Vancouver Energy application for site certification to build a crude-by-rail oil terminal at the Port of Vancouver. However, EFSEC's recommendation is just that. The ultimate decision on the project's construction will be made by Inslee. After he officially receives the EFSEC recommendation, Inslee will have 60 days to respond.
---
LOCAL
► From AP — Seattle school bus drivers to strike 1 day over health care — The Seattle school bus drivers union says it will go on a one-day strike Wednesday to protest the health insurance plan being offered imposed. Teamsters Local 174 also warned of future and prolonged strikes if the two sides can't reach a deal.
ALSO TODAY at The Stand — First Student school bus drivers strike Wednesday in Seattle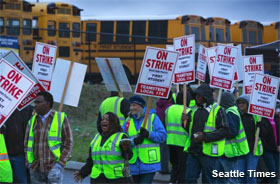 ► This morning from the Seattle Times — Drama erupts at Seattle school bus lot as striking driver jumps on bus hood — At least one Seattle school bus driver appeared to cross picket lines Wednesday morning in South Park, driving through a line of striking drivers as one person jumped onto the hood of the vehicle. Several other strikers claimed they were hit by the bus, but police say no one appeared to have been injured.
► In today's Seattle Times — Microsoft plans multibillion-dollar expansion, renovation of Redmond campus — Over the next five to seven years, the company will construct 18 new buildings on the campus, which currently has 80. It will renovate several other buildings to give them a modern, open feel.
► In today's Tri-City Herald — 8 workers report smelling odors at Hanford tank farms — Three of the workers received medical evaluations and were cleared to return to work. The other five reported smelling odors but declined medical evaluations.
► In today's News Tribune — El Gaucho agrees to pay $1.5 million to employees to settle lawsuit — El Gaucho has agreed to pay $1.5 million to settle claims it improperly withheld wages and tips from employees working at some of its high-end restaurants in Tacoma, Bellevue and Seattle.
► In today's News Tribune — Pam Roach accuses another County Council member of flipping her the bird — Shouting, profanity and gavel-pounding disrupt a meeting to adopt Pierce County's 2018 budget.
---
ELECTION REDUX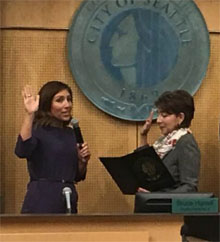 ► In today's Queen Anne News — Teresa Mosqueda sworn in — Shortly after being sworn in as the newest Seattle City Councilmember, Teresa Mosqueda told those gathered at city hall Tuesday that her victory belonged to them as well. "I am so proud to have been elected by you — at a time — and in a city, that is proving what it means to be the resistance," she said. The former political director for the Washington State Labor Council officially took office. Invoking the words of labor leader and activist Cesar Chavez, Mosqueda said, "once social change begins, it cannot be reversed," and that a "fresh wave of leaders" is rising and running for office at a critical time in our nation's history. (The text of Mosqueda's speech can be found here.)
PREVIOUSLY at The Stand — Sims named to replace Mosqueda at WSLC
► From KNKX — Jenny Durkan sworn in as Seattle mayor — The first woman mayor since the 1920s has taken the helm in the booming progressive city of Seattle.
► In today's Seattle Times — Trump is still trying to ban Muslim refugees — but in Washington state, he also got one elected (editorial) — Our state's first Somali-refugee elected official, Zak Idan of Tukwila, says he was emboldened to run for office by the president's travel ban.
---
THAT WASHINGTON
► From The Hill — Chances for government shutdown rising — The odds of a government shutdown grew dramatically Tuesday as President Trump tweeted that he saw no path to a year-end deal with Democrats "Chuck and Nancy," who then promptly backed out of a meeting at the White House.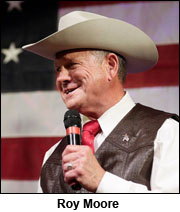 ► In today's Washington Post — Roy Moore's accuser warns: 'I am done being silent' — Leigh Corfman, who says the Alabama Senate candidate touched her sexually when she was 14 and he was 32, wrote a letter to the Republican insisting that he stop calling her a liar.
► In today's Seattle Times — 'I believe these women': Seattle's U.S. Rep. Pramila Jayapal calls for John Conyers' resignation — Congresswoman Pramila Jayapal of Seattle became the second House Democrat to call for the resignation of Michigan's Rep. John Conyers over allegations he sexually harassed women who worked for him.
► From the AFL-CIO — Working people need a strong CFPB with a leader who supports its existence — We learned the hard way from the financial crisis in 2008 that working people need the CFPB. We need the bureau to fight to protect us from predatory lenders and, in order to be effective in doing that, it needs to be led by a strong, full-time director who believes in its mission. Consumer financial protection is a full-time job, not a side gig for someone who things it's a "joke."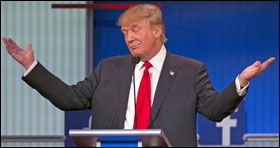 ► From The Hill — New documents: Trump paid over $1 million to settle labor lawsuit — President Trump paid out more than $1 million in the late 1990's to a group of Polish workers in the country illegally who demolished the building that would eventually be replaced by Trump Tower in Manhattan, according to recently unsealed documents. The workers in 1980 received as little as $4 per hour, and worked 12-hour shifts without gloves, hard hats or masks to demolish the Bonwit Teller building on Fifth Avenue.
► From Politico — Trump retweets anti-Muslim videos from far-right U.K. figure — President Trump on Wednesday shared a series of videos with his Twitter followers portraying Muslims as violent and dangerous. All three videos were originally posted to Twitter by Jayda Fransen, the deputy leader of the far-right, ultranationalist group Britain First. She was found guilty last year of religiously aggravated harassment of a Muslim woman.
---
TODAY'S MUST-READ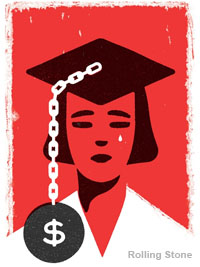 ► From Rolling Stone — The great college loan swindle (by Matt Taibbi) — The education industry as a whole is a con. In fact, since the mortgage business blew up in 2008, education and student debt is probably our reigning unexposed nation-wide scam… America as a country has evolved in recent decades into a confederacy of widescale industrial scams. The biggest slices of our economic pie — sectors like health care, military production, banking, even commercial and residential real estate — have become crude income-redistribution schemes, often untethered from the market by subsidies or bailouts, with the richest companies benefiting from gamed or denuded regulatory systems that make profits almost as assured as taxes. Guaranteed-profit scams — that's the last thing America makes with any level of consistent competence. In that light, Trump, among other things, the former head of a schlock diploma mill called Trump University, is a perfect president for these times. He's the scammer-in-chief in the Great American Ripoff Age, a time in which fleecing students is one of our signature achievements…. Meanwhile, while universities sit on their stockpiles of cash and the loan industry generates record profits, the pain of living in debilitating debt for many lasts into retirement.
---
The Stand posts links to Washington state and national news of interest every weekday morning by 10 a.m.
WASHINGTON IS A UNION STATE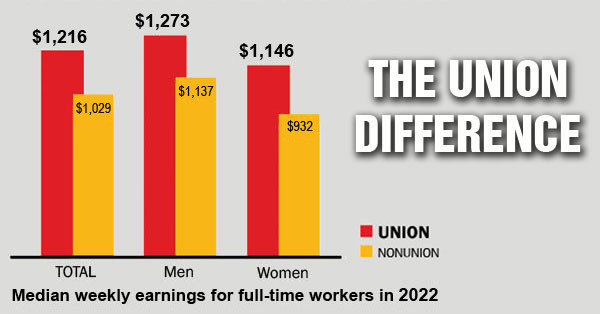 CHECK OUT THE UNION DIFFERENCE in Washington state: higher wages, affordable health and dental care, job and retirement security.
FIND OUT HOW TO JOIN TOGETHER with your co-workers to negotiate for better working conditions and respect on the job. Or go ahead and contact a union organizer today!